John Franzen is a German artist, born in Aachen, Germany, in 1981. The artist is known for his meditative ink on paper or ink on copper drawings, which resemble wrinkled fabric and waves of water. Franzen calls them morphogenetic freehand drawings. He belongs to the artistic group called Serialists, which also includes Gryanne Stunnenberg, Conrad Wilems and Gyula Sagi. Serialists like repetition, monochrome and drawings, and were formed in 2014.
Childhood
He is the only child of the parents who were hospital workers. They taught him that caring for the others and integrity are important principles. The artist's family moved many times within the country and it, in addition to the unstable relation of his parents, resulted in John having few social connections and withdrawing into his own world of thoughts, where he could express his creativity. When he was six, his parents divorced and John relocated with his mother to Eupen, Belgium. In Belgium the artist developed a connection with nature and felt at home for the first time.
The artist sees his creative process as a form of meditation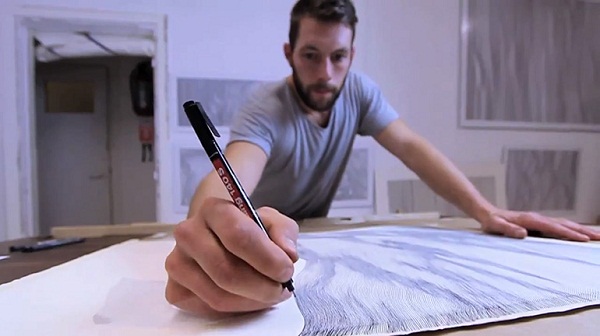 Education
Young Franzen attended Robert Schumann Institut in eastern Belgium, and during the three last years of high school he had 20 hours of art education a week. In 2001, he finished his studies and started working as a nature-pedagogue and woodcutter. In 2003, Franzen decided to continue his education and enrolled at art school Kunstakademie in Maastricht, the Netherlands, where he worked in various disciplines and materials. Franzen obtained his Bachelor of Fine Arts degree in 2008.
John Franzen as an Artist
Now, John Franzen is an independent artist, with intimate and self-paced career. He is interested in the issues of human spiritual nature and origin, and inspired by his observation of the nature. His art is based on a spiritual mindset and influenced by Japanese Taoist and Zen philosophy. It is not rooted in economic, political or ethnic propositions. His works go back to the very beginning and the purest form of life, they focus on the principles of genesis and the contemplation of a zero state of mind. Monochromatic and minimalist works transcend the mundane, exploring the line where fullness and emptiness are indiscernible. His starting point, a line, represents its presence in all aspects of life. Lines transport energy across space and time. They also symbolize repetition, immortality and continuity. The themes of his work include death and life, nothingness and immortal principles.
His drawings are made by freehand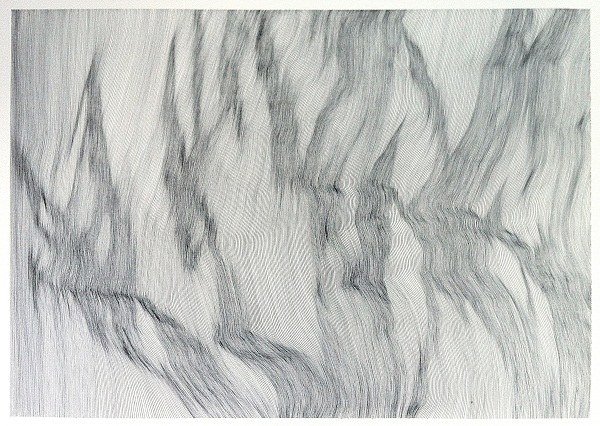 Drawings
John Franzen starts his drawings with a straight vertical line on the far side of a canvas and all the way down a page. He draws another line beside the first one, and continues copying it, line by line, with inevitable tiny mistakes. The mistakes become amplified as he continues, and through this tedious and seemingly maddening process of drawing a great number of precise and tight lines, the artist creates his artworks. Working with a robotic precision, Franzen finds this process to be a meditative activity, which allows him to feel his consciousness, his thoughts and the world around him.
Exhibitions
Franzen has exhibited his works in many exhibitions and art fairs throughout the Europe, in cities such as Prague in Czech Republic, Cologne in Germany, Basel in Switzerland, Dresden in Germany, Luxembourg in Luxembourg, Rekem in Belgium, Berlin in Germany, Amsterdam in the Netherlands, Antwerp in Belgium, Edinburgh and London in the United Kingdom. In addition to European cities, his works were on display at International Artist Award in Dubai, United Arab Emirates in 2014. Franzen has been exhibiting since 2007.
The series Each Line One Breath comprises 50 freehand drawings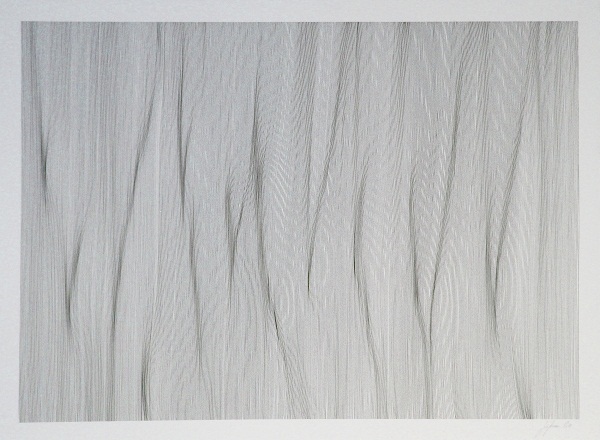 The artist is represented by Arusha Gallery in Edinburgh, United Kingdom.
John Franzen lives and works in Maastrich, the Netherlands.
All images copyright © the artist