John Knuth is a Los Angeles-based contemporary artist, whose art is based on unusual use of common materials and objects. Born in 1978, John Knuth received a BFA from the University of Minnesota, and a MFA from the University of Southern California.
John Knuth: Master of Flies
John Knuth is one of the most unusual artists Los Angeles has to offer. Like a modern-day alchemist, his art is based on transforming seemingly mundane materials into extraordinary objects. By linking the disciplines of aesthetics and chemistry, Knuth's works often walk on a thin line between the grotesque and the beautiful.
John Knuth's most famous body of work is certainly his fly paintings. Without knowing how they were made, Knuth's canvases pass as colorful, distinctive abstractions, even resembling impressionistic imagery present in the pointillism of the famous master, Georges Seurat. But the truth behind them is slightly different – these paintings are made with a help of an unusual partner, the humble fly. More precisely, 250,000 to 700,000 of them.
"I started working with the flies because I was curious about how flies spread disease and how they digest. But the more I worked with them the more I got interested in the process of condensing them to make something beautiful and beyond their nature" – John Knuth
Process behind his fly paintings is often chance-based. In order to produce his unusual paintings, Knuth orders flies from an online company, raises them from the larval stage, and feeds them with a mixture of sugar and chosen acrylic paint. The artist also creates structures that limit the surface area of canvas on which the flies can land. Through their lifespan, the flies digest and regurgitate this paint-mixture onto the paintings, leaving millions of markings on the surface of each canvas, creating different compositions.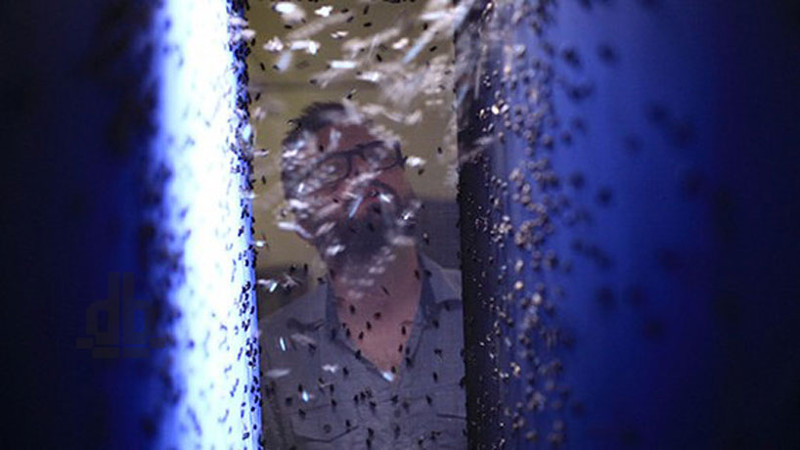 Although the process itself is not so controllable and mark-making is unpredictable, Knuth can determine and control several factors. He carefully choses the color and defines layering of paint by limiting the number of flies required for each painting, and thus creating higher or lower density marks.
In reality, the fly represent an all-too-real reminder that everything ends. "The idea is kind of nasty," states Knuth. "There is nothing worse than a fly. But people are always surprised at how beautiful and delicate the paintings are."
Made in Los Angeles
One of the John Knuth's fly-painting series includes a group of works titled Made in Los Angeles, created for the MOCAtv. Colors that compose this series are influenced by the spectrum of LA sky, such as orange and yellow and markings of blue, smoggy grey and black. For the artist, the Made in Los Angeles series works as landscapes of his hometown. Analogous to LA, these artworks capture both the density and sprawl of the city's infrastructure.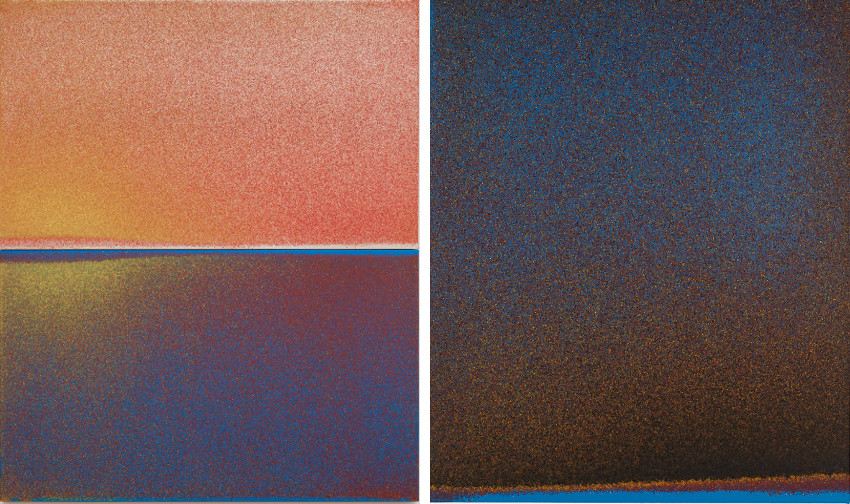 Fading Horizon: Between Installation and Performance
Held at the space of Human Resources venue, Los Angeles in 2013, John Knuth's Fading Horizon solo exhibition represents the artist's attempt to fuse versatile materials, sculpture, painting and installation work into one whole. Composed from elements such as sugar, lightbulbs and Mylar thermal blankets, the Fading Horizon project explores notions of climate change and entropy, in a context of uncertainty and uncontrollable change.
The idea that lies behind this exhibition and installation work emerged from John Knuth's interest in crystal sugar as a material with infinite sculptural possibilities. The physical properties of sugar, such as processes of melting and caramelization, are used to construct the art piece. Knuth covered the gallery floor with thermal blankets, placed lightbulbs and poured piles of sugar over it. As the lightbulbs heat, the crystal sugar slowly caramelizes and creates small volcanoes which mark the blankets underneath. After the process, blankets are hung on the gallery walls, now in a form of minimal abstract compositions. These compositions change over time and the final result of this process only comes after, as the melted material drips down the blankets, creating new shapes and forms.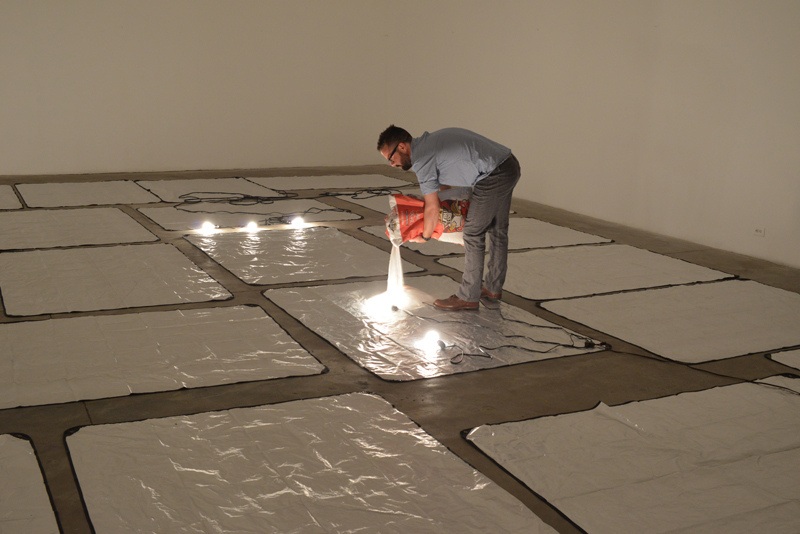 Powerplant and Nothing without Providence
Among numerous solo exhibitions of John Knuth's art, some of the most important include Fading Horizon at Human Resources, Los Angeles, Elevated Uncertainty at Marie Kirkegaard, Copenhagen, Denmark, Base Alchemy at 5 Car Garage, Santa Monica, Powerplant at Brand New Gallery in Milan, Italy, and most recently, Nothing without Providence, held at the David B. Smith Gallery, in Denver.
His Powerplant exhibition consisted of two series of works – his famous paintings made with the aid of thousands of flies, and a group of long, slim paintings made by stretching melted space blanket material over mirrored Plexiglas.
John Knuth's works have been featured in many group exhibitions across the US and internationally. Some of them include shows at Speed Art Museum, in Louisville, Self-Titled, in Tilburg, Los Angeles County Museum of Art in Los Angeles, Minneapolis Institute of Art, and China Art Objects.
John Knuth lives and works In Los Angeles, California.