John Newman is an artist with almost magical ability to transform any material into a new and different vision results in an array of abstract sculptures made from disparate materials such as wool and metal, fabric and glass. A majority of John Newman's art pieces embodies the idea of equilibrium represented not only as the balance of the artwork's elements but rather as a stimulant for contemplating the importance of one part of the figure for another. His complex curled sculpture usually made from aluminum, bronze, steel, and iron appears as breathing, living being despite being made from such hard and cold materials.
Education and Early Work
John Newman was born in Flushing, New York. The artist studied at Oberlin College where he received his BA after which he enrolled at Whitney Museum Study Program. In 1975 the artist received an MFA from Yale school of art. He went on to do a fellowship at Center for Advanced Visual Studies at MIT. The artist started his career as a minimalist sculptor by expanding the metaphors and mysteries of ancient themes such as medieval armors or dinosaurs.[1]
A Trip to Japan got John Newman interested in the Japanese version of paper-mache called hariko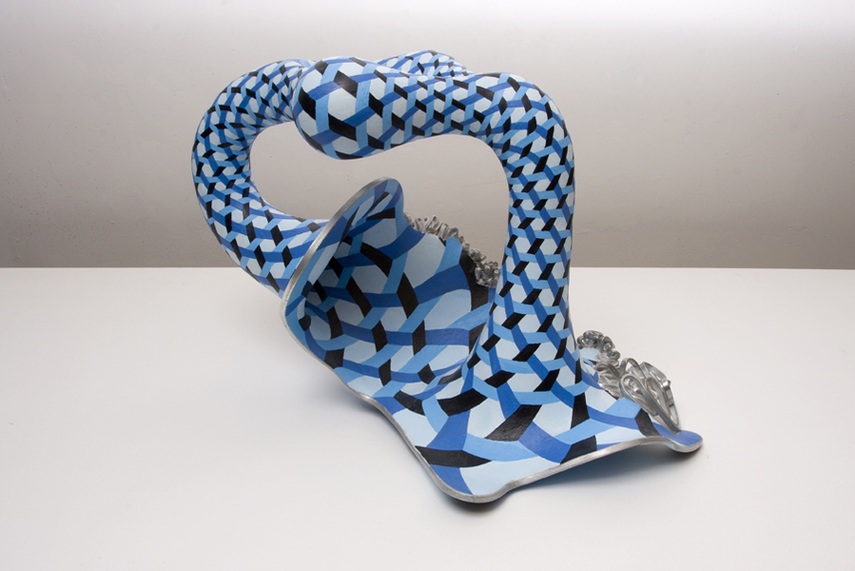 The Turning Point in the Artist's Career
In the mid-90s a John Newman traveled to some of the world's most beautiful places which inspired him to experiment with new techniques and materials. He has begun to make small handmade sculptures from softer materials such as flowers and Japanese version of paper-mache called hariko.[2] While his early works were large in scale and exhibited either on the floor or the wall of the gallery, his new artworks were placed on the tables thus setting up a deeper intimate relationship with the viewers. Upon his return to Tribeca studio, the sculptor begins to use a more eclectic range of materials ranging from marble, aluminum, and copper, to found objects and handmade polyhedral spheres.
John Newman's body of work representing colorful mishmash made of wire, yarn, and fabric was created during his residency at Dartmouth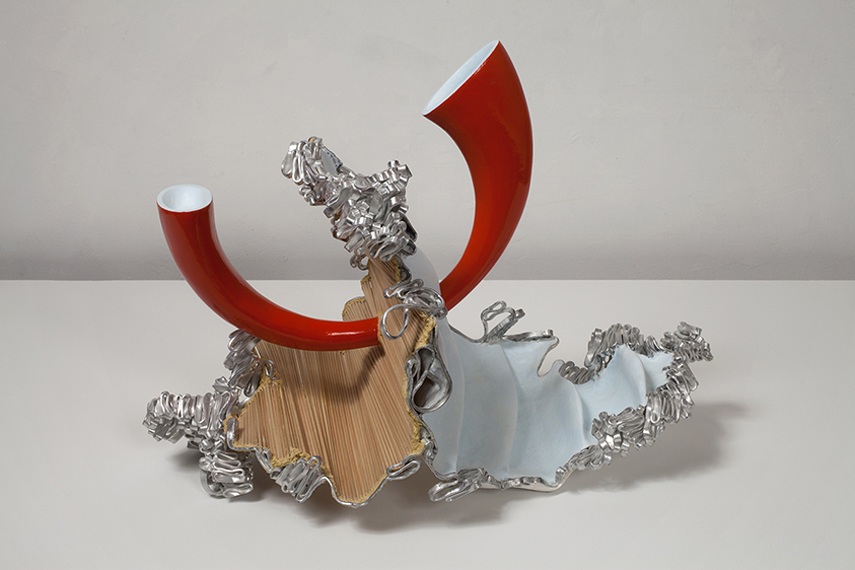 John Newman - Artist with a Magical Touch
John Newman's striking sculptures appear as if they were made upon the rules applied for them alone. Some of them appear as beings from another planet or those coming from the depths of the ocean. Other times his art pieces resemble scientific equipment ready to be used or added to the collection of a museum. Or the viewers are found face to face with a colorful mishmash made of wire, yarn, and fabric. Despite the variety of structures the C-shape seems to be the artist's favorite as it conveys the notion of body's twisting and embracing. John Newton is also prolific in the medium of drawing that gives him the freedom that sculpting often cannot. Unlike sculpting, drawings enables the sculptor to envision an image and create body of work that doesn't depend on of gravity or the endurance of the materials. The colorful drawings often represents the basis for the artist's sculptures and prints. His work was featured in some of the world's finest galleries and museums including 200 Fifth Avenue, NY in 2016,Foster Gallery, Haas Fine Arts Center, 2008, Eau Claire, Wisconsin, New York Studio School Gallery, New York in 2011, Tibor de Nagy Gallery, New York, 2014 and Jaffe-Friede Gallery, Dartmouth College, Hanover, New Hampshire 2013.
John Newman lives and works in the United States
References:
Rubenstein R., (2016) A Stealth Revolution in Sculpture: John Newman, FlashArt, [March 4, 2017]
Stillman S., (2013)John Newman, ExBerliner, [March 4, 2017]
Featured image: Photo by Eli Burakian '00 via dartmouth.edu
Images courtesy of the artist