Best known for his brightly colored, complex paintings and drawings, Jon Fox is a British artist, born in 1981 in Hereford. Having a vivid imagination, he started drawing at a very young age, mostly by copying cartoons, films, and comic books. Since his father was selling office equipment and stationary, the young artist always had a supply of drawing material. He attended U.W.E. College of Art in Bristol for one year, where he took a foundation course. In addition, Jon spent three years studying at the University of Brighton. In 2004, the artist received his BFA with honors. During his studies, he started exhibiting and taking commissions.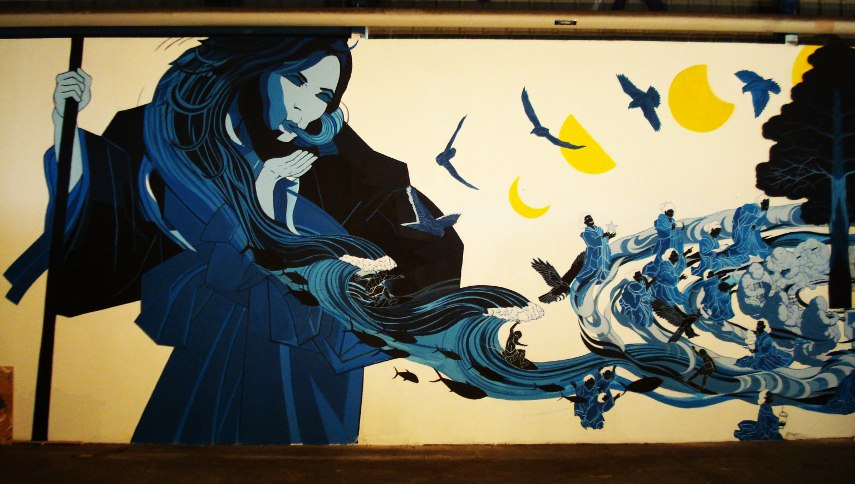 Between Representation and Abstraction
Full of wild energy and intricate details, Fox's artworks are based on personal introspection, on the artist's feelings, emotions and thoughts. Some of his latest series of works are developed around the internal battle between the head and the heart which relates to both the narrative within the work and the actual process of creating the work. Based between representation and abstraction, every shape and space within his work have a part to play in the story, to fulfill the narrative of the piece. In his famous series like Scarecity and Emperors Dream, the painter played with the possibility of linking characters and stories together within a series, playing off each other as different points of view of the same scene imagined in his mind.
Every shape and space within Fox's paintings have a part to play in the story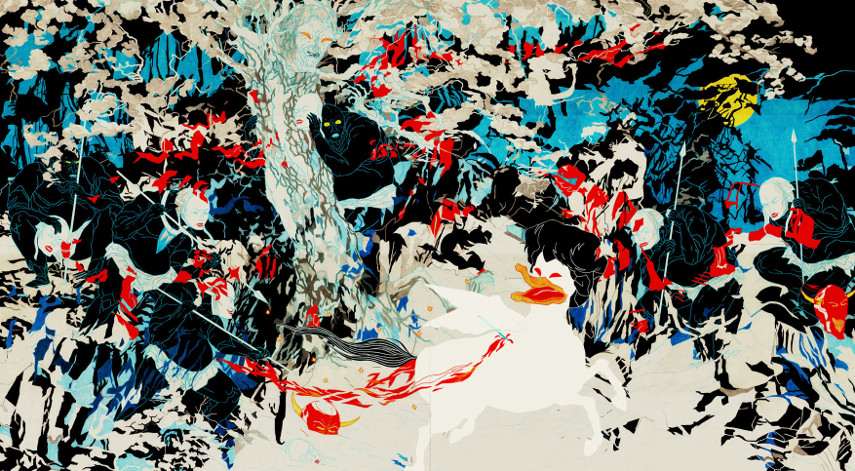 Process of Work
British artist works in a variety of media, but he prefers oil paints when working on canvas as it is the material he feels most comfortable with. Although he is using oil paint for the actual application on canvas, he is also using a variety of material and techniques during the process of developing and building ideas for the compositions. Sometimes he takes photos during the process and uses different ways to manipulate the image in order to spark ideas for the next stage in creatiing his work. It includes drawing over or using collage on print outs and finding ways to manipulate the image into a more exciting, unexpected direction.
The artist prefers oil paints when working on canvas
Influences and Exhibitions
During his younger years, the artist's main influences were cartoons, especially the cartoons by Tex Avery and Chuck Jones. As his interest in art grew, his list of influences broadened. His practice has been influenced by music, mainly the rise of hip-hop, different styles of animation, and painters such as Caravaggio, Joan Miro, Lucian Freud, Patrick Heron, Euan Uglow, Pablo Palazuelo and Kyffin Williams. Since 2003, the artist exhibited his works in numerous solo and group shows. The exhibitions were held in the United Kingdom, Australia, Canada, the United States, Denmark, Sweden, France, Germany, and the Netherlands. One of his recent one-man show was Spoilt Kingdom at Galerie Celal. In September 2016, his new work was featured in group show at Spoke Art in San Francisco. Entitled Suggestivism, it was on display until September 24.
He is represented by Kallenbach Gallery in Amsterdam, Galerie Celal in Paris and Delimbo Gallery in Sevilla.
Jon Fox lives and works in the UK.
Featured image: work in progress
All images courtesy of the artist