Jon Pestoni is an American abstract painter, who has, through unifying abstract forms over a variety of ground materials and techniques, developed complementary methods that result in layered, petrified paint. Pestoni was born in 1969 in St. Helena, California. He graduated with a BA degree at the University of California, Berkeley in 1992, and got his MFA in 1996 at the University of California, Los Angeles.
Painting as a Process of Self-Examination
Jon Pestoni's paintings each layer several compositional orders and methodologies - geometric forms, figuration, graphic art, and Abstract Expressionism - such that they become inextricable and perhaps even contradict one another. His work is an investigation of painting's ongoing ability to accommodate the widest possible variety of ideas on emotional, psychological, and philosophical levels. His practice is predicated on the experience of abstract painting's basic elements - color, gesture, scale, and surface. The resulting work might accommodate such various marks as drips, splatters, thickly applied paint, and dry brush strokes, all in varying degrees of transparency. Pestoni's works not only engage with the tradition and conventions of painting, but also with the idea of an artist's unique hand, and the thin boundaries between failure and completion. "I don't necessarily know how to finish a painting except by repeatedly trying to," Pestoni has said. "I try to introduce problems into my practice."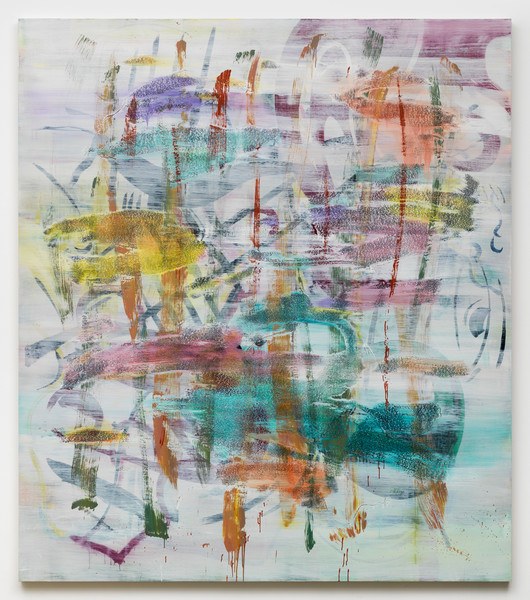 The Use of New and Uncommon Materials in Pestoni's Works
As his work has evolved over the last few years, Pestoni has introduced new materials, varied formats, and more dramatic shifts in scale to his repertoire of moves. In addition to medium- and large-scale canvases, his practice now include new mixed-media paintings on paper mounted to aluminum. These works provide the viewer with an intimate sense of how Pestoni gets from one compositional idea to another, and how a given idea, once subjected to his process, can emerge in two or more drastically different ways.
The paintings on paper are made in series, on the floor, so that they can accommodate gestures usually associated with much larger works. Layering is rendered visible by virtue of transparency, but also through sheer accumulation of material. Like many of Pestoni's newest paintings, works on paper feature the use of cat litter, which creates optical static and gives them a prickly, tactile immediacy that generates unexpected connections between the deckled edge of the paper and the textures applied to its surface. The artist forces what might otherwise be considered separate layers of paint to fuse with one another as the picture's background crumbles into foreground, disrupting the eye's ability to establish narratives about how a composition is made.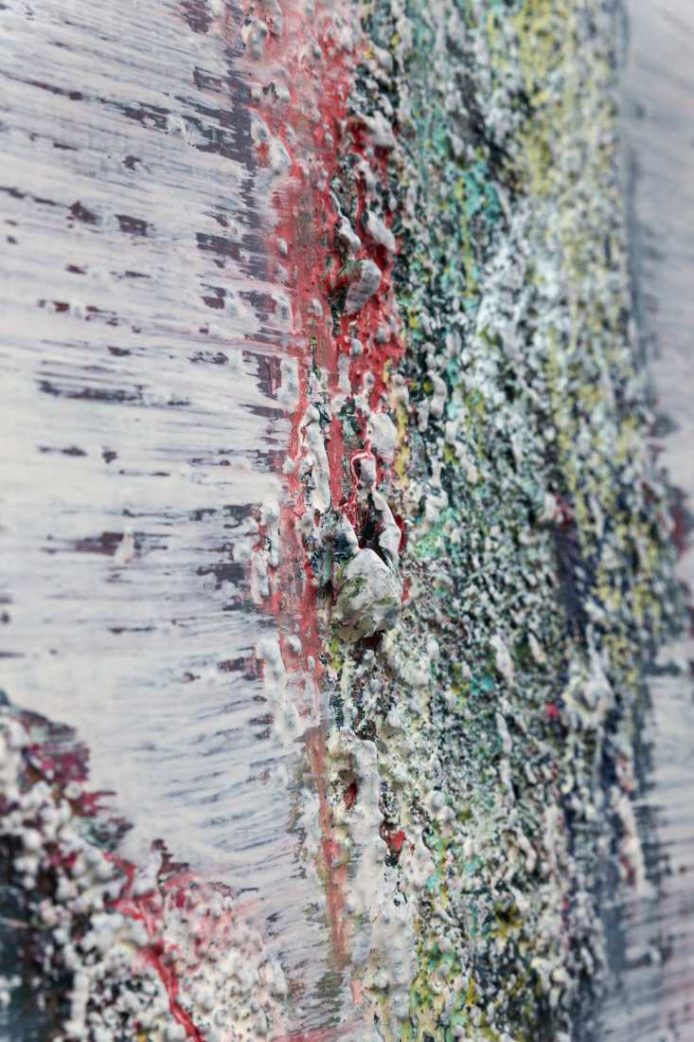 Recent Exhibitions of Jon Pestoni's Art
Jon Pestoni's paintings were recently the subject of solo and two-person exhibitions at Eleni Koroneou Gallery, Athens (with Alex Hubbard) and at the Shane Campbell Gallery, Chicago in 2014; and Real Fine Arts, Brooklyn in 2013. Recent group exhibitions featuring Pestoni's work include The Outlanders, The Pit, Los Angeles and Day-For-Night Nuit Américaine, Office Baroque, Brussels in 2014; Abstraction (sound and vision), Todd Madigan Gallery, California State University, Bakersfield and Alone Together, Rubell Family Collection, Miami in 2013, among others.
Jon Pestoni lives and works in Los Angeles.