Jonathan Delmas is a French artist who makes sculptures under the influence of music. His love for painting got him to create sleek and polished sculptures while making them appear futuristic, mechanical and out of this world. However, his art definitely belongs to this world, to many galleries and private collections. When he makes art he likes to look into future, where all his contemporary creatures find their reference. However, his heart belongs to some older, melancholic times, where wonderful nostalgia hits in.
Bear Series
Delmas makes polished, shiny, sleek sculptures, inspired by music. His love for harmony and good rhythm inspired him to make pieces with intrinsic dynamic. Being as it is, that is quite difficult to capture movement in a sculpture, he gave his pieces, a simple form, but great chrome color, so they could shine and reflect light. His Bear series were inspired by childhood, memories, and youth. He uses mainly bronze and chrome paint with variations of silver, blue, black, white or red shade.
Delmas uses mainly bronze and chrome paint with variations of colors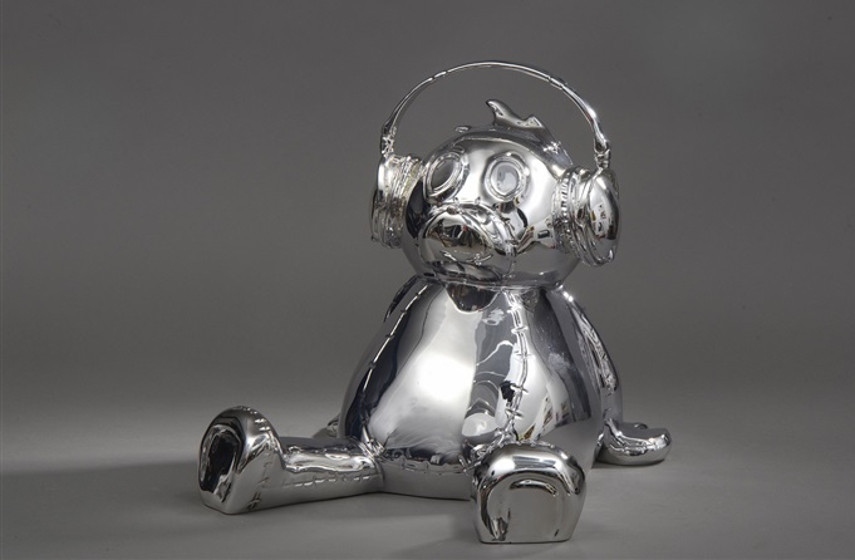 The artist is represented by Markowicz Fine Art.
Featured image: Jonathan Delmas - Chen (Detail)
All images courtesy of the artist