One of the pioneers in both the fields of typography and graphic design, Joost Schmidt was a German artist who devoted his efforts to experimenting with lettering and teaching about different methods of designing. Although he is often overlooked when conversations about Bauhaus are taking place, Schmidt was one of the most important assets this revolutionary school had in its arsenal. He was a hand in glove fit with the Bauhaus concepts of unifying the commonality of the fine arts and the applied arts, combining aspects which were believed to be unbondable. Through his work and activity, Joost Schmidt was able to reach excellence in design and craftsmanship, as well as to be responsible for the impressive output of talented young artists that developed typography and design throughout the 20th-century.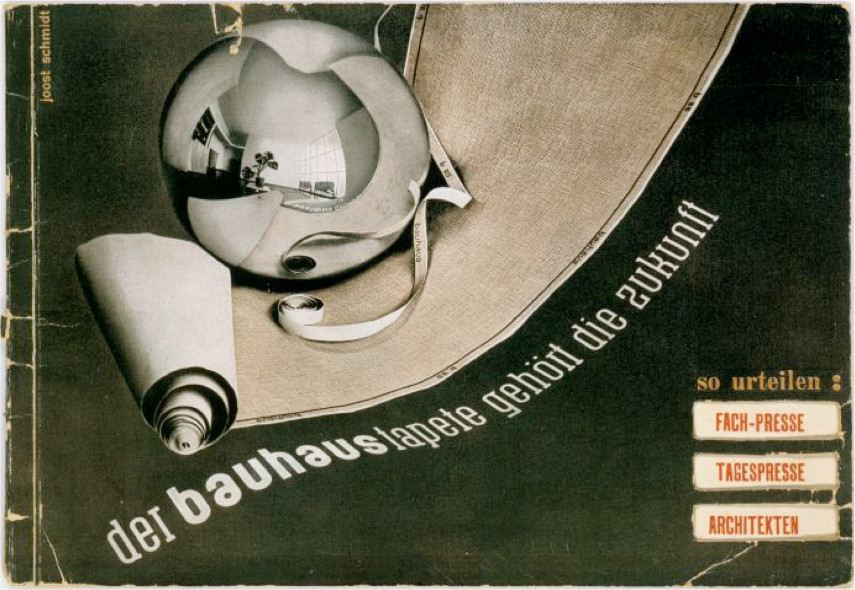 Early Teachings and First World War
Joost Schmidt was one of the three children in his family and endured a difficult upbringing due to financial strains put on his parents. He inaugurated his educational journey during the year of 1910 when he began auditing classes at the Großherzoglich-Sächsische Hochschule für bildende Kunst (Grand Ducal Saxonian school of arts) in Weimar. After he displayed glimpses of geniality, Schmidt subsequently became a master student and a protege of Max Thedy, a well-respected painter, draftsman and etcher. Although Joost was in fact driven by his ideas of graphic design and typography that will eventually prove to be his true calling, the aspiring artist was actually influenced by Thedy to follow his own steps and pursue a career in traditional painting - which he precisely did as Schmidt received a diploma in painting during the winter semester of 1913/14. Unfortunately, Joost's progress was put on a lengthy hold as the First World War broke out and the young artist suddenly found himself drafted and expected to wage war for his fatherland. Schmidt rose up to his military duty and fought on until he became a prisoner of war - he remained a captive for the rest of the First World War and had to wait for the year of 1918 to return to Germany. Finally back home, Joost Schmidt was troubled with horrific sights and traumas from the war but was capable of continuing his artistic development that was put on hold for so long. In fact, he made it his main goal in life as he concentrated all efforts on progressing his artistic expression.
Staying True to Bauhaus, from Weimar to Dessau
In order to somehow further stimulate his creativity and to yet again light a fire under his artistic aspirations, Joost Schmidt took up another course of studies at the school of Bauhaus in Weimar, an experimental university Walter Gropius founded with ideas of balancing the opposites of craftsmanship and artistic creation. Between the years of 1919 and 1925, Schmidt trained in the workshops for stone and wood under the guidance of Johannes Itten and Oskar Schlemmer - this experience served Joost tremendously as it allowed him to learn about a medium he never previously worked in, effectively extending his artistic arsenal. During the year of 1921, Schmidt worked on two projects that will prove to be key milestones of his career - he designed carvings for the Sommerfeld House in Berlin and devised posters for the Bauhaus exhibition that took place in Weimar during the year of 1923. When the time of the said show came, Joost provided his colleagues with a pantomime for this event as well, performed at the municipal theater in Jena. The exhibition was a testing ground for the young artist that used the opportunity to prove his worth and was ultimately accepted into the inner circle of Bauhaus. He was offered an opportunity to run the sculpture workshop and be the head of the typographic department, but Schmidt refused and decided to go with the contract offered to him by Gropius himself - Joost became a junior master (basically a teacher) at the Bauhaus Dessau.
Like many of his friends in Bauhaus, Joost pursued a strict and disciplined method of designing his works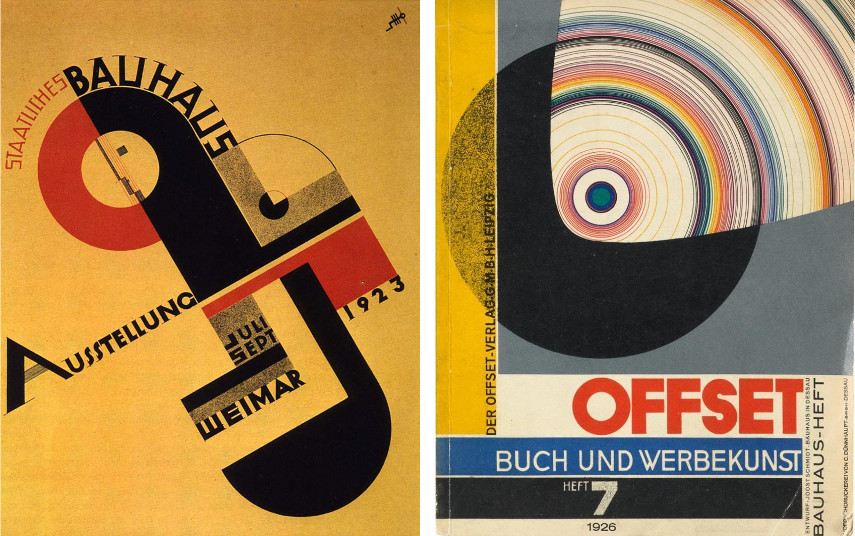 Later Life and Projects
The same year he became a junior master in Dessau institution, Schmidt married the Bauhaus student Helene Nonné and entered what will prove to be a very happy marriage. Between numerous additional out-of-school activities, Joost taught calligraphy for the preliminary course Bauhaus was famous for, although he did direct the sculpture and typography workshops as well. He was also quite active in the experimental photography department between the years of 1928 and 1932, plus he was teaching life and figure drawing for the upper semesters. In addition, Joost was held responsible for the mechanical organization of the studio stage. As you can see for yourself, such a wide range of functions made Schmidt a valuable commercial asset for Bauhaus, as well as a key figure of spreading his school's influence around Germany. Interestingly enough, he never held a single class in Berlin although Bauhaus did have a school in the capital of Germany - however, Joost had a private studio in Berlin, even though it seems as if he preferred to use is as a secluded location for thinking and coming up with ideas. Starting with the year of 1934, Schmidt collaborated with Gropius as the duo designed the non-iron metals section of the propaganda exhibition Deutsches Volk – Deutsche Arbeit (German people – German work). A year later, he accepted a teaching position at the private school Kunst und Werk in order to somehow fool the rising Nazi regime into believing he had nothing to do with the Bauhaus system. However, he was soon prevented from practicing his profession due to his past affiliation with the Bauhaus.
Many of the expressive tools used by Schmidt are still having their toll on the poster making methods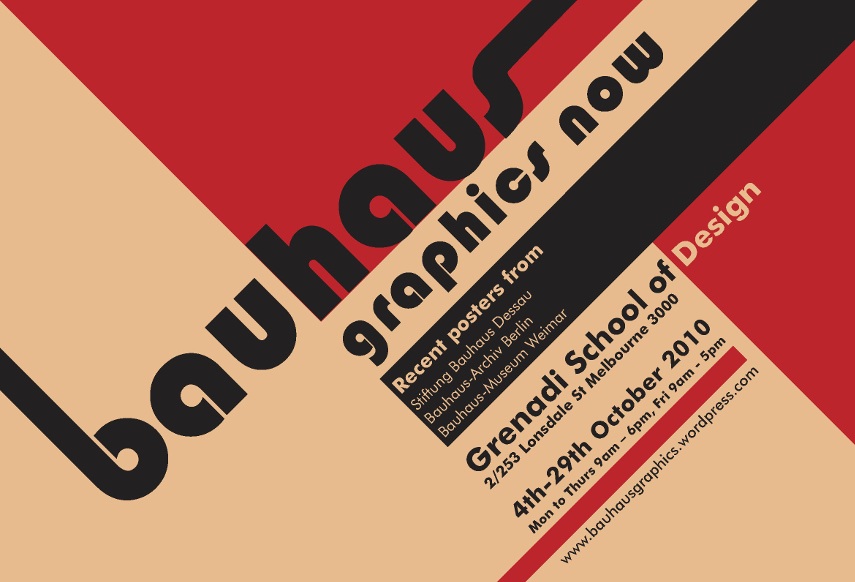 An Unfairly Compromised Legacy
To this day, Joost Schmidt remains as one of the most overlooked figures of the Bauhaus and its simultaneous geniuses of both art and design. This may be down to the fact he attempted to separate himself from the school's influence as the nazis were rising to the political top of Germany, but what is often neglected is the fact he contributed greatly to the legacy of Bauhaus after the war ended. Following the nazi regime's downfall, Schmidt was appointed as a professor at the Hochschule für bildende Künste (School of Art) in Berlin and had an immense role in the design of the exhibition Berlin plant/Erster Bericht, the first exhibition on the city's plans for reconstruction held by former Bauhaus colleagues.
Featured Image: Joost Schmidt - Poster for the 1923 Bauhaus Exhibition in Weimar - Image via wings1320com
All images used for illustrative purposes only