Joram Roukes is a Dutch fine artist, best known for his large oil paintings where he is blending various stylistic elements and references to sub cultural group as well as popular culture, while insisting on comprehensive and colorful compositions. His works have been shown throughout Europe with shows in Copenhagen and London.
Joram Roukes: From Netherlands to U.S.
Roukes was born in Lelystad, the Netherlands. He graduated from the Academy of fine arts Minerva (BFA) in painting and education in 2006. One of the turning points in Roukes' art was award that he received in 2008 'Start Stipendium' by Netherlands Foundation for Visual Arts, Design and Architecture. This helped him to pay for an artist residency in Brooklyn, New York where he worked for 4 months, initiating his current line and body of work.
Where Boys Fear To Tread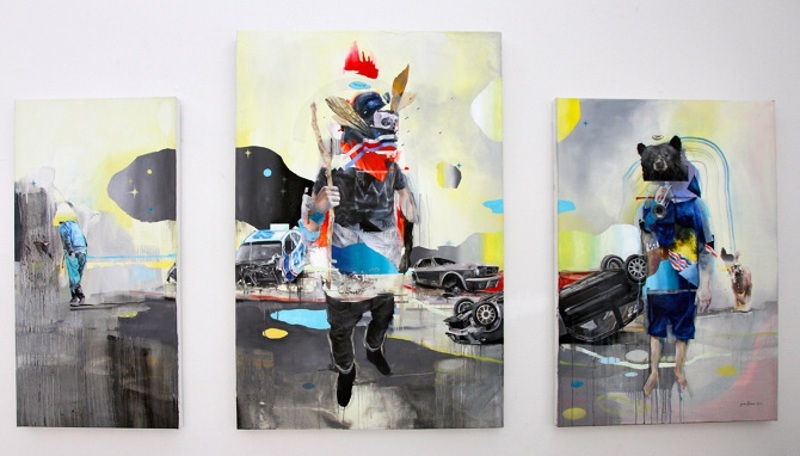 When asked about his strengths and weaknesses and how the college did influenced him, Joram states:
"My strength as well as my weakness I think is being able to paint well. As it is tempting to opt for this medium anytime I'm creating something, even when sometimes a different medium or technique or discipline may be more suitable to work out ideas. This was the case during my education as well as I was practicing graffiti prior to that. Doing graffiti, you kind of teach yourself aesthetic ways that are awfully difficult to get rid of. I struggled with this at first because I thought I didn't need to let go of this even though teachers wanted me to be more of a 'tabula rasa'. It took a while for me to realize it is very valuable to open up and experiment."
Roukes's works are characterized by poppy colors and humor at first glance, only to be rediscovered as something adventurous, bleak and uncanny, underneath the surface. His large oil paintings are the reflections of everyday life situations, observed, filtered and reassembled in combination of materials, usually a kind of build-ups or collages of inner-city figures and characters.
West VS Non-West
Joram Roukes lived in a small Dutch town of Groningen before moving to US. The town itself isn't the most inspiring of all places, he said, but his work often refers to the kind of banal excesses of modern society, and that is, indeed, well present in our small country and community.
Wreckface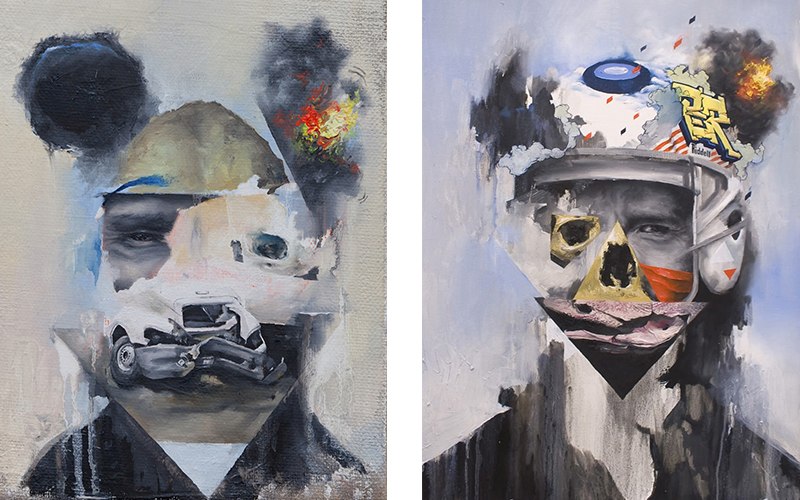 His coming to New York put him right in the middle of excessive society. The result of these social and cultural amplitudes he experienced is a fruitful combination of criticizing both western and non-western societies, coming to the conclusion that the chosen mainstream lifestyle isn't generally in anyone's best interest. Visually judging upon society's flaws or imperfections seems obviously redundant, so he tends to confuse, leaving most of the story unfinished.
"There hasn't been a specific incident or experience that influenced me in that regard. It's more of a gradual process. I observe and filter the world around me and give everyday life a fair chance to inspire me", Roukes confesses.
Joram Roukes' Animal Heads
Graffiti-art had (and still has) a big impact on Joram Roukes' work - in terms of the aesthetics but also in the way of looking at the world. As he says, it gave him a sharp eye for the 'dirty edges' of society and ability to see beauty in decay.
Animals play a very important role in Roukes' art, as he paints mostly animal heads on his human figures to enable association. That is because animal heads, according to artist, can evoke association with a certain behavior and attitude he wishes to present, much more than a human face can do. Simply, a human face doesn't work in the same way. That is why he never paints any portraits.
"Painting a human would make the painting be about this particular person, and that is not what I'm aiming for. It will become too recognizable as 'someone' instead of 'something'"
Animal Heads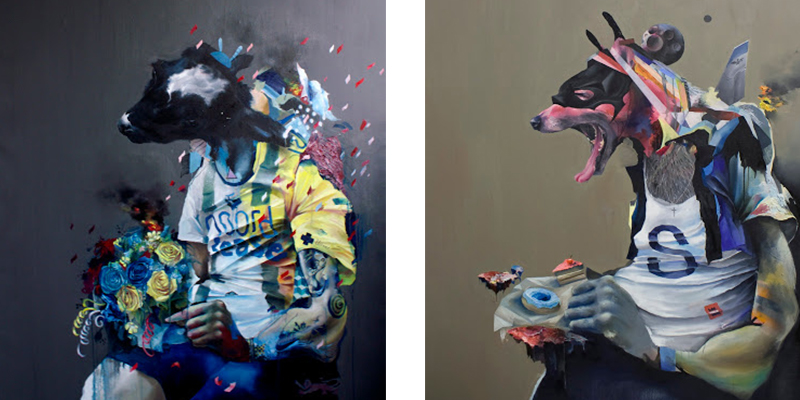 With an airy atmosphere and dream-like surrealist landscapes, Roukes' paintings create multiple layers of content, featuring characters placed in situations ranging from western folkloric festivities to common customs and behavior in a context of both reality and dreams.
Joram Roukes admits that he looks up mostly to contemporary artists. Neo Rauch's work has been more an inspiration than a simple influence. Same goes for Glenn Brown whom he calls "incredible". Jeremy Geddes is also in that company, together with David Lynch and his films.
Les bons Sauvages
In 2013, Rouke's show at StolenSpace Gallery: Les bons Sauvages, presented a work that he created as a result of his own personal interest to the subject of folklore and tradition; placing human and animal figures in situations ranging from western folkloric festivities to common customs, showing a behavior in a context or environment touching both dream and reality.
Paramnesia
In 2014, a gallery Thinkspace in Los Angeles presented Joram Roukes' exhibition Paramnesia. The show was named after a phenomenon when the perception of realities, either imagined or observed, is inextricably bound; a person actually confuses reality and fantasy (like in the cases of déjà vu). Through a subjective process of recall, memory becomes a complex mirage of juxtapositions and imaginative distortions – the real is subsumed by the imaginary, making the two virtually indistinguishable.
The artist suggested that contemporary consciousness is subject to the motives of its adopted imaginaries, and reality; and he did it by combining fragments of the real with the limitless associations of dream and fantasy – morphing the one into the other. Roukes moved freely between precise, anatomically-correct figure painting and a messy expressionism.
Masters Projects with Charles Wilkin
In 2015, Roukes participated in Masters Projects, Brooklyn where he held an exhibition together with an American artist Charles Wilkin. The two artists were united in this occasion by the dark nature of their surreal subjects, as well as their intuitive juxtapositions of photographic imagery and abstracted forms.
Masters Projects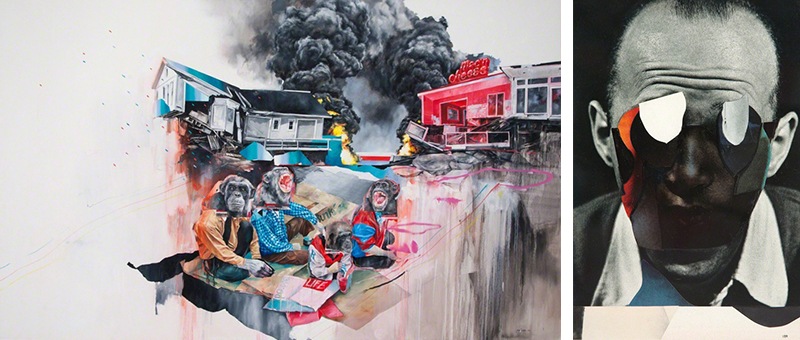 For this duo shoe, each artist used appropriated images as 'readymades' within their unique stream-of-consciousness styles; processing the themes concerning the nature of interpretation and the ways in which images embody cultural memory.
The Great Beyond
One of Joram Roukes' 2015 project was an exhibition The Great Beyond at StolenSpace Gallery in London. This show presented a new body of work that anatomized subjects of exploration and escapism by drawing from his personal nomadic experiences, exploring the wider sense of this subject.
The Great Beyond exhibition installation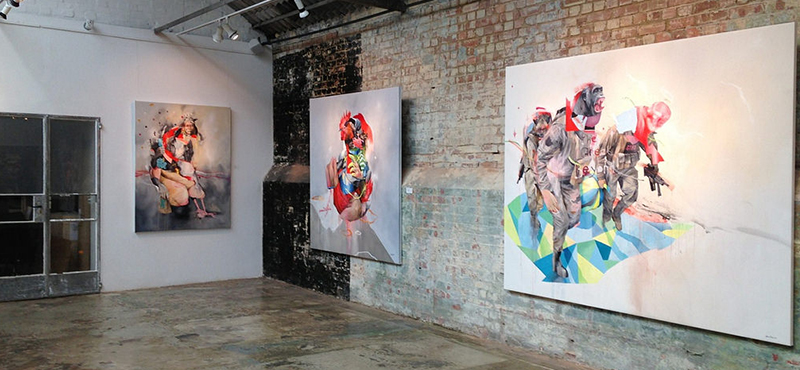 Joram Roukes currently lives in Los Angeles, California, US.
All images copyright © the artist