The biggest figure of the post-World War II avant-garde scene in Germany, Joseph Beuys viewed art as an exceptional mean for invoking positive social changes. His performance art pieces were mystical experiences often described as shamanistic in nature because of Beuys' tendency to incorporate ritualized gestures and sounds. Additionally, Joseph Beuys also included some very repulsive materials within his works, such as human fat, blood and even dead animals. He was often branded as rather controversial by the public as many were not able to cope with the graphic aspects of this artist's work. Joseph also counted debate and teaching as vital parts of his art and was a leader in many social and economic reforms in his time. Akin to Andy Warhol in influence but with a more wildly ranging vocabulary, Beuys is possibly the most vital performance artist to have ever lived.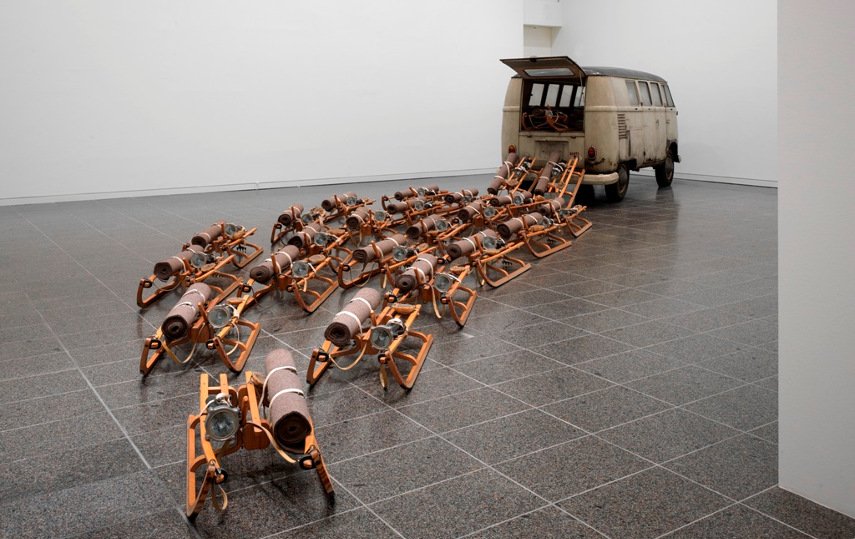 Early Life in the Third Reich
Joseph Beuys was born in Krefeld, a city in North Rhine-Westphalia, Germany. He was a son of a merchant Josef Jakob Beuys who moved his family from Geldern to Krefeld in 1910. After 1921, the year of Beuys' birth, Josef yet again decided to move. This time, the family set its sails for Kleve, an industrial town in the Lower Rhine region of Germany which is very close to the Dutch border. It was here that Joseph spent his childhood, studying at the Katholische Volksschule primary school and Staatliches Gymnasium Cleve secondary school. During his school days, Beuys showed an exceptional talent for drawing. Additionally, his creativity was further stimulated with regular piano and cello lessons. It's recorded that young Joseph also visited the studio of the Flemish painter and sculptor Achilles Moortgat on at least few occasions. Beuys enjoyed reading as well, making books his primary choice of entertainment. Interestingly, when the Nazi Party staged one of their notorious book-burning incidents in Kleve on 19 May 1933 in the courtyard of his school, young Joseph saved the book Systema Naturae by Carl Linnaeus from the flames. After Adolf's government made the Hitler Youth membership mandatory, Beuys joined thousands of German children and adolescents at the time and became a part of this notorious group when he was fifteen years of age. Joseph was even a part of the controversial Nuremberg rally in September 1936. As he was coming near to the end of his teens, Beuys wanted to be a doctor. However, after he was influenced by pictures of Wilhelm Lehmbruck's sculptures, Joseph decided to become a sculptor himself.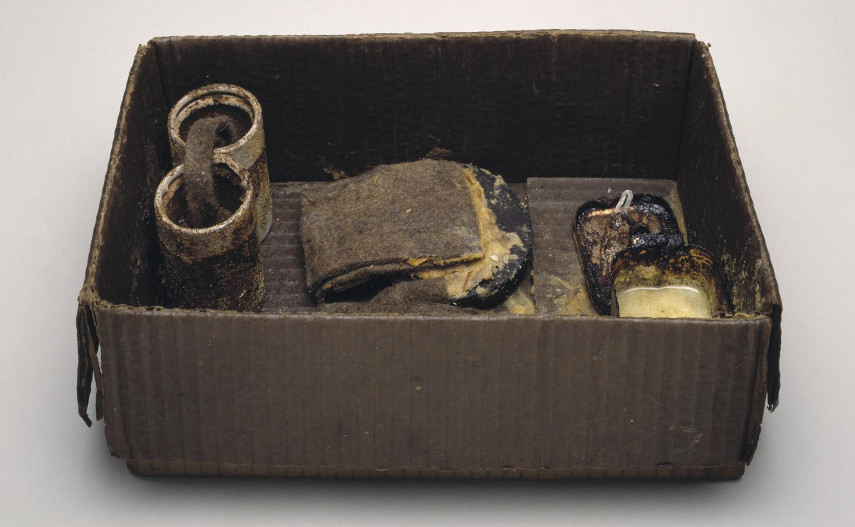 World War II and Tatars
When the World War II began, Joseph Beuys began his military training as an aircraft radio operator under the tutelage of the famous Heinz Sielmann. Additionally, the young artist also attended lectures in Biology and Zoology at the University of Posen. From 1942, Beuys was stationed in the Crimea and was a member of various combat bomber units. As the Germany was being brought to its knees and the tide of war was turning, Joseph was deployed as a rear-gunner in the Ju 87 Stuka dive-bomber. It is rather logical that all the violence of WWII finally pushed Beuys' eternal doubtings overboard and enabled him to pursue the career of an artist. Some of his drawings and sketches from this period were salvaged and it's interesting that they were already displaying Beuys' characteristic style. As the story goes, the pivotal moment of his career happened on the 16th of March in 1944. After an intense battle in the sky, Beuys's plane crashed on the Crimean Front. Allegedly, he was rescued from the crash by nomadic Tatar tribesmen who had wrapped his severely injured body in animal fat, nursing Joseph back to health. Concerning this turn of story, the artist spoke on numerous occasions, often stating that he would not be alive had it not been for the Tartars[1]. However, German war records show that Beuys was actually delirious when the Nazi search commando unit found him and that there were no Tatars in the vicinity at that particular time. Nonetheless, such a fascinating tale appealed to the public which accepted it as the true origins of Joseph's artistic identity. Following the plane incident, Beuys was rotated back into the army and served bravely until the end of the war as a part of a paratrooper unit. After the piece treaty was signed, he returned to his parents who had moved to a suburb of Kleve.
Through his teachings and Aktions, Joseph Beuys frequently blurred the line between art and life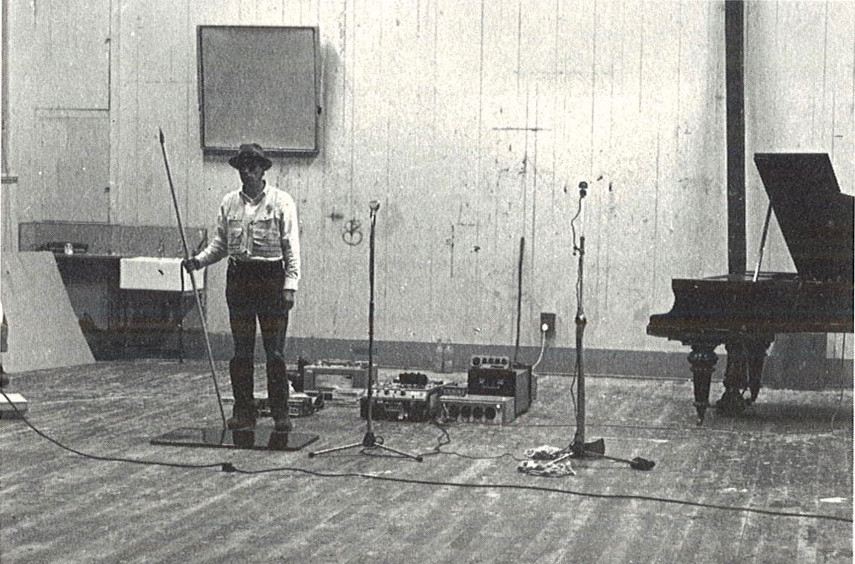 True Artistic Beginnings
After his return to post-war Kleve, Beuys met the local sculptor Walter Brüx and painter Hanns Lamers. The two new friends introduced joseph to the local scene and enabled his entrance into the Kleve Artists Association. In 1946, the ambitious artist enrolled in the sculpture program at the Düsseldorf Academy of Fine Arts. The anthroposophic philosophy which was a big part of this university's core identity effectively became a key aspect of Joseph's own art as well. He explained such a decision with the following statement: an approach that refers to reality in a direct and practical way, and that by comparison, all forms of epistemological discourse remain without direct relevance to current trends and movements. In 1947, Beuys was a founder member of the group Donnerstag-Gesellschaf (Thursday Group). He was in charge of organizing group's discussions, exhibitions and concerts[2]. As a hobby, Joseph also assisted with a number of wildlife documentaries made in the late 1950s. Beuys graduated from the Düsseldorf Academy of Fine Arts in the year of 1953. He was thirty-two years of age at the time. After that, Joseph had a modest income from a number of crafts-oriented commissions as he proved himself to be a rather talented maker of furniture and gravestones. However, Beuys' main goal was making art. He mostly created drawings and sculptures through which he was able to examine a range of unconventional materials and improve his artistic program by investigating metaphorical and symbolic connections between natural wonders and philosophical systems. Joseph basically desired to explore the material world through the sphere of myth and philosophy. Unfortunately, such individualistic concepts led Beuys to regular physical and psychological crises, eventually exploding in a form of a severe depression in 1956. On the brighter side, Joseph's ideas were considered to be critical concepts of the Fluxus movement and it's anti-art propaganda.
Joseph Beuys was a key participant in the 1960s Fluxus movement and one of the finest artists to rely on ephemeral, time-based and impermanent installations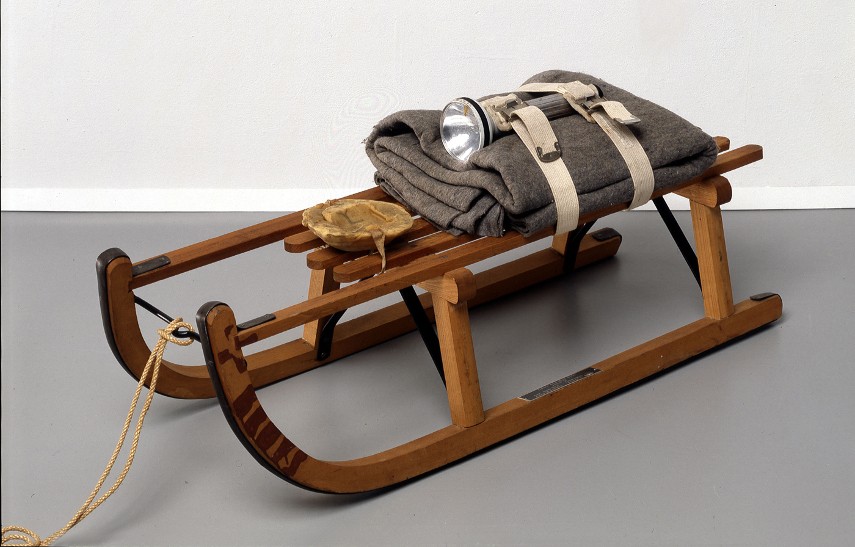 Beuys' Celebrated Peak and Shamanism
In 1961, Beuys was appointed as a professor of monumental sculpture at the Kunstakademie Düsseldorf. This enabled him to do what he loved the most - holding lectures, philosophizing and teaching others. Joseph's first genuine performance piece, or Aktion as he preferred to call them[3], was held at the Technical College of Aachen in 1964. The artist performed an act which he titled Lebenslauf/Werklauf (Life Course/Work Course) but was not able to finish it as Beuys was attacked by the students during the show. This controversy was further emphasized as Joseph was fired from the Kunstakademie Düsseldorf for tutoring sixteen individuals which were saw as not fit for the school's program. Nonetheless, Beuys continued an intense schedule of public lectures and discussions, as well as becoming increasingly active in German politics as his reputation was starting to grow in the eye of the public. Finding so much pleasure in teaching, Joseph Beuys said that teaching is the greatest work of art and that the rest is the waste product, a mere demonstration. He desired to channel teachings through his artworks, to somehow make his pieces extremely socially and politically aware. He wanted to give his art a role, he felt it needed a duty. In order to achieve such challenging goals, Beuys turned to shamanism. Although such a decision was not a novelty in art history (Picasso and Gauguin come to mind in an instant), Joseph was unusual as he felt that it was necessary to integrate the shaman role into both his art and private life.
Joseph's most praised performance pieces such as How to Explain Pictures to a Dead Hare and I Like America and America Likes Me were heavily based on such concepts. In his own words, Beuys saw and used his performative art as shamanistic and psychoanalytic techniques to both educate and heal the general public. When observed from that perspective, Joseph's art was educative as well as therapeutic[4]. Although his performances were the highlight of his career, Beuys organized less and less such acts as he was growing older. This may be explained as a necessity of aging and losing energy, but such a lower number of performances was required in order for Joseph to hold as many lectures as he felt was humanly possible - something he did until the end of his life. Joseph Beuys died of heart failure on 23 January 1986, in Düsseldorf, after a long period of illness that plagued him for years.
Beuys demonstrated how art might originate in personal experience yet also address universal artistic, political and social ideas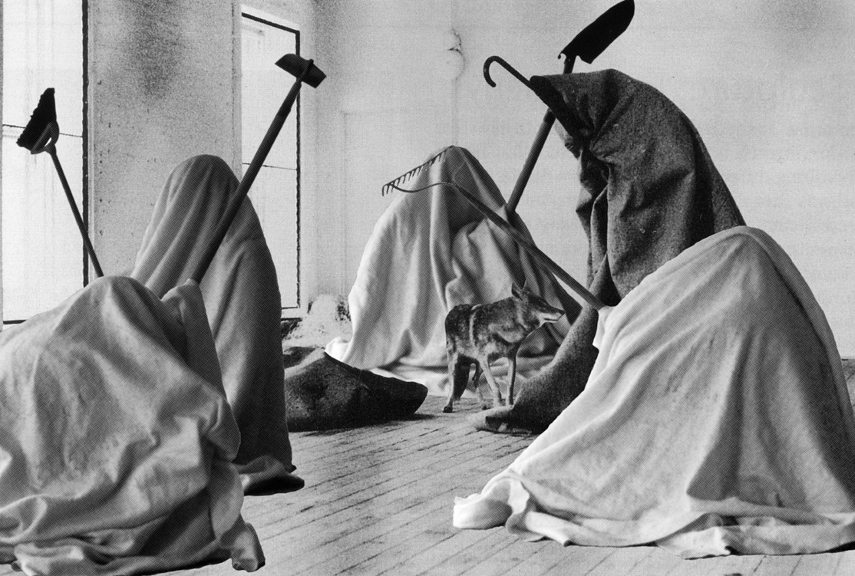 The Eternal Work of Joseph Beuys
Between his intellectual lectures and controversial performance pieces, Joseph Beuys effectively reserved his spot in the elite of art history. Ultimately, his life's mission was to make creativity more democratic and socially aware, all in order to collapse the space between life and art - we are proud to say that Beuys managed to achieve his objective with flying colors, to say the least. One can make a rather bold and justified statement that both Conceptual and Performance art would not be the same today[5] if this German artist was not active for some unfortunate reason. Luckily, Joseph Beuys left his imprint on both mediums, dictated the courses they took and shaped them in what they fundamentally still are today.
This artist is represented by Galerie Thalberg Zurich, Gagosian Park & 75 New York, Gagosian West 24th Street New York, Gagosian Beverly Hills, Gagosian Britannia Street London, Kunzt.gallery, Gagosian West 21st Street New York
References:
Michely, V., Mesch, C., Joseph Beuys: The Reader, The MIT Press, 2007
Borer, A., The Essential Joseph Beuys, Thames & Hudson, 2016
Beuys, J., Joseph Beuys: A Colorful World, Schirmer/Mosel Verlag GmbH, 2011
Ackermann, M., Muller, M., Boehm, G., Joseph Beuys: Parallel Processes, Schirmer/Mosel, 2010
Beuys, J., Harlan, V., What Is Art?: Conversations with Joseph Beuys, Clairview Books, 2004
Featured image: Joseph Beuys - Portrait of the artist by Robert Lebeck, 1978 - Image via tmlarts.com
All images used for illustrative purposes only.