Joseph Cornell was an American artist who pioneered the art of boxed assemblage. Along with the collage assemblage, he made the experimental avant-garde film, influenced by surrealism and pop art. Cornell led a peculiar life, spending most of his time inside his home where he grew up. Being very introverted and self-conscious, he did not like to go out much or to meet other people, yet somehow he managed to account Andy Warhol, Rothko, and many other famous artists from the mid 20 century. Staying cornered in a house, he managed to find the portal to infinity inside his boxes.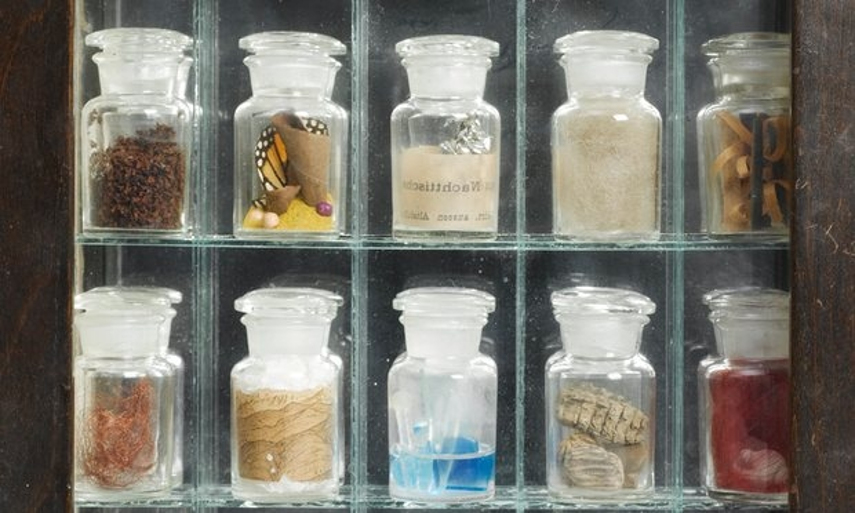 Collecting Treasueres
Joseph Cornell was born in Nyack, New York, in 1903. He had two sisters and a brother. His family was a typical middle-class family, his father was a textile salesman, and his mother was a preschool teacher. After his father suddenly passed away in 1917, his poverty-stricken family had to move to the district of Queens. Cornell attended the Phillips Academy in Andover, Massachusetts, but soon returned home. Since then, he never ever left New York. He was very close with his brother, Robert, who had cerebral palsy. He and Joseph spent almost every moment of their lives together. Cornell felt comfortable in his house, but he had to go outside to work, so that was the reason to despise his merchant job even more. While he was employed, he found a new joy and excitement in visiting the city museums, flea markets where he purchased interesting memorabilia and random objects that fascinated him. Along with the museums, galleries, and open markets, Cornell visited bookshops and Opera. He started making a big collection of his found objects, from paper cutouts to old tickets, sea shells, pinecones, plastic, and glass. His fascination with the opera, especially ballerinas, later had quite an influence on his artwork. He admired female power and befriended many ballerinas and actresses. Also, many of his business partners later in life were female. Unfortunately, his shyness kept him away from romance.
Cornell stayed true to his childhood theme, using objects and images from the fun parks or children books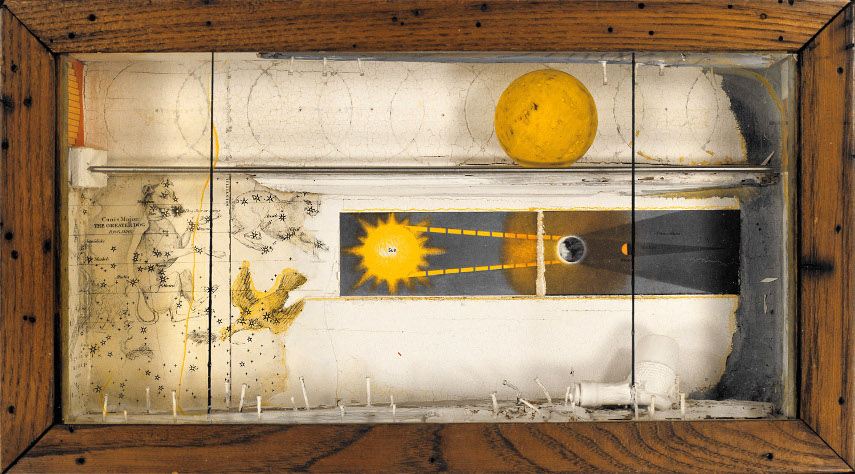 Paper Files and the Beginnings of Assemblages
Cornell never learned how to draw and paint, and when he discovered what surrealism is, during the 1930's he decided that he can also pursue art. To be able to express himself, an artist can create and chose his own medium, that was the philosophy of surrealism and Cornell's guiding idea. He improvised his studio, at first a kitchen table at his home in Utopia Parkway, and worked with glue, scissors, and paper, mostly at night. His first artworks were collages, that were done in a form of paper archives, similar to the what we today call portfolio. There was one with ballerinas, one with butterflies, cyclists, food, bugs and other animals. He called his paper files, part art, part categorization. Soon after mastering the collage, he turned to experimental avant-garde film and his first shadow boxes. He was completely self-taught and knew nothing about the art world, yet his films were very popular. His films were even reviewed in artistic, Surrealist and Dada, magazines at the time. His first shadow box Soap Bubble Set was exhibited at the MOMA in 1936, as part of the Surrealist and Dada exhibition. Even though he was very shy and completely introverted, he liked that his work was praised and well accepted by art critiques and fellow artist. He continued to communicate with all of them, for the business reasons, even though he found it hard to stay so open.
Cornell was a real magician in finding the exact right object to go with the story of the box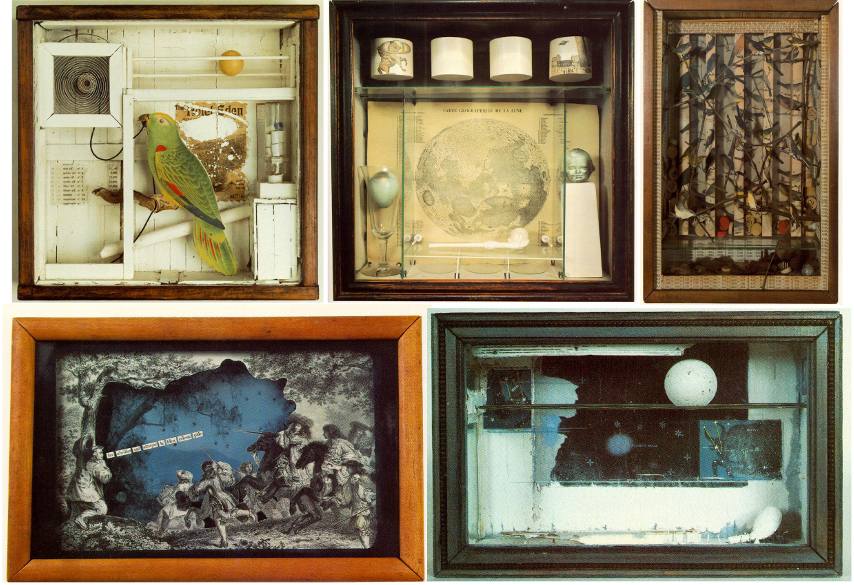 Shadow Boxes
After the first success, he decided to resign from his sales job and to open a real studio this time in his basement. There he started making many shadow boxes, and he started constructing the frames himself. He became very skillful with power tools, wood cutting procedures, and he used lots of paint, lacquer, and colors. His assemblages, the shadow boxes, carried a strange Victorian energy. They completely captivated the viewer, bearing a feeling of nostalgia. They recall childhood memories, bringing the mixture of sadness and joy. Cornell was a real magician in finding the exact right object to go with the story of the box. All that hoarding, and sorting out the found objects, turned out to be very useful while he made his boxes for 15 years. First, he made each box over a slow period of time, later he made them in series, telling a unique story in chronological order, and making sure that the composition of each one matches the other. He stayed true to his childhood theme, using many objects and images from the fun parks or children books. His series Medici Slot Machine was done with hidden awards, colored balls, and childlike play games. In Hotels and Observatories he emphasized the feeling of transcendence one encounters on a way to an observatory. His imagination was infinite. There was nothing he could not think of, and everything seemed possible and made sense. Passengers could travel outside of the world, visit the celestial landscapes, parrots could be targets for play shooting, and whole new worlds could fit into the box.
All images used for illustrative purpose only © Joseph Cornell