Carefully balancing between traditional modern art and the digital age we live in, Josh Rowell is an interesting young artist whose paintings and installations have been attracting mass attention from the art lovers around the Old continent. The most intriguing aspect of Rowell's work is that every single piece is underpinned by a coding system, as the young British artist explains himself: everything can be reduced to a molecular binarism where all systems can be simplified to yes/no decisions. This is obviously the way Josh sees the world around himself, but more importantly, this is what he attempts to implement into all of his pieces, regardless of which medium he works in at the time.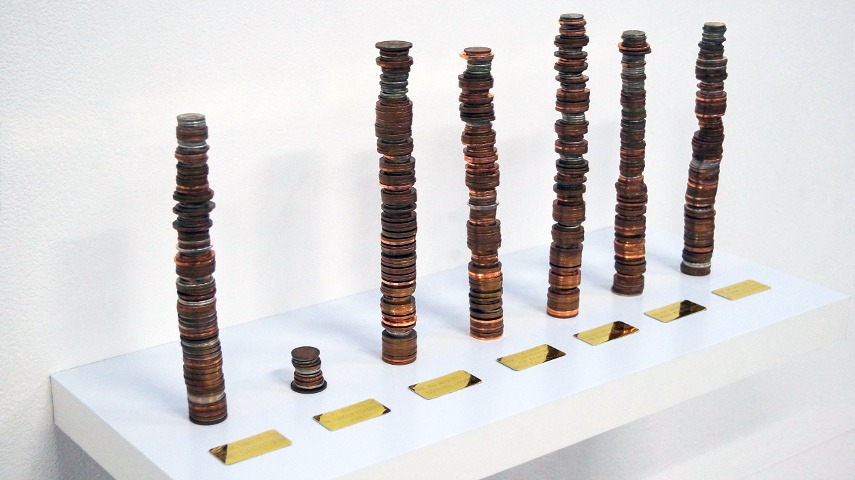 Coded Languages and Unpredictable Visuals
Born in 1990 in London, England, Josh Rowell graduated from the respectable Kingston University in 2013, where he received his Bachelor's of Arts after he graduated with flying colors. Following an extended study in Art Criticism at Central Saint Martins college where Josh expanded his knowledge, Rowell received his MFA in Fine Art from the Kingston University in 2015. As an artist, Josh Rowell achieves his creative visions by converging on technological privileges that mold our modern lives, carefully communicating with the audience through his pieces of visual art. He finds a nice balance between subtle techniques and laborious production processes, always inserting strong conceptual connotations inside every piece he makes, regardless of which medium he is currently working in. Since we are at the particular subject, Rowell mostly concentrates his efforts on authoring standard installations and paintings, although he has been showing an interest towards other mediums as well - sculpture, mixed media, and often times he would work with light, video and sound installations. In an attempt to explain his art and creative motivations fueling his work, Rowell stated the following: In layman's terms, I enjoy making things. I make paintings, I make sculptures, I dabble in video and sound, and installations float my boat. Do you get the picture? I don't believe in a monolithic approach to art (if you paint you can only paint) I believe in inclusivity and variety in art and beyond. Logically enough, the kinds of juxtapositions common in Josh's work have resulted in a production of a specific visual language that investigates and reshapes information at its disposal, gifting the audiences an opportunity to see the world around us from an alternative perspective. As was said before, Rowell forces most of his pieces to respect his golden rule of coding - the most evident project reflecting this practice is undoubtedly the Painting Language series from 2016. In this project, Josh displays a complex style inspired by one-zero binary system. The sequences in Painting Language read as a codified attempt to create new forms of visual text that examine the possibilities of alternative expression and information exchange.
Displaying a great control over strict systems, Josh Rowell often emphasizes that his pieces can be broken down as if they were coded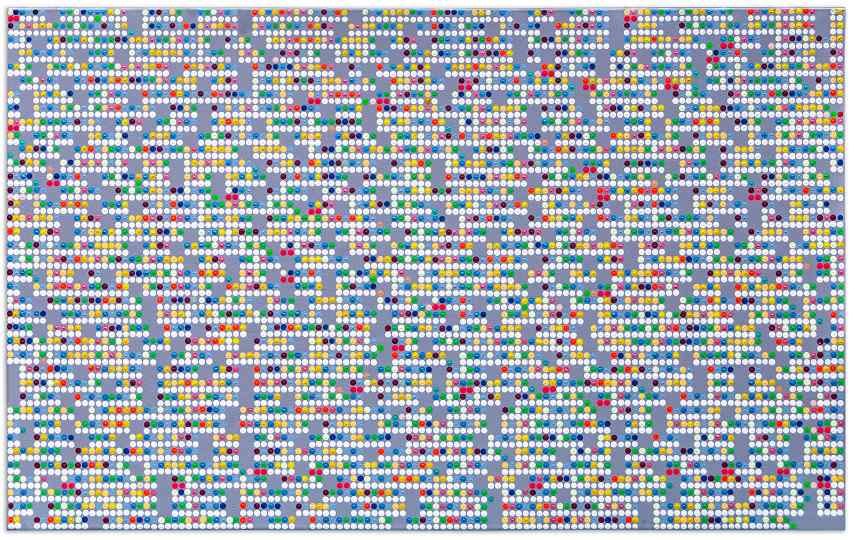 You Must Experience Josh Rowell's Art
On all levels, this artist's work is a joy to behold. The most interesting thing concerning Josh Rowell's short career is the incredible amount of evolution his creative processes have been put to over the years as different mediums, various concepts and artistic variations can all be found in his portfolio - this makes us very optimistic concerning this young man's future and the work he will be authoring in later years. Rarely do we have an opportunity to witness such a successful artist who still has all the time in the world to develop his visual language and reach his potentials, which can honestly be whatever Josh Rowell desires them to. The sky is the limit, as the old saying goes.
The artist is represented by Unix Gallery.
Josh Rowell lives and works in London, United Kingdom.
Featured image: Josh Rowell
All images courtesy of the artist and Unix Gallery