JPS openly states out that seeing Banksy exhibition in 2009 changed his life. That was just an external trigger he needed in order to unleash the massive flow of his own creativity. His stencils are fun, entertaining and ingeniously creative. There are influences of another street artists, but over the time, JPS created his own unique style which he uses to share humor, playfulness, and some social activism. His main themes are funny puns, which are taken out of pop culture, mostly music such as hip-hop and rap. Along with music, comes the internet culture, especially memes which he has been mixing with some creative wordplay.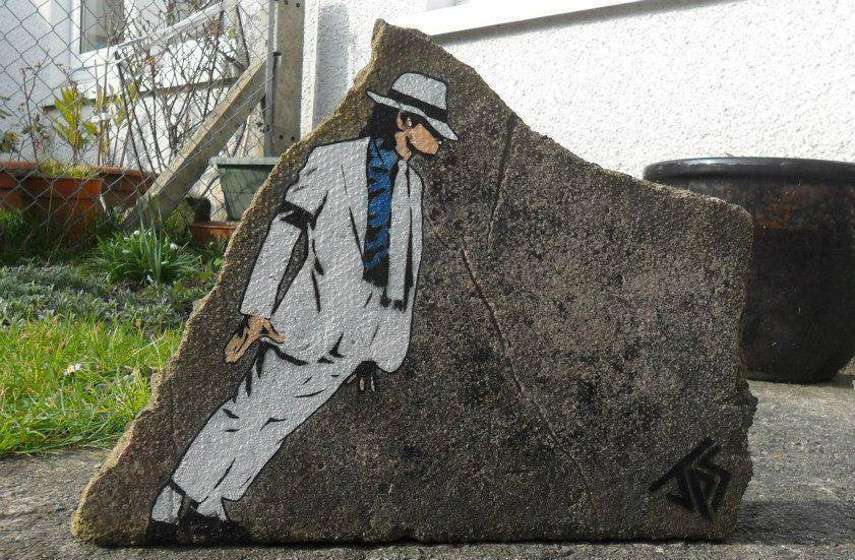 The Importance of the Location
For JPS, a physical space carries the energy of a stencil. He is very careful and cautious not to interfere with the overall looks and functionality of a public wall, so he chooses his location mindfully. Sometimes, the spontaneous idea comes straightforward, when the concepts reveal themselves on a convenient place. So we have a moonwalking Michael Jackson on the rock or a cat walking on a chain. He always draws out of his personal experiences or using the motifs from the things he loves. When he painted in Barrow Gurney abandoned Hospital he used images from horror films, because he felt the setting was appropriate and inspiring. When he paints on the streets he avoids such heavy imagery and keeps it light and funny.
JPS always draws out of his personal experiences or using the motifs from the things he loves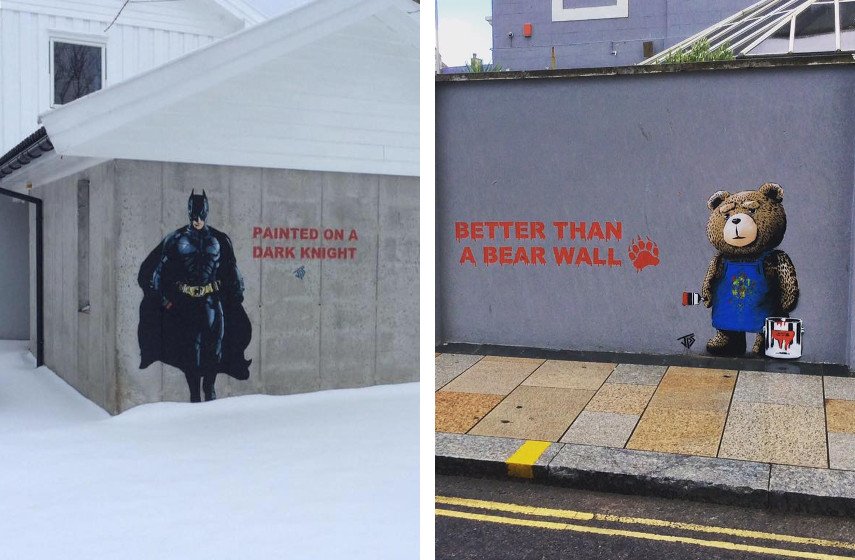 Street Artist with an Open Heart
JPS openly talks about his life before street art, but he never lets the past define him. Same goes for his artistic influence. He bravely accepted his new role and a new job, and with his art, he makes small but noticeable changes in an everyday environment. His stencils are one of those kinds which are obviously funny to us, but we could have never thought of them independently. The Batman stencil was painted on the Dark Night, and Paddington Bear says it's better not to have Bear Wals. With his intelligent humor, JPS got to work all over the UK, and Europe. Working on the streets gives him the opportunity to recreate his childhood heroes and bring them to life in a different setting.
The artist paints for himself and for his loyal followers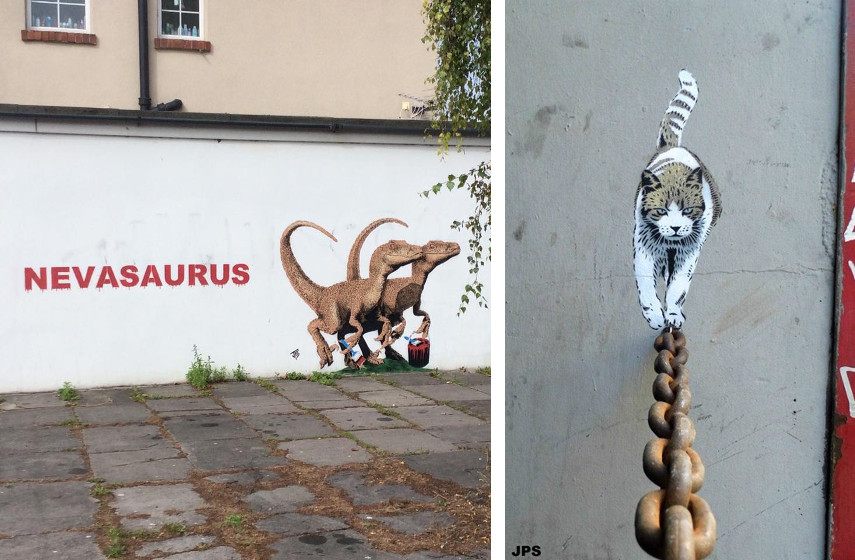 Harmony of Give and Take
If the achieving the balance is playing by the rules in the game of give-and-take, this artist truly masters his profession. He takes the space on public walls, but he gives back to the community. He paints for himself, for random bystanders who will smile at his puns, for all of the culture hungry and the internet obsessed consumers. For Milton Park Primary School he painted a large Batman, a rainbow cat, and smiling gorilla. He used his work in the past to wash off the dark personal experience and evolved to a wonderful artist who brings fun and laughter to the public. What he does is brave and bold. He likes to open his mind and his heart and shares his art with the street art experts and with his loyal followers.
The artist is represented by Graffiti Street.
JPS lives and works in Weston, UK.
All images used for illustrative purpose only © JPS
Featured image: JPS - Portrait of the artist (Detail), photo credits Bangyourart