Juan Francisco Casas Ruiz is a poet and one of the leading young artist from Spain. He was born in 1976 in La Carolina, Andalusia. He is known for his large-scale photorealistic drawings and paintings. He takes a photograph, and paints it in oil on canvas, or makes a drawing using only a blue ballpoint pen. His works portray "the selfie generation" and resemble the photos which can be often seen on social media. His subjects are young friends and lovers, obsessed with partying, technology, selfies and likes. Averagely, he needs 14 ballpoint pens and around two weeks to complete one work.
Education
The artist went to the University of Granada in Granada, Spain, where he obtained his Bachelor of Fine Arts in 1999, and Master of Fine Arts in 2003. He finished his PhD studies at the same university, and taught drawing and printmaking. Casas was a very successful student and the recipient of the National Award for his Master Thesis, awarded by the Ministry of Education and Science in Spain. The Minister of Culture, Pilar del Castillo presented the award.
Bic ball-pen on paper art by Juan Francisco Casas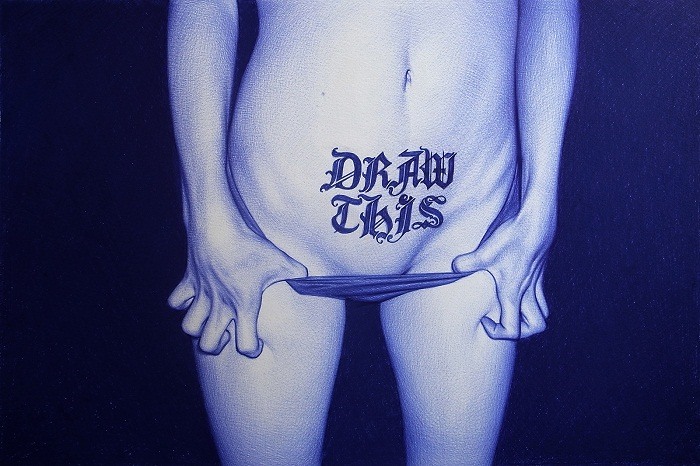 Exhibitions
The artist had his work exhibited in numerous solo and group exhibitions around the world. The countries where he had exhibitions include the United States, Switzerland, Italy, Korea, Colombia, Canada, the United Kingdom, Mexico, Czech Republic, and of course, his home country. Juan Francisco Casas participated in many international art fairs, such as Scope Basel, ARCO in Madrid, Art Madrid, Art Chicago, MACO in Mexico, PalmBeach3 in Miami, and TIAF in Toronto.
Casas was the only representative from Spain at the 2nd Prague Biennial, and he participated with other major international artists which include Damien Hirst, Neo Rauch and Maurizio Cattelan.
His art is featured in many important public and private collections, such as the Museum Artium in Vitoria-Gasteiz in Alava, Spain, and the ABC Museum in Madrid, Spain.
The artists depicts "the selfie generation"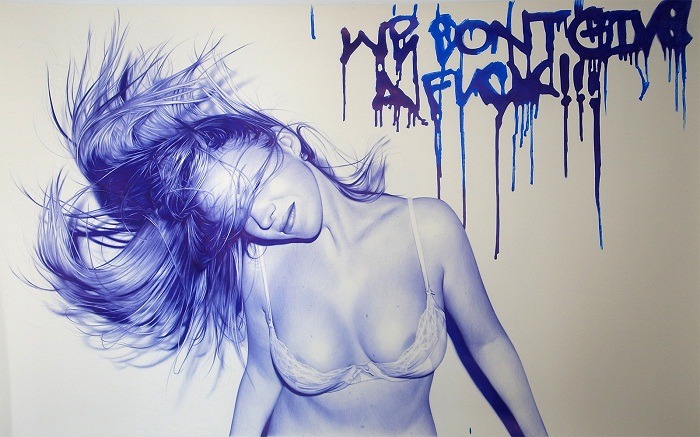 Awards
Juan Francisco Casas received numerous awards. In 1997 he was awarded the Garcia Lorca Award in Photography. In 2004, he was the recipient of ABC Prize for Painting.The president of the jury was Luis Gordillo, the famous Spanish abstract painter. The award was also presented by Pilar del Castillo. In 2005, the painter received the award Emilio Oller for Painting.In 2007, Casas was awarded the Fellowship of the Royal Academy of Spain in Rome. He lived in Rome for one year, and worked with Joseph Kosuth. In 2010, he received the Fellowship of the Colegio de España in Paris.
The works are sometimes 10 feet high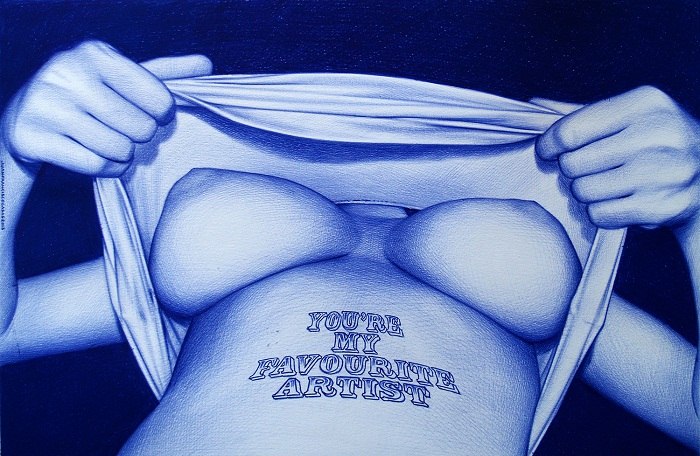 Juan Francisco Casas – a Poet
Apart from painting and drawing, Casas also dedicates his time to writing poetry. The books he published include Thesummerhaikús, A y otros poemas de relleno, Mis(s)behave and Juan Francisco Casas, Bare(ly)there. He speaks Spanish, English, Italian, Dutch and French.
The artist is represented by Jonathan Levine Gallery in New York.
Juan Francisco Casas Ruiz works and lives in Paris, France and Madrid, Spain.
All images courtesy of the artist and Jonathan Levine Gallery