Jude Mackay is a Scottish artist, working in a variety of media. His works include portraits, sculptures, photographs and paintings. When he was 19, he moved from the Scottish highlands, where he completed a course in art, to Aberdeen, where he studied photography at Aberdeen college. After he completed a course in photography in 2010, he decided to shift to the field of painting and enrolled at Duncan of Jordanstone College of Art and Design. He received his BA in Art and Design from Duncan of Jordanstone College of Art and Design in 2014. His tutors included Edward Summerton, Gary Fisher and Phil Braham. Mackay remained interested in traditional media and technique, although his college courses focused on conceptual art and new media.
Macaky paints interiors occupied only by a cloth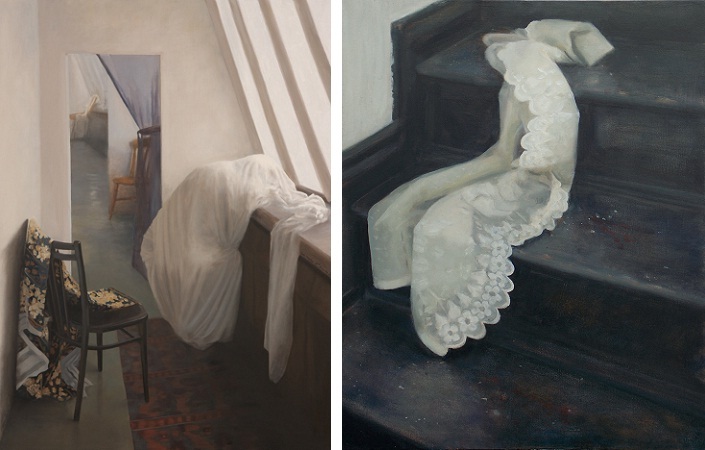 Jude Mackay received Aberdeen Artist's Award for a Work of Merit by a Young Painter in 2013, in addition to Second prize at Royal Northern and Clyde Yacht Club Painting Competition in 2012. He exhibited his works in group, mixed and open exhibitions throughout the United Kingdom, such as the FBA Futures exhibition at the Mall Galleries in London, in 2015.
His works focus on elusiveness and inaccessibility. Mackay creates a reflection of physical world through his paintings. His works show empty, inviting interiors, occupied only by a cloth, which draw the viewer in. However, they belong to another reality, constructed by Mackay's imagination, which cannot be entered and explored. The seductiveness of these interiors lies in their inaccessibility.
Empty, seductive spaces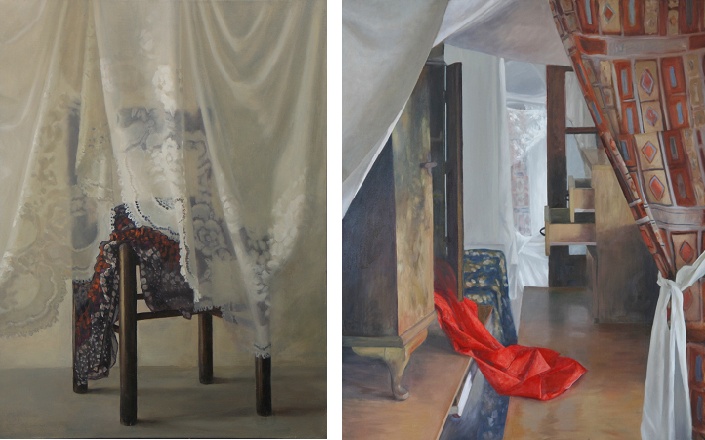 Jude Mackay lives and works in Berlin, Germany.
All images copyright © the artist