By focusing fully on relations between compositional elements, Judy Pfaff plunges into a search for a perfect form which is governed by both intense planning and improvisational decision-making. For over four decades, the artist creates works on the verge of media, so it can be said that the hybrid forms are her forte. Two or three-dimensional constellations of Pfaff are basically dynamic environments in which space seems to fluctuate as if it is an organic form. Led by the intuition and a fixed concept at the same time, the artist allows the artwork to be modified constantly during the process until the best result appears.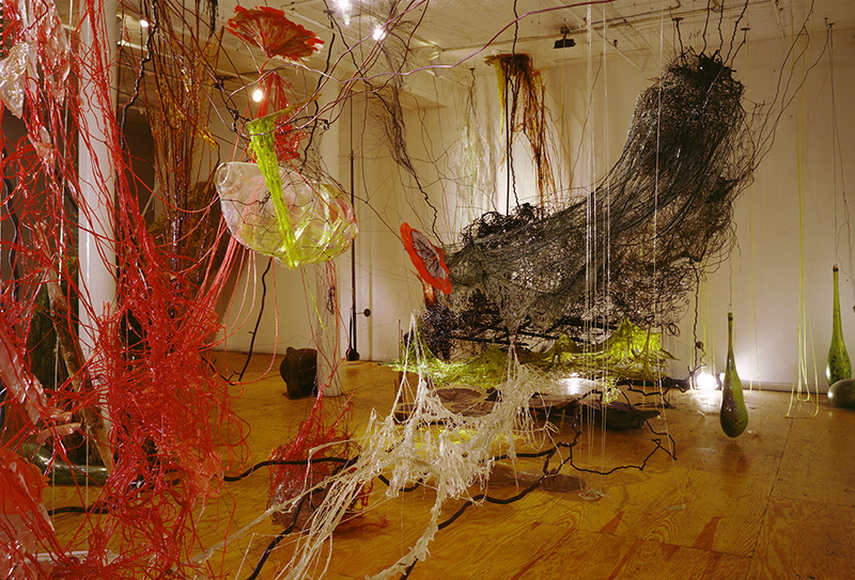 Struggling to Become an Artist
Judy Pfaff was born in 1946 in London. She was raised in a rather humble family, though her father was absent from her life. Soon after Pfaff was born, her mother moved to Detroit and left Pfaff and her brother to be raised by their grandparents. Growing up in post-war and severely damaged London was bleak, but in 1956 she reunited with her mother and attended Cass Technical High School. Due to bad relations, at the age of 15, she left home and married a U.S. Air Force officer. Afterward, Judy Pfaff attended Wayne State University and Southern Illinois University, completing a BFA at Washington University in 1971. Pfaff enrolled in the MFA program at Yale University School of Art and was dazzled by other disciplines such as physics, medicine, zoology, and astronomy. Pfaff taught at the California Institute of the Arts from 1976 to 1979 and joined the faculty at Bard College in New York in 1994, where she is currently the co-director of the Studio Arts program.
Judy Pfaff went from controlled chaos to showing more restraint in installations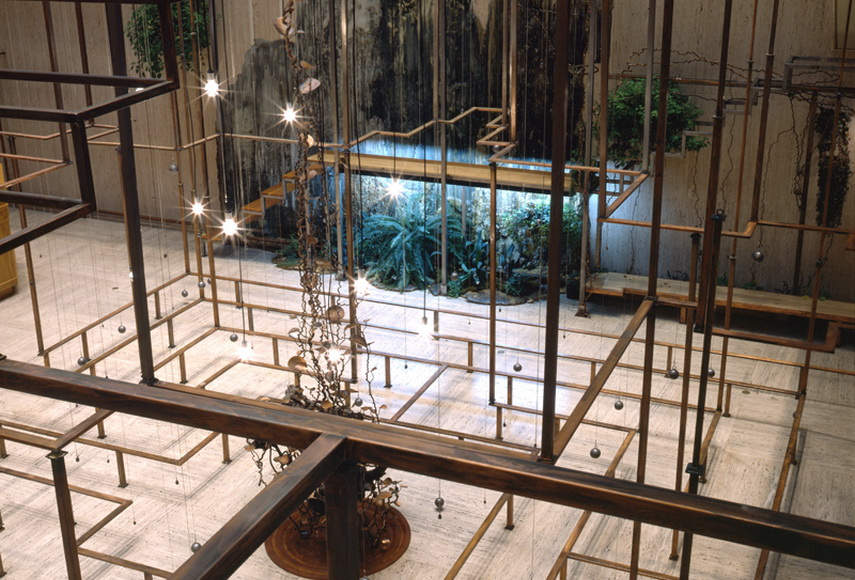 Early Work of Judy Pfaff
Judy Pfaff was on the pioneers of installation art in the 1970s, and also participated in Process Art and the Pattern and Decoration movement which continued to reflect on her future artworks. The artist started engaging painting, sculpture and prints in order to produce installations. Although Pfaff uses steel, fiberglass, and plaster, she also draws upon found and natural objects. Extremely complex and layered, her prints were quite progressive at the time, and still are among the most innovative examples of contemporary printmaking today. Due to exuberant and elaborately impure installations, she became characterized by critics as the collagist in space.
Distinct approach to coloring and forms is notable in all her works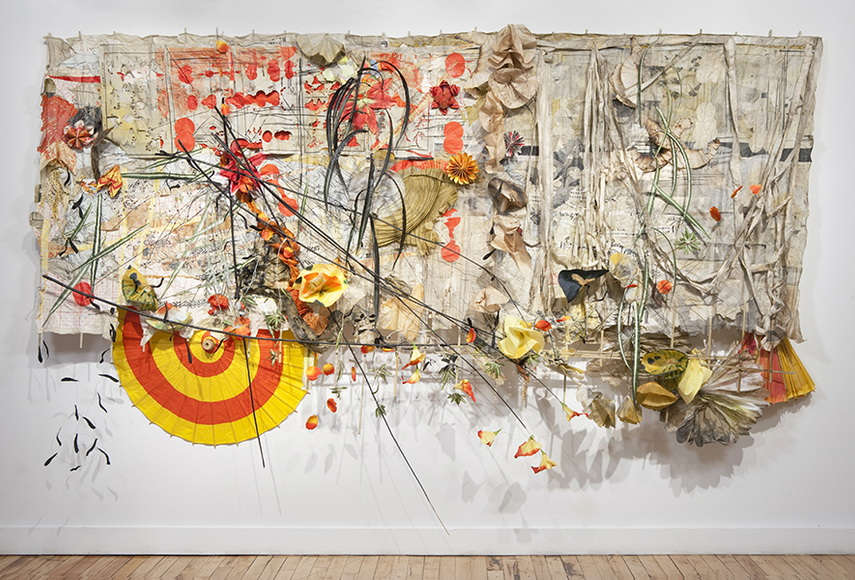 The Concept Behind the Works
While starting out and experimenting as an artist, Pfaff articulated the exterior side of her imagination, only tackling the surface of her artwork since she focused on trivial almost painterly matters. As she progressed, the artist went even further in investigating the inner relations between the elements. Critical towards modernism in regards to her leftist standpoints, Judy Pfaff focused more on displaying emotions that she harbored within herself. That is how she came gradually to conceiving her installations, not like chaotic clashes, but rather as an emotional playground where she is set completely to herself. Therefore, by employing the high level of intuition and sensibility, which was a related to her feminist agenda, Pfaff started anticipating the characteristics of decades like the '80s flamboyance and optimism, as well as '90s insecurity and vulnerability.
Multisized assemblages converged into installations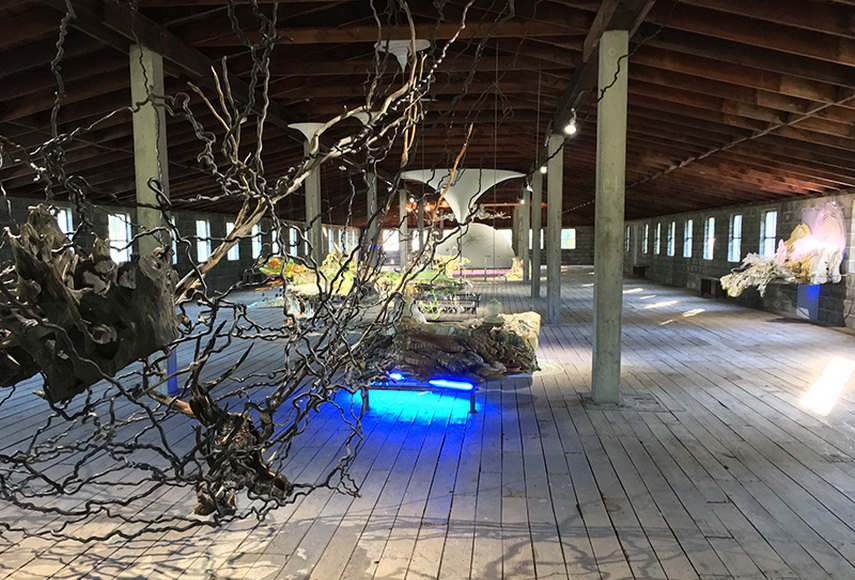 The Established and Notable Career of Judy Pfaff
Pfaff has received numerous awards for her work, including a John D. online Catherine T. MacArthur Foundation Award (2004) and fellowships from the John Simon Guggenheim Memorial Foundation (1983) and the National Endowment for the Arts (1986). Major exhibitions have been held of her work at the University of Wisconsin–Madison (2002), Denver Art Museum (1994) and Saint Louis Art Museum (1989).[2] In 2013 she was elected to the American Academy of Arts and Sciences. Judy Pfaff is an artist who displays what controlled chaos is in sculpture form and governed by the ideals of permeation and ongoing change, which makes her activity in accordance with the contemporaneity.
Judy Pfaff lives and works in Kingston and Tivoli, New York.
Featured image: Judy Pfaff - Turkey Red, 1997 (detail). Ink, oilstick and encaustic on handmade Crown Kozo paper. 48 x 96 in. 121.9 x 243.8 cm. Photo courtesy Berry Campbell Gallery
All other images are courtesy of the artist