Julia Benz is a German artist best known for combining contemporary painting and urban art in a very specific way, by using a highly colored palette.
From Figurative to Conceptual Art
Benz was born in Wittich and she studied Art education, textile design and mathematics to become a teacher in Cologne. At the end of her studies, she suddenly felt an urge to paint. For a short time she worked as a freelance lecturer in Bonn before she decided to apply at the Dusseldorf Art Academy and the Academy of Arts in Berlin.
Julia's first contact with the art was at the age of three, when she visited the exhibition of Paul Cézanne with her parents. 20 years after, when her mother showed her one Cézanne's painting, Julia was actually able to remember that it was the one that fascinated her so much back then, when she was just a toddler. Her grandfather painted and photographed, so the two of them often sat at his desk, drawing each other.
Julia's painting style ranges from figurative to conceptual art, working mainly on canvases with some inroads into street art. During time, Julia Benz has developed her very own style: the layers overlap and because no strict pre-conception or composition is made - it must be interpreted with a deep trust in the process that characterizes her work.
Julia's Freedom
What is obvious at the first glance at her painting, Julia founds her freedom very important. It is freedom itself that fills the surface on the canvas with colors. The opportunities that exist within herself are fascinating this young artist and she is thrilled to have the chance to respond. The works of Julia Benz are expressive and colorful representations of diversity in seemingly mundane day-to-day situations.
"Ein Bild fängt mit der Malerei an und nicht mit der Idee" – A painting begins with painting and not with an idea. This is Benz' anti-conceptualist approach to creating art. Her works need to be big, colorful, energetic and loud. Julia Benz incorporates both figurative and abstract elements to create her loud pieces of art.
The works are about openness, intensity and passion and not limited by any formal or informal constraints. She works with light and dark contrasts to blend her figurative and abstract imagery. Viewers need to dive into the work to fully comprehend the eclectic mix of style, color and imagery. The central subject to these works are people that feel unobserved. For Benz these people present higher artistic significance than the artificially beautified portrayals in mass media.
Everything Amazing - Nobody Happy
In 2013, she painted a triptych titled Everything Amazing - Nobody Happy. This artwork was presented at her eponymous solo exhibition at Urban Spreegalerie. On a total of 2.40 x 6 meters she mingled in the jungle, with its countless colors, but also a different shapes, such as floral motifs or geometric forms…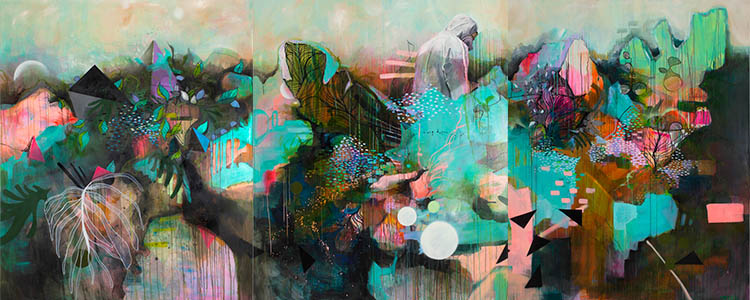 Shortly after, a short documentary about Julia Benz appeared, with a same title as this triptych. The filmmaker Andreas Lamoth and Frederic Leitzke of Editude Pictures presented Julia as a young Berlin painter at work, giving a very good insight into the creative process of her work and the ups and downs of preparing solo exhibition, as at the center of this documentary are those few weeks before the show opening.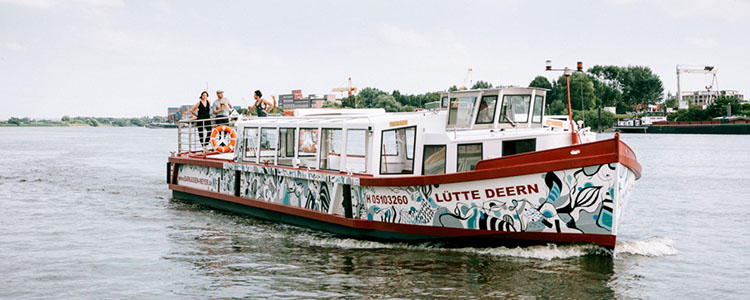 Lütte Deern
In 2014, Julia even painted a boat, a barge called Lütte Deern in Hamburg harbor. She did it with the Millerntor Gallery for the humanitarian project Viva con Agua. The Lütte Deern is the first Social Art-Boat cruising through the harbor of Hamburg.
Julia Benz lives and works in Berlin.
All images copyright © the artist