Born in Ethiopia, but spending most of her career in The United States where she settled as a kid, the artist Julie Mehretu is famous for her printmaking and painting with a strong note of abstraction. She is responsible for large scale prints, drawings and paintings that are based on heavy layering in order to create images from patterns and architectural photographs - although the end result does not give away what Mehretu used to start creating. Literally hundreds of thin and transparent layers of paint and paper cover the canvas of each painting, blending with each other and collectively creating an amazing effect.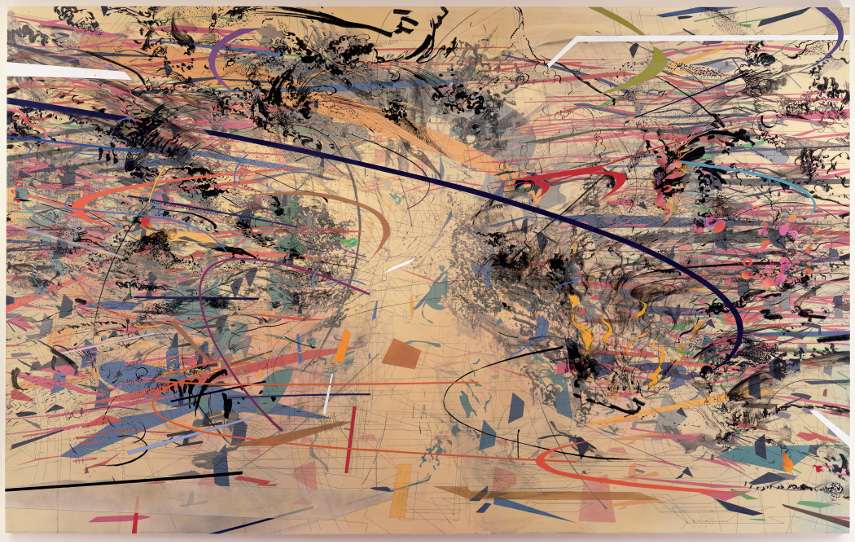 Mehretu's Layers of Paint and Paper
Julie Mehretu was born during the year of 1970, in the town Addis Ababa, a capital city of Ethiopia. When little Julie was about seven years of age, her family decided it was time to move on and so they left for the West, settling in the state of Michigan, United States. Mehretu never forgot her ethnical roots, but her childhood was typically American from that point on. She was an excellent student and that provided her with numerous opportunities to expand her education - she studied at the University Cheikh Anta Diop in Dakar for starters, later applying in the Kalamazoo College where she earned a BA in Arts. Ultimately, Julie earned an MFA at the Rhode School of Art and Design during the year of 1997. These vast educational experiences helped Mehretu to build an impressive foundation for her future as an artist. Since she graduated in the year of 1997, Mehretu stayed in New York City and opened up a studio there, successfully starting what will soon become an excellent painter's career. She started working with architectural renderings and aerial views of urban grids, combining hundreds of them until a point the starting material becomes unrecognisable - these fragments are stripped from their real-world specificity and challenging narrow geographic and cultural readings, becoming a part of something unique and new. After she finishes up, the pieces sometimes take up to weeks to dry off. Building a reputation from the grounds up was a challenge and not an easy one at that, especially when you consider the radical method that Julie was trying to establish. After being a part of numerous exhibitions of the group character, Mehretu's first major solo exhibition, titled as Grey Area, took place at the Guggenheim Museum in New York in 2010.
Julie Mehretu's work is created by using fragments of architectural renderings and aerial views of urban grids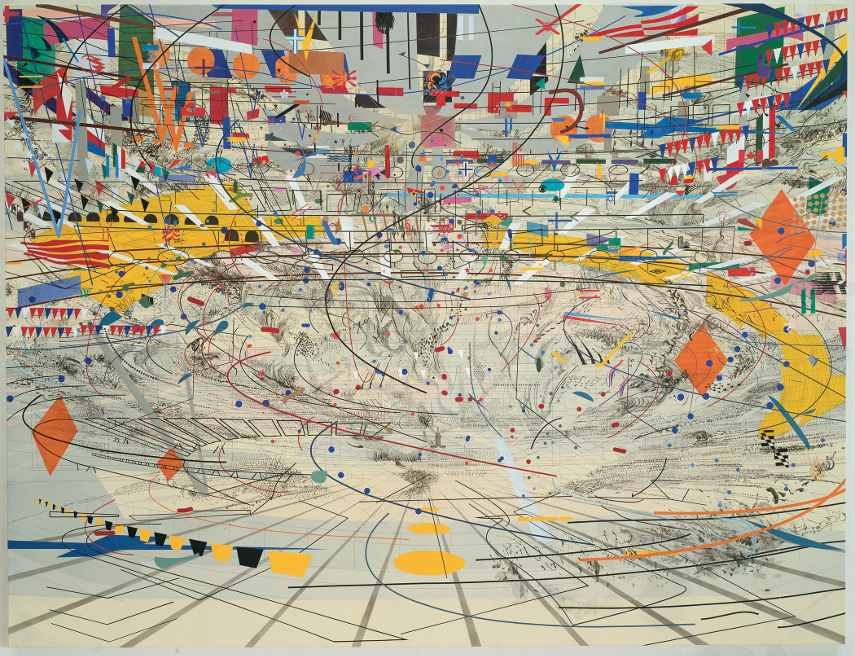 A Unique Method and her Exhibitions
Many art critics have often linked Mehretu's work with some early 20th century movements, claiming that this artist found much influence in the paintings of numerous avant-garde ideas. Julie has been connected to everything between Futurism and Constructivism, which is all basically true since her art heavily relies upon abstraction and expression - both of which were in the development process during the early years of the 20th century. Putting aside many attempts to figure out what influenced Julie the most, the safest method is to listen Mehretu herself who admitted to learning a lot by viewing the paintings of Jackson Pollock and Barnett Newman. All of her works - regardless of format, size or medium - involve symbolism Mehretu draws from street art, city charts and comic books. Colourful explosions and sharp or arching lines are ever present in her art, fueling her her body of work from the inside. The formal qualities of light and space found in her pieces are made all the more complex by Mehretu's delicate depictions of fire, explosions and perspectives - in both two and three dimensions. Besides the aforementioned studio in The Big Apple, it should be noted that Mehretu also owns both a residence and a studio in the city of Berlin, often working and creating in the heart of German's capital. Mehretu's drawings, paintings and prints have been included in numerous exhibitions all over the world, with the arguable highlight being the 2002's Drawing Now: Eight Propositions, placed inside the Museum of Modern Art in New York. The Palazzo Grassi in Venice also hosted her work for their Praise Of Doubtexhibition in 2011. Among Mehretu's awards are the Berlin Prize from the American Academy in Berlin(2007), a John D. and Catherine T. MacArthur Foundation Award (2005) and the American Art Award from the Whitney Museum of American Art, New York (2005). It should be noted that Mehretu also dabbles in the medium of street art - one of the artist's most widely acknowledged urban works is the 80-foot-wide mural located in Goldman Sachs tower entitled simply as Mural.
Mehretu has a masterful control of light, forms and space, blending all of that into fascinating abstract compositions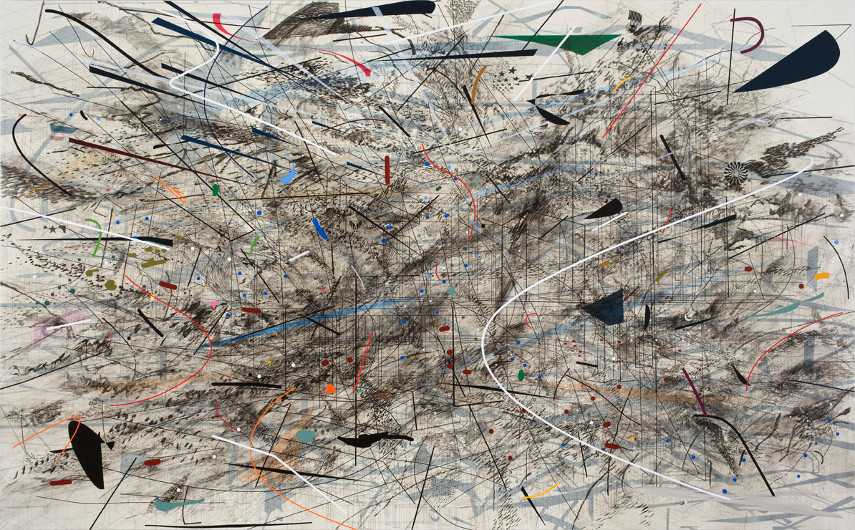 Fascination with Abstraction
Mehretu uses the 21st-century city as a building block, transferring its energy into her gestural sweeps of paint and built-up marks in ink and pencil—often transposed from projections. She contracts seemingly infinite urban narratives, architectural views and street plans into single unified compositions. It's fascinating how much control Mehretu is able to hold on to, especially when you consider the wild nature of the abstraction and the fact Julie uses an incredible number of layers in her work. Exciting and in full control, Julie Mehretu is undoubtedly one of the most impressive abstract artists out there.
The artist is represented by White Cube Bermondsey and White Cube Mason's Yard, both galleries in London, United Kingdom.
Julie Mehretu lives and works in New York and Berlin, Germany.
Featured Image: Julie Mehretu - Photo of the artist - Image via ezibota.com
All images courtesy of Julie Mehretu