French sculptor Juliette Clovis has had other interests in her life besides art. She says various fields of classical studies were stressed in her family's home when she was growing up. As an undergraduate university student, she took up law in addition to art history. And she worked in communications for a few years after completing those degrees. But a disturbing personal event that occurred when she was 24 motivated her to focus on art. She went back to school and got an additional degree, this one in graphic design. She has been working on her sculptures in earnest in recent years, and has had an impressive number of solo and group gallery exhibitions since 2007. Asked about the transition in her life that saw her choose art over other possible fields of study and professional work, she tells, "I do not imagine a single second in my life otherwise now. It is a deep need that I have always had in me."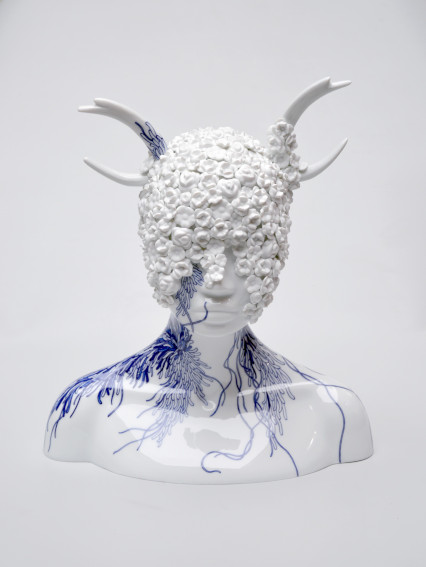 Clovis's porcelain sculptures often involve hybrid creatures that are part human and part expressive forms of the natural environment. Some of her most striking works are figures where an elegant looking female bust seems to be getting overtaken by spreading flora. Spikes, horns, and snaky designs are also sometimes present, furthering the stark, mesmerizing appearances of the mythological-looking figures. So does this mean a deeply-held concern for the environment, and mankind's treatment of it, is at the foundation of what inspires her works?
"Actually, the main idea I work on is the cycle of life and how it determines all our environment and life," the artist explains. "So the relationship between humans and nature is logically omnipresent in my work. I question the balance of power between humans and nature. My work wobbles between a prophetic picture announcing the birth of a new living being and the onset of death caused by a hungry nature wanting to take back its rights."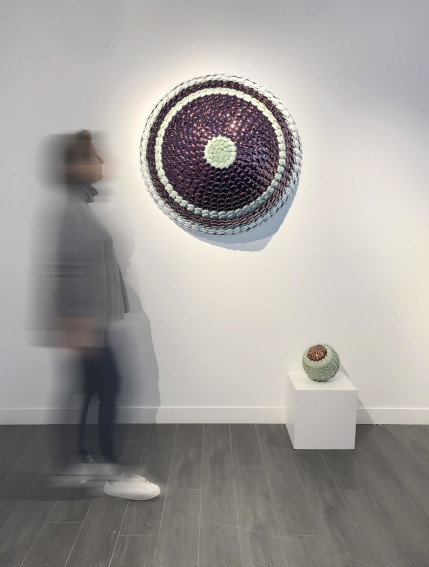 Clovis tells that she sees fully formed visions of her future works in her mind's eye before she begins constructing them. She starts with draft versions of the pieces, by way of drawings. And it can take as long as several months or even a few years to bring a project from initial idea to full maturity. Contrasts are a constant element in her works. She shows us pristine beauty mixed with menacing danger, classicism mutated by modernity. The end result of many of her sculptures is to strike the viewer in ways that are both eye-pleasing and haunting. They're equally dreamlike and confrontational. They may unsettle you, but it's hard to take your eyes off them once you've had a look.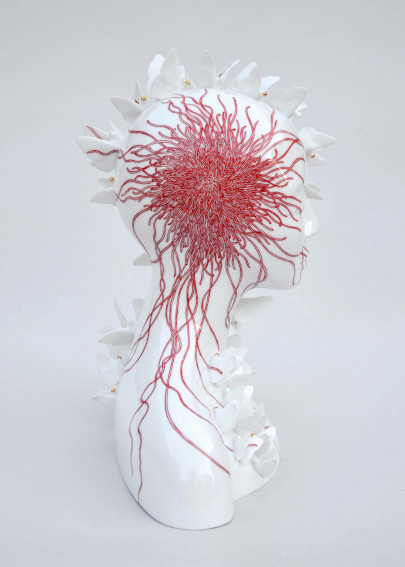 Clovis relates, "Contrasts and duality are everywhere in my work. Life and death, black and white, tradition and modernity, danger and peace, strength and fragility. I obsessively use these contrasts to form a balance and to reach a form of harmony. A good example is my big sculpture "Manis Tetradactyla." A powerful form springs out from fragile porcelain shards. The spectator is faced with an unknown animal. Is it a threat? The impression of strength is palpable. But the delicacy and fragility of porcelain softens this tension, making the animal less disturbing and more intriguing."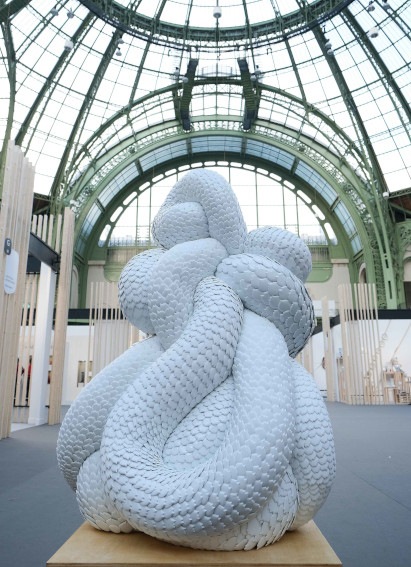 Inquired as to why porcelain is the best material to bring out what she wants to express in her works, Clovis explains, "Techniques and matters are very important to me. I think I belong in this new category of contemporary artists who borrow craftsmanship's gestures and excellence, adding their artistic vision, and carrying it into contemporary art. My current production develops mainly around sculpture with my favorite medium: porcelain. The choice of this noble and classical material allows me to confront my deeply contemporary vision of art across a traditional and ancestral technology."
Clovis's next major exhibit will be at the Gend Museum of Design in Belgium, where "Manis Tetradactyla" will be displayed in a group show from March to September. Meanwhile, she is at work on new sculptures that are within a series associated with that snake-inspired design. Additionally, she plans other kinds of porcelain works, as well as going back to drawing and painting.
Featured image: Juliette Clovis - Erinaceus Amurensis, 2018 (detail)
Text by Brian Greene. All images and text courtesy of the artist