The almost industrialized manner of working with materials can definitely be prescribed to the art of American painter Justin Adian. Geometrical forms represent the basis of his work art, but the very act of confronting shapes within new relations on canvas seem to be constant attempt and a task to overlap certain formal and compositional issues within the canvas. As a matter of fact, by treating two-dimensional surface as the construction site, the artist examines the wide array of possibilities of literal painting building which leads to execution of three-dimensional objects. The final product is a hybrid form and can be described with a term puffy paintings or associated with more established term soft sculpture.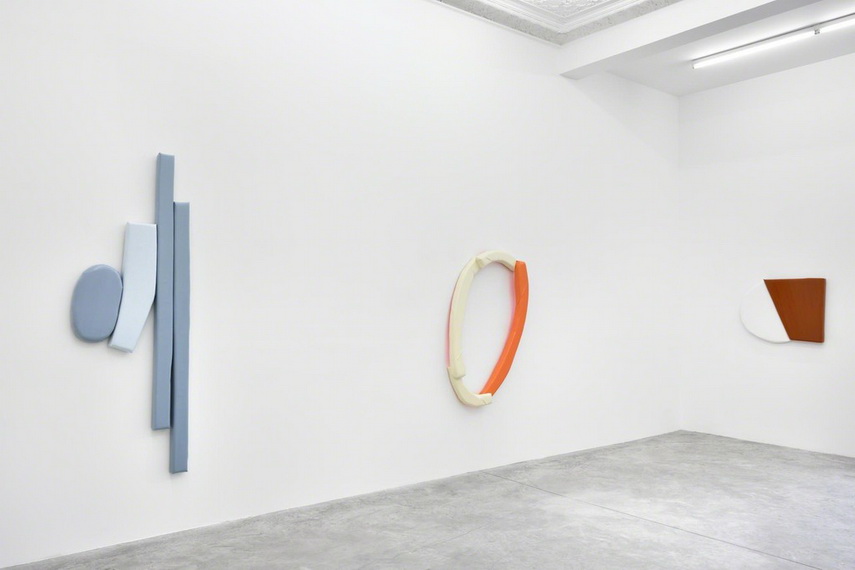 In Between Painting and Sculpture
Justin Adian was born in Fort Worth, Texas in 1976. He derived BFA from the University of North Texas in 2000 and MFA from Rutgers University, Mason Gross School of Art in 2003. Adian's journey to working with foam and oil enamel, which has become the signifier of his work in past few years, was inclined in a decision to depart a bit from the painting by producing a sculpture. Experimenting with materials lead his excitement further and the very intense relationship between canvas and foam has become the constitutive element of his practice.[1]
Objects represent perfect gap between painting and sculpture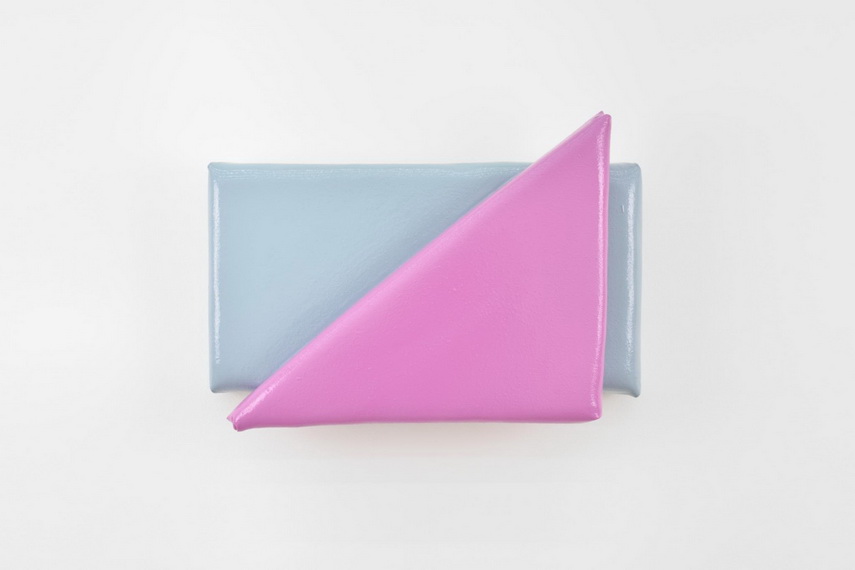 Geometry and Popular Culture in Art of Justin Adian
A wide array of references spanning from avant-garde movements, especially cubism and Russian suprematism, to the hard edge and minimalism can be related with Justin Adian's art. Apparent influences or fascination with work of Ellsworth Kelly or Kazimir Malevich did not bound his work to be perceived as pure appropriation. The way the artist is articulating the very media and the way he is performing the invisible space between the elements that interact with each other suggest rather an ironic strategy, an unexpected twist. Actually, the artist distances himself from the formal approach and strict geometrical forms by naming works with nonchalant titles that are direct references to pop culture especially to works of Raymond Pettibone and rock music.[2]
Irony and pop as constitutive elements of Justin Adians peculiar approach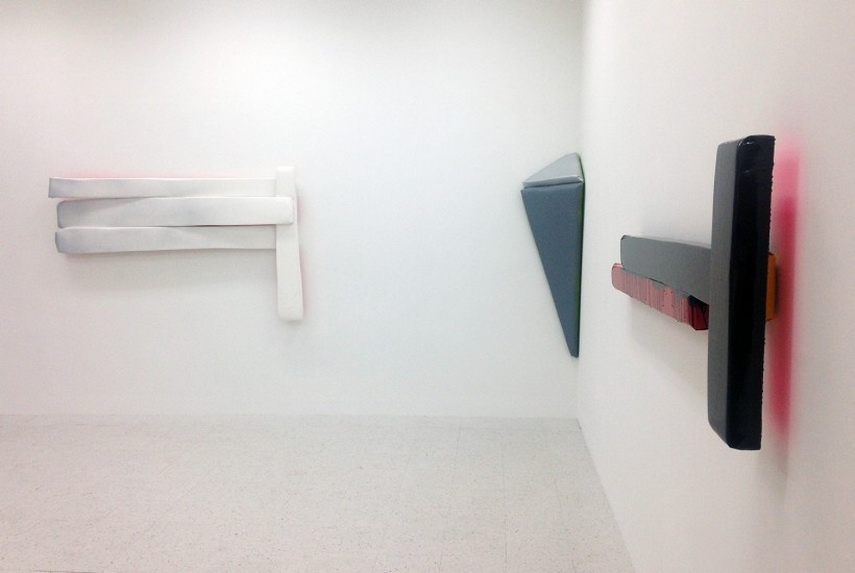 Reduced Sculptural Paintings
Whether Adian is incurving, stretching or folding geometrical shapes on his paintings/ objects, it is quite evident that he is rethinking the space in which those are going to be exhibited. Therefore, it is perhaps more precise to speak about his works in the sense of site specific, a unit consisted out of multiple layers. Besides New York where he exhibits on regular basis, the artist showed works in Toronto, Berlin and London. Reduced, yet colorful objects of Justin Adian are not only dealing with formal and aesthetical matters, their captivating simplicity calls for the certain dose of contemplation and tranquility.
Justin Adian lives and works in New York.
References:
Powers, B. (2016), I'm Interested in the Cosmetics of the Body': A Talk With Justin Adian, Art News [November 13, 2016]
Lehrer, A. (2015), 6 Things We Learned About Artist Justin Adian From His Talk During His Exhibition at Skarstedt Gallery, Pasunautre [November 13, 2016]
Featured photo: Artist in his Brooklyn studio, photo by Vincent Gapaillard
All Images used for illustrative purposes only