Before the painting movement began in Papunya in 1970's, Kaapa Tjampitjinpa established his reputation as carver on wood. Carving the shapes of lizards and snakes, he showed extraordinary skill and his early paintings depicts the same images. Also known as Kaapa Mbitjana Tjampitjinpa, Kaapa Djanbidjimba and Mbitjana Kaapa Tjampitjinpa, he was the establisher of the painting movement and main artist of the Papunaya School Mural. Considered as the founder of the contemporary Aboriginal painting, Tjampitjinpa won a prize in the 1971 Alice Springs Caltex Art Award, which is the first public recognition of Papunya painting.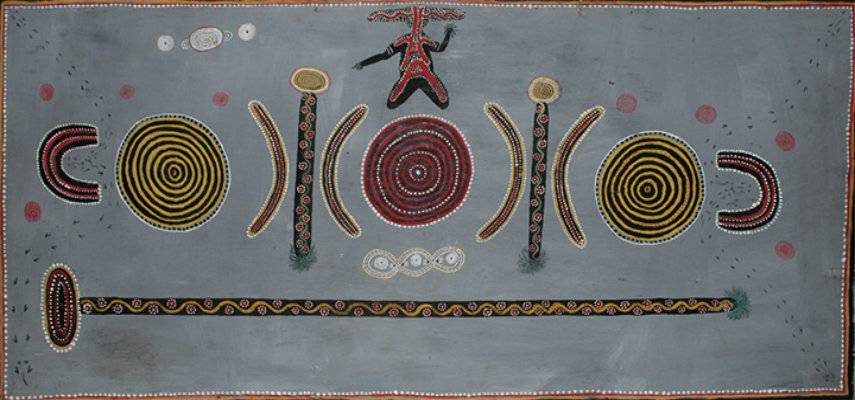 The First Awarded Aboriginal Artist
He was born on Napperby Station, c. 1926 where he worked as a stockman before the establishment of the village Papunya in the early 1960's. Creating the artworks for sale, Tjampitjinpa had been using traditional design and technique of wooden carving and watercolor painting. In August 1971 in Alice Springs was a local competition, the Caltex Art Award. Official Hack Cooke took six of Tjampitjinpa's paintings and one of them, called Men Ceremony for the Kangaroo, Gulgardi, won the first prize. It was the first time that one work by an Indigenous artist got the contemporary art award and the more important, Papunya painting gained a public recognition.
Tjampitjinpa used traditional design, technique of wooden carving and watercolor painting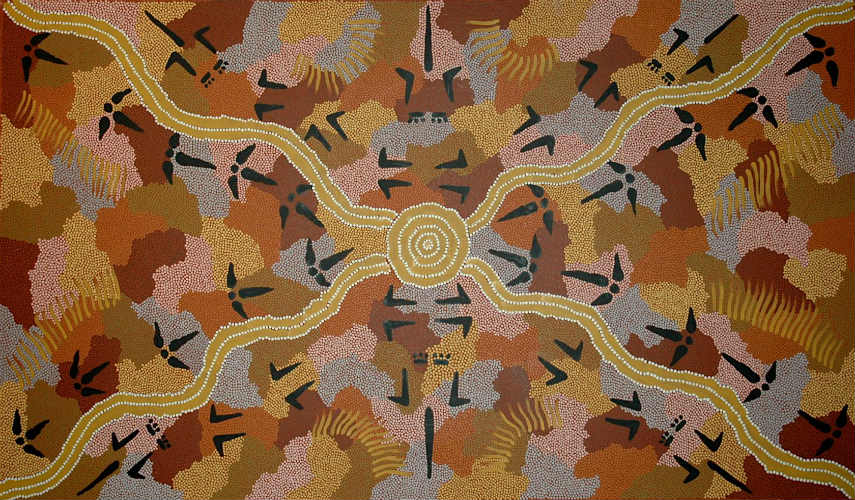 The Mural on the Local School
When Geoffrey Bardon arrived to teach art and wanted to turn the walls of the town's school building into a mural, Tjampitjinpa was the principal painter for that commission. As the Bardon himself noticed, Tjampitjinpa was already and independent artist in the traditional manner. Representing honey ant dreaming, this artwork induced the explosion of painting activity of men from the community. Unfortunately, this collaborative work has been destroyed few years later when the building was repainted. Anyway, artists of Papunya were determined to establish an association for selling their works. Tjampitjinpa has been selected for chairman.
Tjampitjinpa was the principal artist for mural commission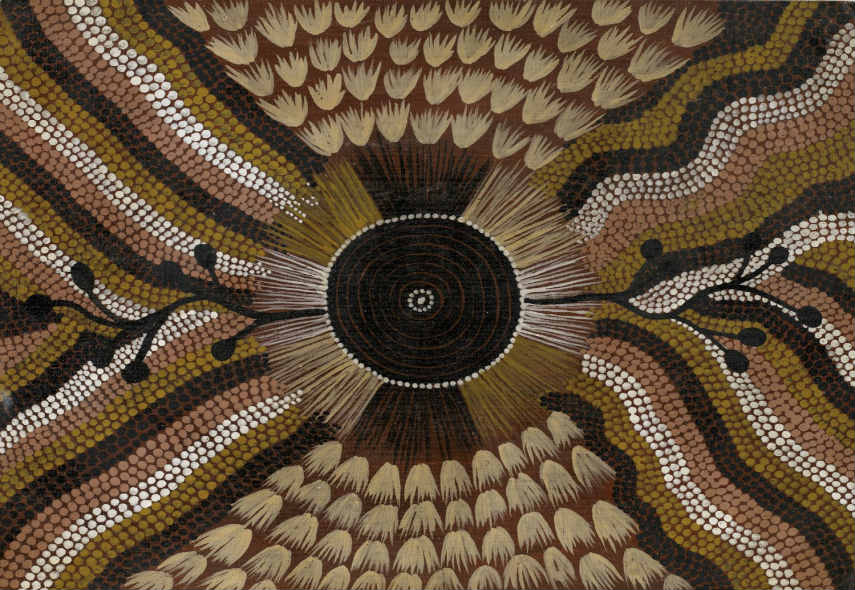 Important Figure in Australian History
Tjampitjinpa's style started to rapidly develop since 1971, shifting from considerate representations of ceremonies, with figures and adequate equipment to bird's-eye perspective of landscape paintings and the mixture of that two. Not satisfied with merely reproducing elements from the ritual, he used his talent for graphic design, composing geometrical forms of ceremonial objects. His approach to compositional experimentation is a great indication of his sense of purpose as an artist. Tjampitjinpa died in 1989. This intelligent man and talented artist is celebrated as founder and main figure in the establishment of contemporary Aboriginal Australian art. His work can be seen in every national gallery and museum across the Australia.
Featured image: Kaapa Tjampitjinpa - Goanna, 1970, photo credits collectionsearch.nma.gov.au
All images used for the illustrative purpose only