Belgian artist Kamagurka, an icon in Flemish humor, is known as absurd cartoonist, painter, comedian, singer and television producer. Spreading his satirical view and critic of society, he gets his inspiration from underground comics, like Robert Crumb, Mad's Don Martin, the Belgian artist Pirana and satirical magazines Hara-Kiri and Charlie Hebdo. His paintings and sculptures are influenced by different art movements and classical art. His work is recognizable for his own absurd Kamagurka trademark. As the multi-talented artist, he can't be confined to one medium to express his anarchic humor.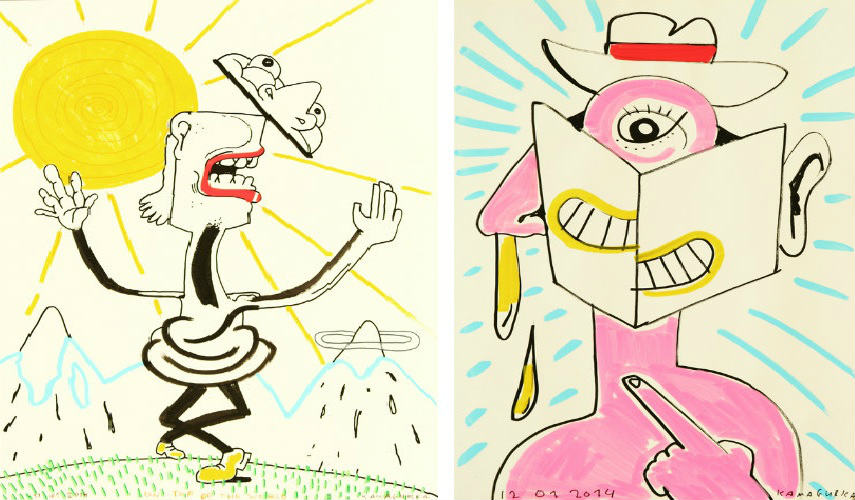 Kamagurka as a Cartoonist
He was born as Luc Zeebroek in 1956 in the town of Newport, on the Belgian coast. He never finished his studies at the Royal Academy of Fine Arts in Ghent, but beginning his career as a cartoonist in 1972 publishing his first drawing in De Zeewacht and later for Belgian magazines Humo, Knack, Kick and Vrede, he quickly gained fame with it. His comic hero Cowboy Henk became known internationally. Kamagurka's cartoons are published in numerous Belgian and Dutch magazines and newspapers, but also in the French Charlie Hebdo and Hara-Kiri, British Squibb, The Spectator and Deadpan, German Titanic, Zitty, Eulenspiegel, Austrian Die Presse, American The New Yorker, RAW, and many others.
Kamagurka's cartoons are published in numerous Belgian and Dutch magazines and newspapers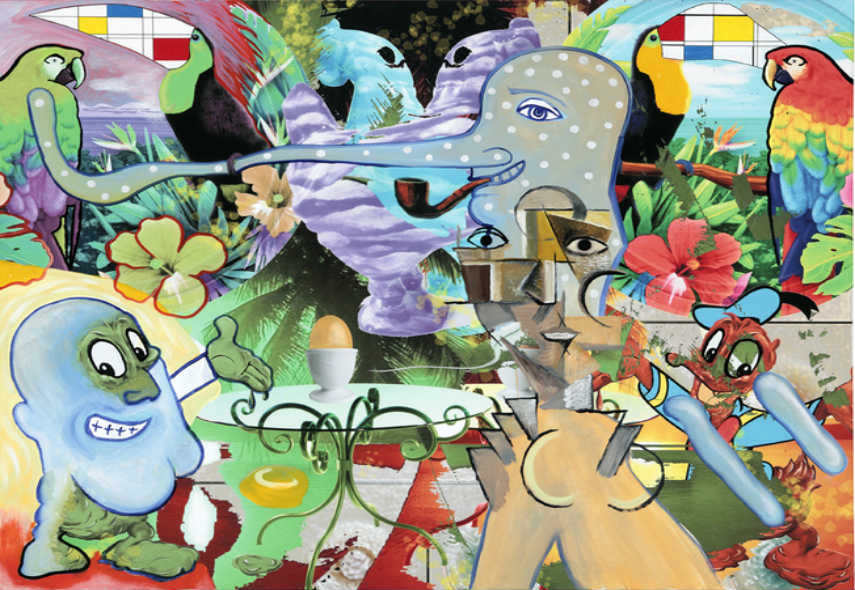 Kamagurka as a Painter
In 2008, he made a project Kamalmanak which was conceived to produce 366 paintings, daily the one, because it was leap-year. These works were gathered in the unique book. Observing the world with his characteristic absurd humor, inspired by different art movements, as Cubism and Pop Art, he wanted to make the international breakthrough. He often chooses the comic book and cartoon characters for his subjects, like Batman, Mickey Mouse, Goofy, Popeye, calling this style Neo-cubism, because of the treatment of the themes. A great showman and entertainer, he makes a real spectacle of his exhibitions. Refusing to show small works of art in a big empty space, Kamagurka created his own museum room, using the walls floor and ceiling as a big canvas. This collage represents a kind of retrospective of his work. He invites the viewer to enter into the real-sized museum and to be completely wrapped into his artworks. In the middle stands his famous sculpture Fried-egg Chicken which represents his answer to the eternal question: what came first, the chicken or the egg?
Kamagurka created his own museum room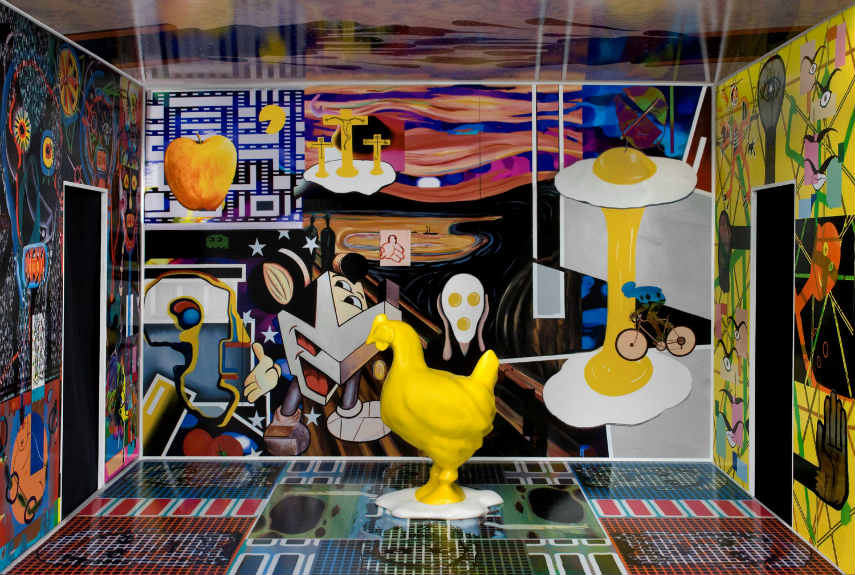 Shaping the Dutch Humor
Kamagurka's absurd and sharp joke left a mark on a Dutch language humor. Writing scripts for several shows on Belgian and Dutch television, making a theater and radio shows, publishing more than 25 comic books and exhibiting paintings and sculptures in numerous galleries, he is the multitalented and very occupied artist who always brings serenity in the life of his audience. His work highly influenced on his younger colleges from the comics world.
Kamagurka is represented by Kunzt.gallery, Miami.
Featured image: Kamagurka, photo via filipmeutermans.com
All images courtesy of the artist