Often referred to as the primitive man of modern Taiwan, Kang Mu-Xiang is one of literally a few sculptors of his country who has managed to find a path onto the international stage. He became famous for his ability to see through the surface of objects and dig up the everlasting life within the used materials, completely regardless from the origins of the chosen substances. Whether he is utilizing driftwoods or retired elevator steel cables, Kang is able to channel a certain traditional note to his work, honoring the past artists of Taiwan's history.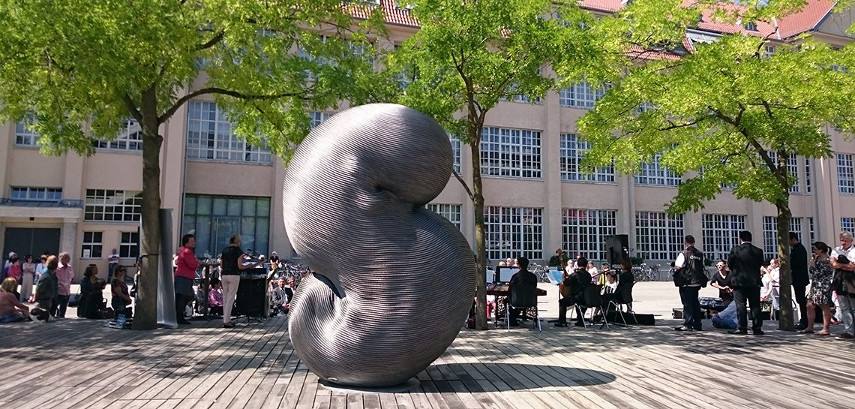 Respecting Nature
This artist was born in the year of 1961, in Tongxiao, Miaoli County, Taiwan. He started his artistic journey at the age of thirteen when he was introduced to the traditional woodcarving skills of his nation. Ever since then, Kang has been combining conventional craftsmanship and contemporary artistic elements, tirelessly attempting not to compromise either of the two. Growing up at the rice field[1] on which his entire family was depending on, it comes as no surprise that he learned how to appreciate all the Earth is able to gift him. In the year of 2002, Kang was invited to spend 365 days on Turtle Island, an uninhabited isle on the northeast coast of Taiwan. He used that isolated and absolute freedom to allow his art to take the further step forward. Kang utilized local driftwoods on the island in order to make his creative endeavors come to life and, by doing so, he entered a direct dialogue with the Mother Nature who became a vital aspect of the artist's work. This rather unique life experience sharpened Kang's understanding and provided him with a strong note with which he was able to underline his future sculptures. Soon afterward, Kang created a series of works titled simply as Life. This project has been a milestone that defined much of this artist's future career, amassing to three major factors: environmental friendliness, transformation and reformation. In 2013, the artist was invited by Taipei 101 to create an environmentally friendly sculptural artwork based on the steel cables that were previously used in the 101-floor elevators. This amazing work was exhibited at the plaza of the Taipei 101 and received considerable critical acclaim and attention. Another steel-based piece of this artist was the Ruyi Life - an artwork that was exhibited at the city of Karlsruhe, Germany. It was later decided that this sculpture is to be placed on permanent display and serve as the city landmark, a celebration of the 300th anniversary of the city's founding.
Kang's unique sculptures have a common note channeled throughout every last one of them - a strong respect and relationship with Mother Nature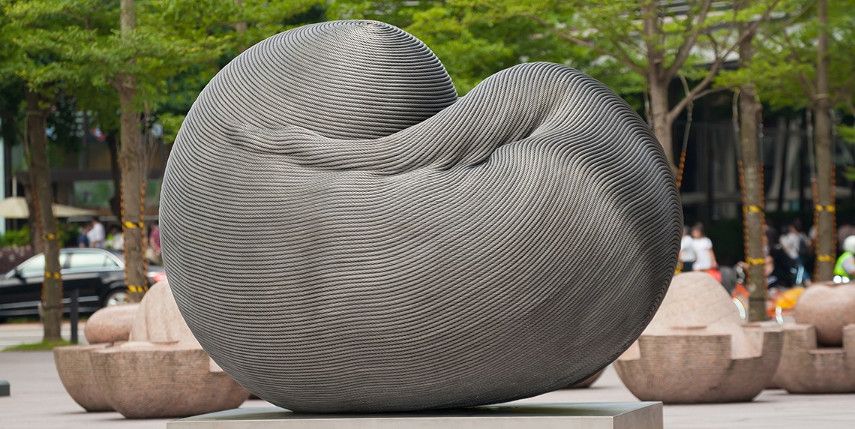 Unique Sculptures
After dedicating over thirty years of his life to an active artistic career, Kang has been regularly transcending from traditional craftsmanship, always challenging himself to push through his own creative limitations. What seems to be the only main aspect of his work that hasn't changed over the years is Kang's powerful relationship to the Mother Nature. A unique artist of Taiwan, Kang is amazingly able to renew materials, transform them into something new and bring out the brand new celebration of life within them.
Kang Mu-Xiang lives and works in Tongxiao, Taiwan.
References:
Anonymous, Artist's Official Biography, Bio [September 14, 2016]
Featured image: Kang Mu-Xiang - Photo of the artist - Image via berliner-liste.org
All images via berliner-liste.org.