Held in high regard for the way he was able to depict genuine expression through the use of uniquely vivid colors and strong forms, Karel Appel was an influential Dutch painter who created some of the most pivotal abstract works of the 21st century. Bearing the influence of Jean Dubuffet and the Art Brut movement, Appel's work is a fantastic indicator of how the art of his time established a bold gestural style and rejected many cultural and artistic values of the post-WWII period. Besides of his contributions to the development of abstract expression, Karel was also a co-founder of the CoBrA group, a pivotal organization which formed many creative concepts with Asger Jorn and several other Danish, Belgian and Dutch artists at its creative helm. Even though Appel is fundamentally recognized for his paintings that merge elements of figuration and abstraction, this author also experimented with relief sculpture and design[1].
Developing His Art After WWII
With a full name of Christiaan Karel Appel, this painter was born in his parents' house at Dapperstraat 7 in Amsterdam during the year of 1921. The entire family was supported only by Karel's father who held a barbershop on the ground floor of their house. When he was about the age of fourteen, he produced his first complete painting on canvas. This was a still life composition as Appel opted to depict a rather classical and popular scene of a fruit basket. After the family picked up on his early talent, Karel's uncle gave him a paint set and an easel. He also received some private tutorships which were intended to direct him down the right path of painting. During the years of the Nazi occupation, Appel studied at the Rijksakademie van Beeldende Kunsten in Amsterdam. Here, the young painter met Corneille and Constant - this newly formed trio of friends and artists shared many outlooks on art practices. Due to the wartime circumstances, Appel had to wait for the year of 1946 to hold his very first solo exhibition[2]. Two years later, Appel and his two painter friends joined CoBrA, an avant-garde group active in Copenhagen, Brussels and Amsterdam. During the year of 1949, he participated with the other CoBrA artists in the Stedelijk Museum Amsterdam, generating a huge scandal within the community and many objections in the press. His greatest inspiration at this point was the aforementioned French brute-art painter Jean Dubuffet. During these forming years, Appel also sculpted quite a bit, exploring what this kind of art making had to offer. He would frequently use disregarded materials in order to make such pieces.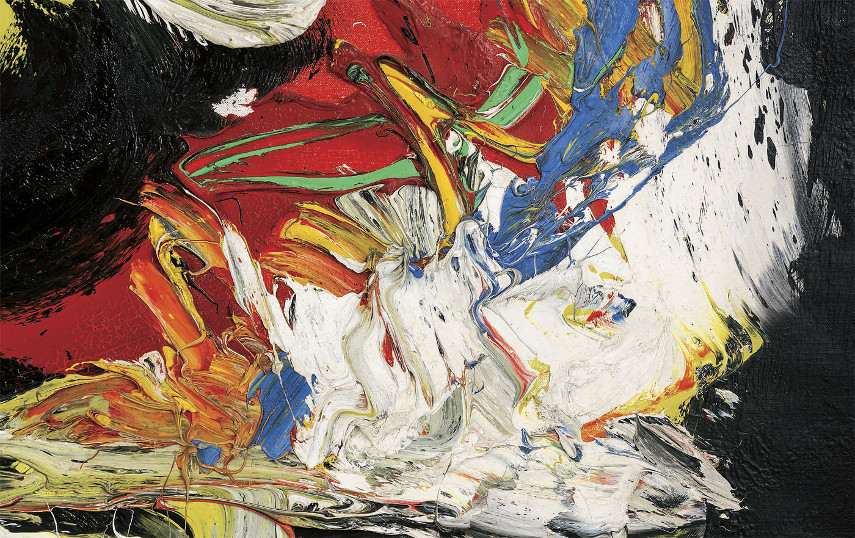 Later Years and Art Practices
As it was clued at previously, the CoBrA group was noted for their notorious artworks and activities. In that regard, Appel lacked no talent - for example, his fresco Questioning Children was painted in the Amsterdam City Hall in 1949 and stirred such a ruckus from the Dutch people that the town saw it necessary to cover the painting up a few years later. As a result of this controversy and other negative reactions to CoBrA, Appel left the group and moved to Paris in 1950. He would also travel to Mexico, the United States, Yugoslavia and Brazil during this period, all in order to find inspiration and right influences. All along the way, Karel never stopped painting murals as this seems to be the most constant kind of artworks of his career. He continued to develop his Brut art concepts for the next few decades, seemingly being a part of many movements and modern groups. When the 1990s began, he was finally accepted by the Dutch public as a crucial artist of modern expression, one without many of their movements would not be quite the same. Ultimately, he became the most famous CoBrA author despite being one of the first members to leave the group[3]. Soon after he was finally given the attention he deserved for the majority of his career, Appel started suffering from a heart ailment. This illness affected him for the rest of his days before belatedly ending his life on the third of May in 2006. He died in his home in Zürich, Switzerland, but was buried in Paris according to his wishes. A few years prior to his death, the author established the Karel Appel Foundation with goals of preserving and promoting his artworks[4]. In one of the more interesting cases concerning this foundation, a number of Appel's works went missing in 2002. This situation was never truly solved but the paintings were recovered in 2012 after they were found in a disused UK warehouse.
Although he started his career during the mid-1940s, due to his notorious reputation and many controversies, Karel Appel was not fully accepted by the Dutch public till the 1990s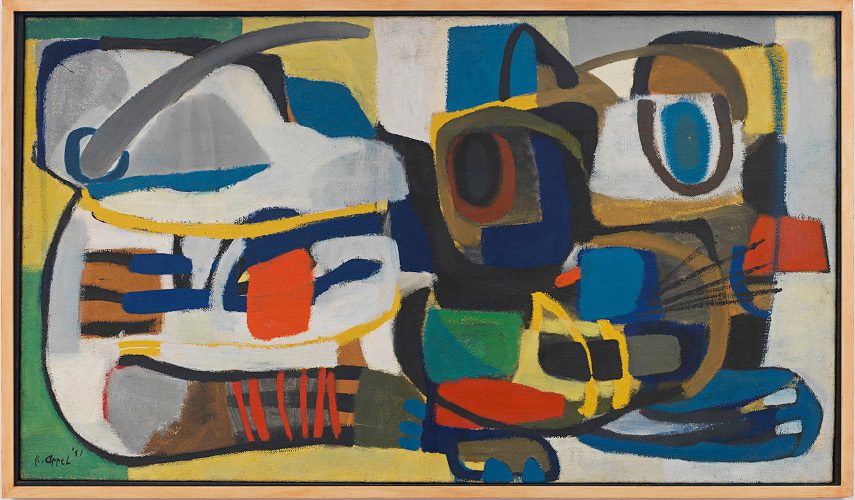 How Important is the Art of Karel Appel
Only a chosen few were able to use abstraction to the point this author was capable of - Appel's paintings are not only some of the greatest Dutch abstract artworks but are counted within the most prestigious modern pieces of the entire Old Continent. His vibrant colors, violent brushwork and thick application of impasto paint had a massive echo throughout all modern and contemporary art history. Among other things, Karel Appel was responsible for the rejection of rationalism and geometry within a painterly composition, opting instead for more intuitive and expressive practices. After we combine that fact with all of his activities with both the CoBrA group and Informel, only then do we start assembling the entire picture of just how influential and crucial Appel's art truly was.
This artist is represented by Kunzt.gallery.
References:
Appel, K., A Gesture of Color: Karel Appel. Paintings and Sculptures, 1947 2004, Sieveking, 2016
Gachnang, J., Kuspit, D., Karel Appel: Psychopathological Notebook: Drawings and Gouaches 1948-1950, GACHNANG & SPRINGER, 2000
Ragon, M., Karel Appel: Retrospective, Walther König, Köln, 2016
Frankenstein, A., Karel Appel, Harry N. Abrams, Inc.; 1st US - 1st Printing edition, 1980
Featured image: Karel Appel - Photo of the artist in New York - Image via pinterest.com
All images used for illustrative purposes only.