Kate Shaw does not make art, she discovers it beneath the layers of paint. Her unique technique is a what drags the idea from the outer world into our own. By pouring acrylic paint onto the canvas she deduces gorgeous landscapes and then makes them into even more beautiful paintings. Deeply connected to both metaphysical and material world, this artist finds an original way to express her concern about the status of humankind and the way we coexist with nature. Something poetic radiates from the sea of color in her work, sending a message to the viewer that is necessary to look beyond the obvious and into the hidden. Although, colors are displayed in a free flow, there is precise structure underneath. The artist finds inspiration in the real nature, whether it is the moving coastline or the sedimentary layers of rocks, she copies what she sees as a concept, and then transfers it into her paintings.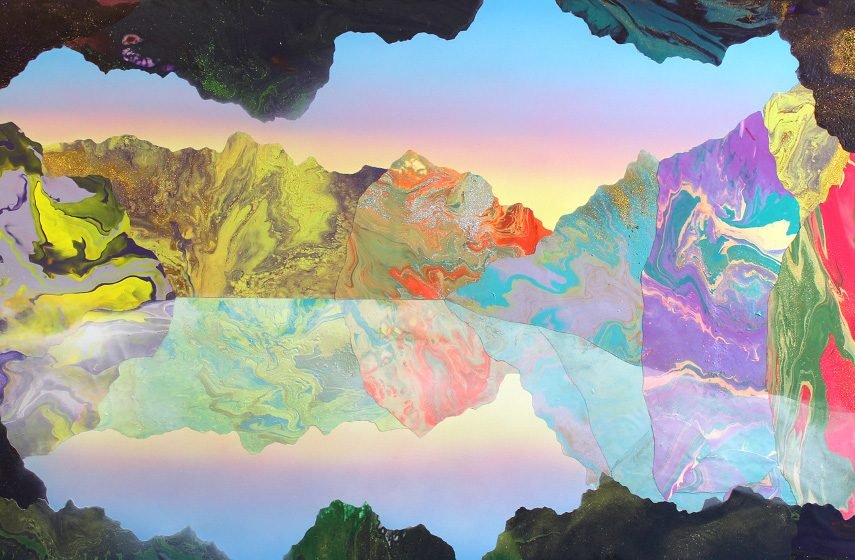 Neglecting our beautiful planet
Shaw graduated from RMIT University in Melbourne in 1994 and earned her Bachelor diploma with Honors in Fine Arts. In 1997, she completed Museum Studies at Deakin University. It is quite obvious that this artist approaches everything with curiosity and her constant search for meaning does wonders to her paintings. She explores the global relationship we form with our surroundings and feels distressed that we are neglecting our beautiful planet. Living in Australia, she has all the convenience to study the structure of the earth, the density of soil, clearness of the ocean. This natural form finds a place in her art studio too, and sometimes she notices the same patterns in her bowls of paint. She almost only paints using images from her own experience, so she travels a lot, and so do her exhibitions.
Kate's work is easy to the eye, but there is something toxic in her mix of ink, pigment and acrylic paint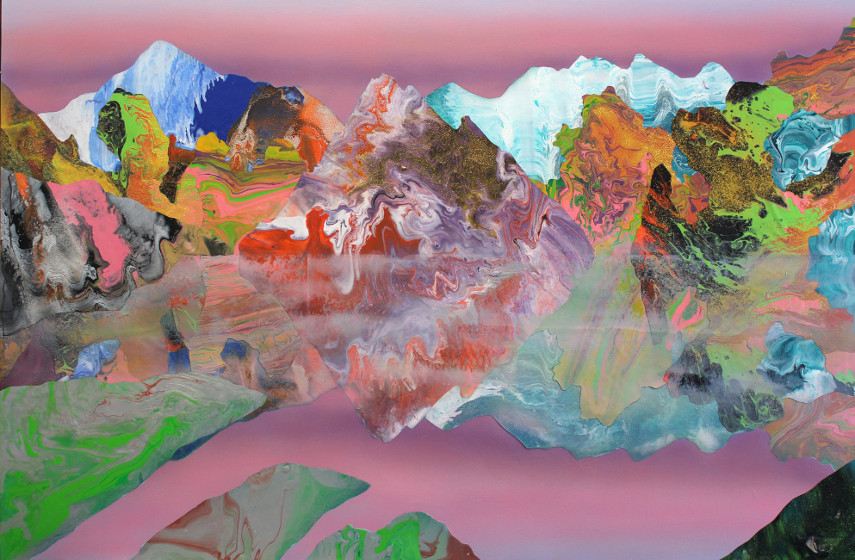 What goes Around comes Around
Even though the colors are so unrestrained, Shaw makes sure that she did everything in accordance with the real representation she'd actually found somewhere in nature. There is a message she's sending, that we are not respecting the natural order as much as we should do and that we are blatantly ignoring the consequences of the pollution and global destruction of the living world. What goes around, really comes around and Shaw is pointing out the consequences of contamination and general nonchalance. What constitutes the outer world is the Earth as such, all the wonderful living creatures including us, humans. There is a third entity, though, the relationship we create with nature and that is a sublime connection this artist wants to portray. Her work is easy to the eye, but there is something toxic in her mix of ink, pigment, acrylic paint, and glitter. It is the representation of noxious waste we produce.
The artist takes videos of natural disasters, and combines them with her bright colors
We Distance Ourselves from the Earth
Once the paint is dry and objects are detected, Kate cuts out the mountains, trees, lava fields and uses them to create collages which she then airbrushes to perfection. In her video work, she uses the similar technique: she takes what is there, in this case, videos of natural disasters, and combines them with her bright colors. Her emotional expression is to be found in the paint drops. This videos can give you chills and overall feeling of uneasiness because underneath all the psychedelic paint there is a strong message hidden. We distance ourselves too much from what the Earth gave us, and sometimes we forget that what we give back is not what the Earth deserves. Kate examines how we experience natural disasters such as tsunamis or volcanic eruptions while we're hiding behind the camera lens and then posting videos online. We ought to feel amazed and frightened when faced with such a majestic scene.
The artist is represented by Cat Street Gallery.
Kate Shaw lives and works in Melbourne, Australia.
Featured image © artist's website
All images copyright of Kate Shaw, photos via www.fehilycontemporary.com.au