Kate Waters is a Canadian artist based in Germany, known for using the photographs she takes as a foundation onto which she applies paint to make her beautiful artwork.
Background
Kate Waters was born in 1964 in Vallee Lourdes in Canada. In 1983 she enrolled in Bath Academy of Art and graduated from it in 1987. A year later she started Central Saint Martins School of Art in London, and finished it in 1991. Waters continued her education in London, graduating from Slade School of Art.
Transition, Isolation and Other Symbols
Change is a recurring theme in Kate Waters' work. Getting Used to the Twenty-First Century, a 2008 piece, explores the changes of museums, and their role in the society. The painting depicts museum visitors in front of "Coronation of Napoleon" (a painting by Jacques Louis David, itself representing change as well). Two of them are examining the painting, appreciating the beauty of it, while other visitors are ignoring it, as if ignoring the past, and looking forward to the future. This Kate's piece is not just a symbol of changing museums, but also a symbol of the ever accelerating pace of life nowadays.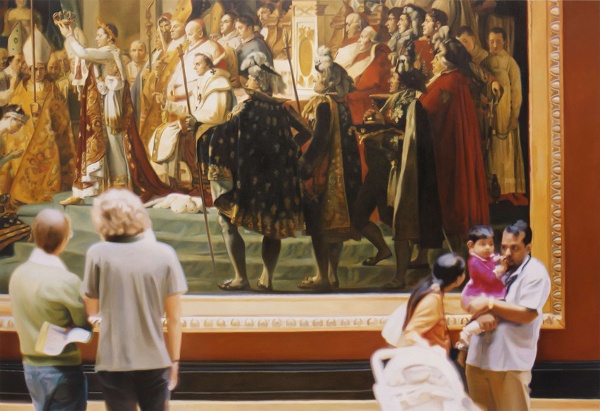 Today, people are connected more than ever. We live in the world of fast-traveling information. Boundaries are slowly becoming non-existent. Ironically, however, we are more alone than ever. The 2008 painting, Bond Street, is Waters' reminder of that. It depicts a lonely man walking through the cold shadows of the city streets. He is passing by a shop selling wedding dresses. Like all of Kate's paintings, this one reminds of a film still, as well.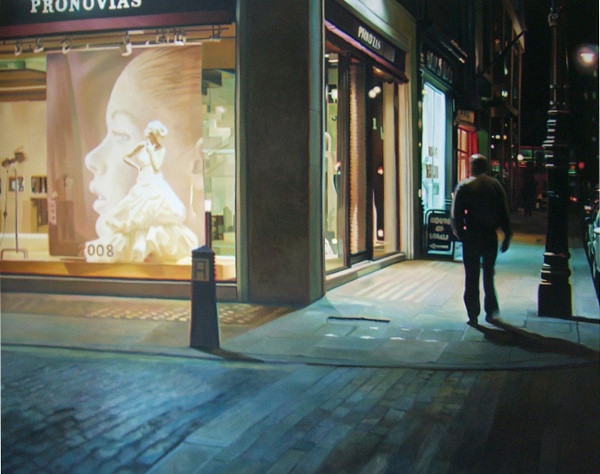 Apart from change and isolation, Waters' work is also based on illusions and dreams, family and friendship, communication and alienation, and so on. It should not come as surprise that many of Waters' paintings capture different situations in either museums or streets, seeing that these settings are where most cultural and everyday changes take place.
The subjects (i.e. the people) in Kate Waters' paintings often don't talk to anyone. They are usually in motion, unaware of being photographed, so they look natural, with their postures and glances revealing more than they realize. This contributes to the "realness" of her paintings. However, an exception to this is Chop Suey, a 2008 piece depicting two friends in an intimate environment of a restaurant.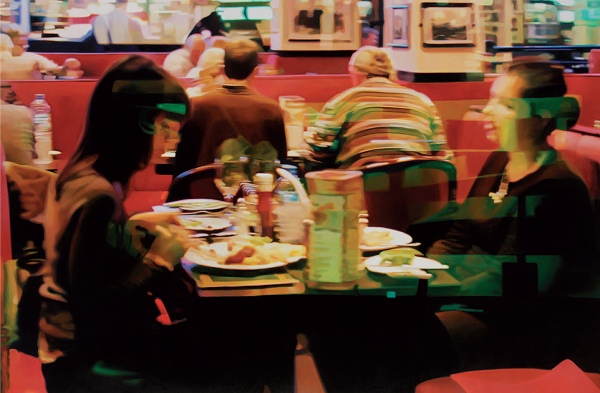 Technique
Waters' art is an interesting way of bringing together two media – photography and painting. For her, photography is only a starting point, a sketch, from which she builds it up to create a painting. But her art is not an imitation. The photographs she takes provide a sort of "skeleton" for her further work. She decides which element of the photograph is more important, which element stands out, and so she accentuates it. After that, she applies paint over the "skeleton", creating a vibrant scene.
Sometimes, the photographs Waters creates are not exactly how the final product is going to look like. Many of the "blueprints" of her paintings undergo a change and manipulation, prior to becoming paintings. In order to underpin the composition, Waters resorts to different techniques, like collage. No Place Like Home, a 2002 painting, is an example of this. On of the two boys standing in the front row, wearing red t-shirts, was not originally there. In the photograph, there was only one.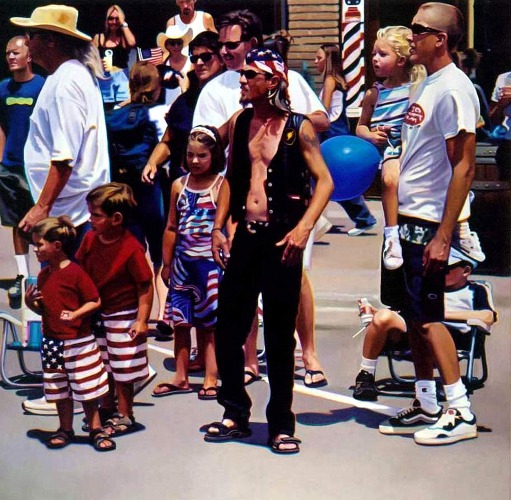 Exhibitions
Waters has been exhibiting her artworks in numerous one-man and group exhibitions throughout Europe. She is represented by Aeroplastics Contemporary in Brussels and Galerie Voss in Düsseldorf, and many of her shows have taken place there. She has also exhibited at other venues in cities such as Paris, London, Genoa, Munich and Eindhoven. Her latest show Take It Like It Is is organized by Galerie Voss. The exhibition features paintings of ordinary scenes from everyday lives in different European cities.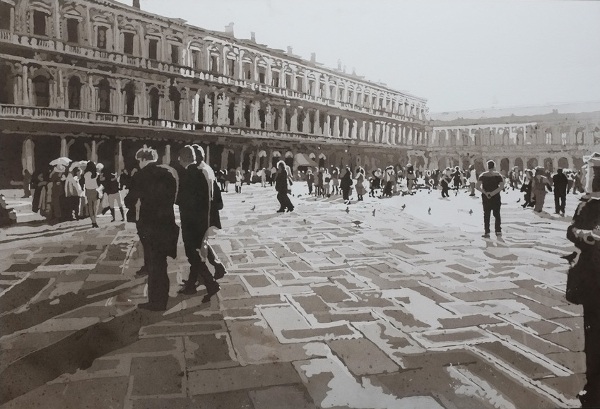 Waters' paintings are a part of a number of private collections, mainly in Germany, Switzerland and Austria.
Since 2000, Kate Waters has been living and working in Germany.