Katerina Marcelja is an American artist, born in Las Vegas, Nevada in 1971. She is known for her sculpture and printmaking.
Marcelja grew up in Rome, Italy. The artist attended Boston University and Performance Studies at NYU.
The corner installation from Wet Wings and Wooden Sails show
Katerina exhibited her works in the United States, Slovenia and Italy. She exhibited together with the artist Amanda C. Mathis. Their 2014 duo show entitled Stripped, held at Gallery Molly Krom in New York, featured Marcelja's sculptures and Amanda C. Mathis' collages. Their works share the same premise, they are both interested in artifacts and the residue of human existences found in older dwellings. Before that, in 2012, Katerina also used raw materials discarded from abandoned dwellings, to create a set of sculptures, which were exhibited in her solo show at Giacobetti Paul Gallery in New York. The show named Wet Wings and Wooden Sails focused on a large corner installation. Her solo exhibitions include Fragment Series, hosted at Open Source Gallery in 2014. The exhibition presented clusters of graphic sequences which were etched on plates.
Wet Wings and Wooden Sails sculptures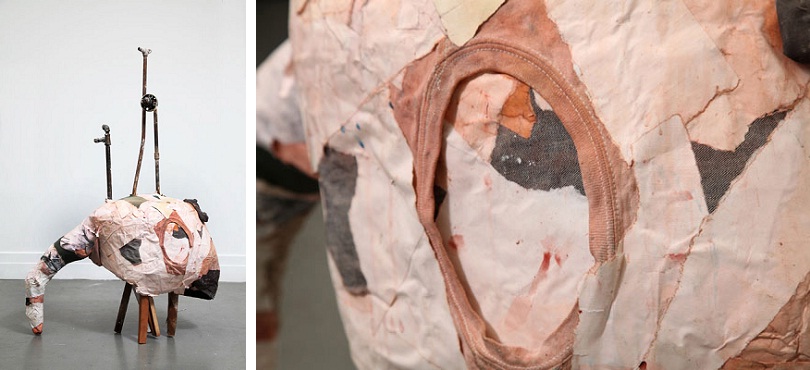 She was featured in several publications, including 10 Opening Exhibitions to Watch, an article written for MutualArt in 2014.
Katerina Marcelja lives and works in Brooklyn, New York.
Featured image: Katerina Marcelja - Framgent Series, photo courtesty of Open Source Gallery (detail)
Other images courtesy of the artist and Giacobetti Paul Gallery