Katharina Grosse is a German painter, whose wall size paintings and even bigger installations made of seemingly incompatible materials and surfaces, are known around the world. She uses architecture and nature as the basis of her compositions, to whom she adds her imagination. Her unconventional approach is everything but traditional, leaving the impression of something abstract, or even psychedelic. Intertwined layers of expressive colors, canvas and other striking components used by Katharina, represent material records of the making process, and authors interconnection with the piece. Painting is both limitless and timeless, it challenges and triggers curiosity of the spectators.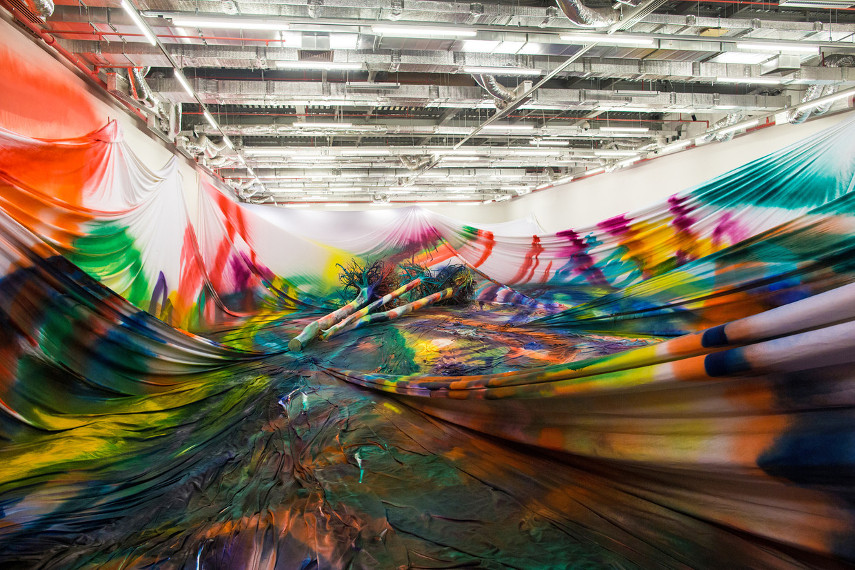 Life and Professional Decisions
Katharina Grosse was born in Freiburg in 1961, Germany. It was in her early 20's when without any clear directions, she discovered painting. She dedicated almost a year practicing brush techniques, before starting her studies at the famous Kunstakademie Düsseldorf, where she currently teaches. There she met Johannes Brus and Gotthard Graubner who were very influential on her. From 2000-2010 she worked as a professor at the Kunsthochschule Berlin-Weissensee. After graduation in 1990, she kept exploring different styles, before finding herself in abstraction. By applying diverse tonality of colors and paint, and changing a variety of tools and combinations of textures, Grosse investigates the psychological impact her pieces can have on the viewers. Her pictures are experimental, and perfect medium for structures and processes that usually don't go together, or even exclude each other. Hence, they are able to provide all the visual aspects that catch people's attention. Grosse's art is full of improvisation, consists a note of sexuality and seems as if she is playing while working.
Grosse investigates the psychological impact her pieces can have on the viewers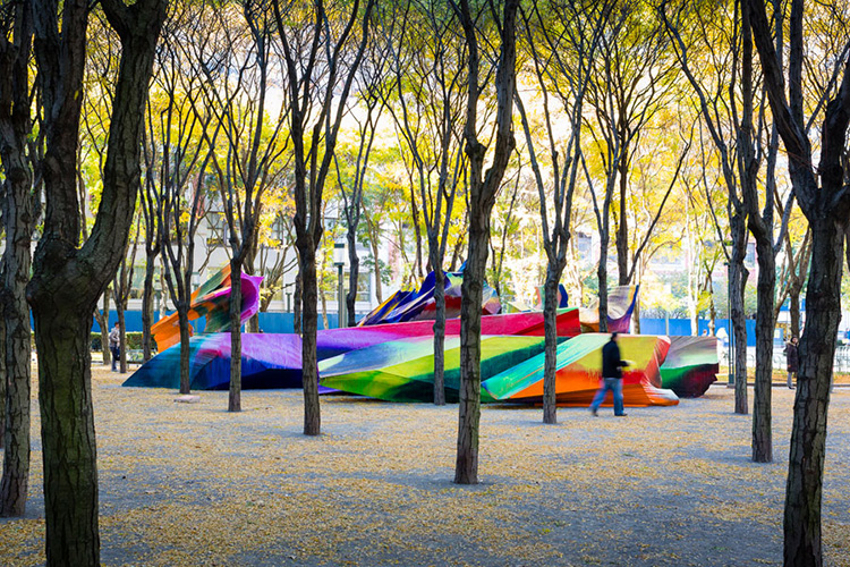 Spray-Guns and Installations
The desire for more intensive, unlimited, vast and spacious painting led the artist to spray gun. She immediately benefited from it, as it expanded her body's reach and made it easier for her to move on uneven surfaces. It was in 2004 when Katharina made a shift in her artwork by putting paint all around her. Acrylic colors which the author puts on objects that surround her like doors, hallways, walls, are the best proof of strong accent she gives to time and space. She replaced brushes for brooms, canvas for floors and windows, closed galleries for open rooms. Katharina doesn't let her imaginations and projections to be controlled by anything, certainly not the limited scope. The only difference between the work in the studio and outside is time, the latter is done in a much more intensive and productive way. Regardless of the approaches and specifics that were used to produce each piece, they all have one thing in common, and that is the reflection of the artist thoughts and her view on the world. For Grosse, installations make mutually exclusive systems coexist.
She replaced brushes for brooms, canvas for floors and windows, closed galleries for open rooms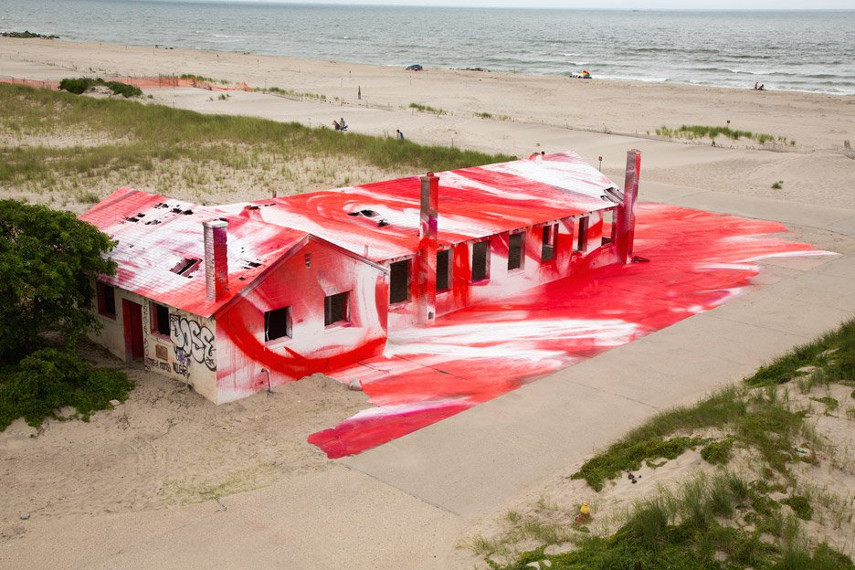 Remarcable Exhibitions from Beaches to Galleries
Grosse's impressive and large-scale work has taken galleries and site-specific installations around the world. In 2013 after the devastating Hurricane Sabrina, she used a palette of red, orange, and white color to paint an abandoned building that was a part of the ex-army base. This combination extended from interior walls and windows to roof and sand that surrounds it, blending it with clouds and creating an art installation. The show was located on the Rockaway Point Peninsula in New York. This idea was a result of the previous experience, when the artist did a similar thing with an abandoned house, destroyed during the Hurricane Kathrine in New Orleans in 2005. Her exquisite work provided her solo and group exhibitions in institutions around the globe. Author's art appeared at the Arken - Museum of Modern Art, Copenhagen in 2009, at the Museum of Contemporary Art, Cleveland in 2012, at the Sprengel Museum in Hannover, and many more. She was awarded with Oscar Schlemmer Prize in 2014, and Freid-Thieler-Preis, among others. In 2017 people will have an opportunity to see her work at Gagosian Gallery in New York.
Katharina Grosse currently lives and works in Berlin, Germany
Featured image: Katharina Grosse - Portrait - Photo via marcusköppen.com
All images used for illustrative purposes only