Kathy Kissik is a Miami-based artist known for her fusion of contemporary and historical photography with found objects. Born in Rhode Island in 1968, Kissik earned her BFA degrees from the School of the Museum of Fine Arts, Boston, MA and Tufts University where she was a fifth year Travelling Scholar recipient, then enrolled in a post-graduate program at the University of New South Wales.
Mixed Media Paintings by Kathy Kissik
Trained primarily in photography and welding, Kathy Kissik's mixed media paintings are often architectural. She photographs her subjects - with a traditional medium format camera and occasionally digitally - from slightly skewed perspectives in light shifting with the passage of time. Then Kissik builds out sculptural collages with contrasting textures and found objects for a multifaceted effect. Metals have an unspoken vocabulary in her practice that subtly transmit information to the viewer, while copper, by nature, conducts energy and the artist uses it symbolically. On the other end of the spectrum is the dead toxic dullness of lead used as a counterpoint to copper to evoke how a place feels—the interpretation of time and space.
Artworks by Kathy Kissik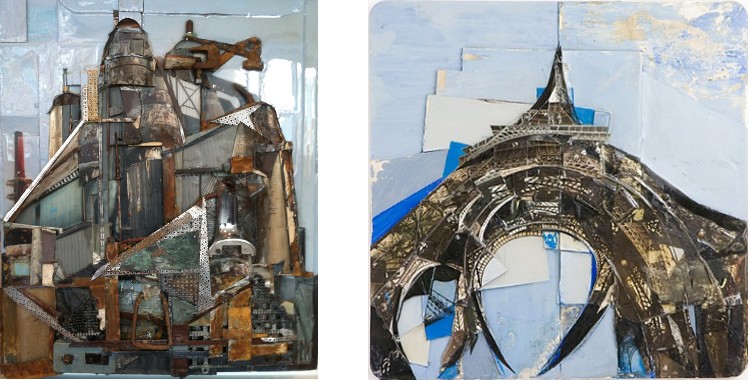 Factory Series
Kissik's subjects range from Gothic cathedrals to Venetian canals to aging factories. In her famous Factory Series influenced by the history of Bauhaus construction, Kathy Kissik presents factories as "castles," monuments of an earlier era. The turrets of these fortresses rise amid mazes of chutes and ladders spliced into crowded frames. The artist often uses discarded cardboard, used fuses, and reclaimed wire in her work. Texture and tonal shifts round out visual impact.
The Factory series is also transition from her traditional medium-format black-and-white film, sometimes sepia-toned and hand-tinted, to color digital images, overlaid with tactile elements that echo each factory's output or a related theme. Whether an antique monument or an abandoned modern structure, each subject in her work has its own history and invokes the viewers to explore it.
Better Living Through Chemicals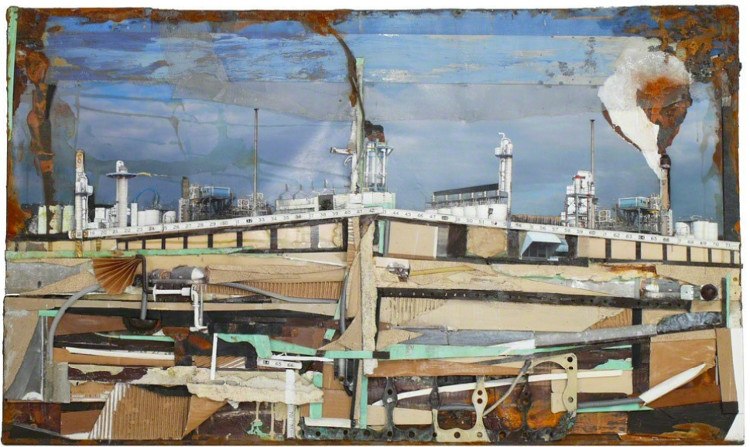 Collections and Exhibitions
Her work is widely collected by both public and private collectors including The Museum of Fine Arts, Boston; Federal Reserve Bank of Boston; Vidal Sassoon Corporation; Sony Music Canada, Shane Carter; R.S.P.C.A., Brooklyn, NY; and Wave Development Group, Miami, FL, among others.
Kissik has participated in many individual and collective exhibitions in the United States, Canada, and Europe, including at Elaine Fleck Gallery, Toronto; Alpha Gallery, Boston; South Florida Arts Center, Miami; Suzanne DeWitt Gallery, Naples, FL; Attleboro Museum, Attleboro, MA; and The Other Gallery, Banff Centre, CA, among others.
She is represented by Robert Fontaine Gallery in Miami, FL and Alpha Gallery in Boston, MA.
She lives and works in USA.
Images copyrights © the artist