City life is fast. In all of that hurry, many things simply get forgotten. And many places. Katre is a French contemporary street artist whose inspiration thrives in these abandoned buildings. He explores the themes of urban life, cities, the urbanization process, and the chaos a city can create. In the midst of all that chaos, many deserted locations just rot, left to the mercy of time. The artist writes on the walls of these places, and his work gives them a new and colorful life. The dirty and broken walls are perfect for putting his creativity to use, and he manages to restore a part of the forgotten memories, as the locations regain some meaning.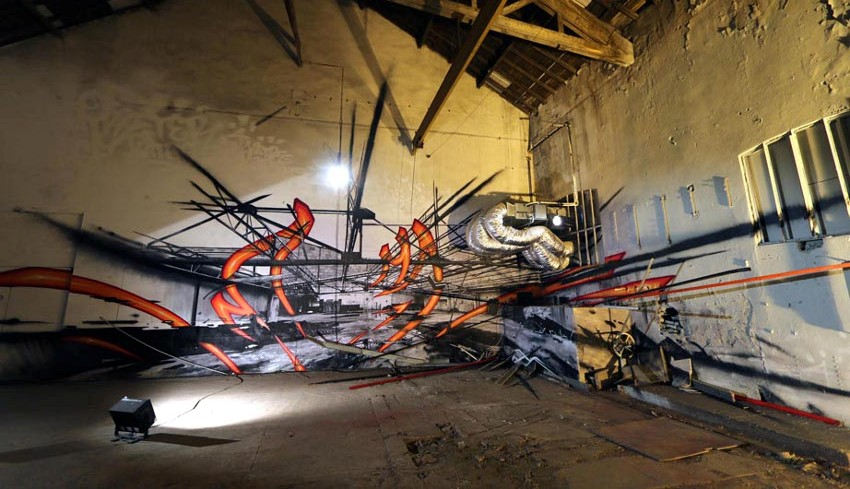 The Name
He started writing graffiti in early 90's, first writing his name, which means four in French, on all the surfaces, along with his crew STS. After some time, he oriented on just the walls and began his journey of beautifying France, but also a lot of location throughout Europe. Katre's lettering style evolved, and the graffiti gradually became more and more difficult to read as the letters slowly disappeared to leave behind only the essentials – the movement, the energy, and the force the artist creates with.
Katre takes pictures of abandoned places, using silkscreen to print the pictures on canvases, aluminum plates, or glass, and moving on to include the graphic elements. In the end, the result is a mixture of the picture and his letters, which often becomes extremely vivid, like fiery explosions of colors. The artist describes his style as something between his graffiti practice in abandoned places and his art practice.
The artist creates a perfect connection between exploring abandoned places and graffiti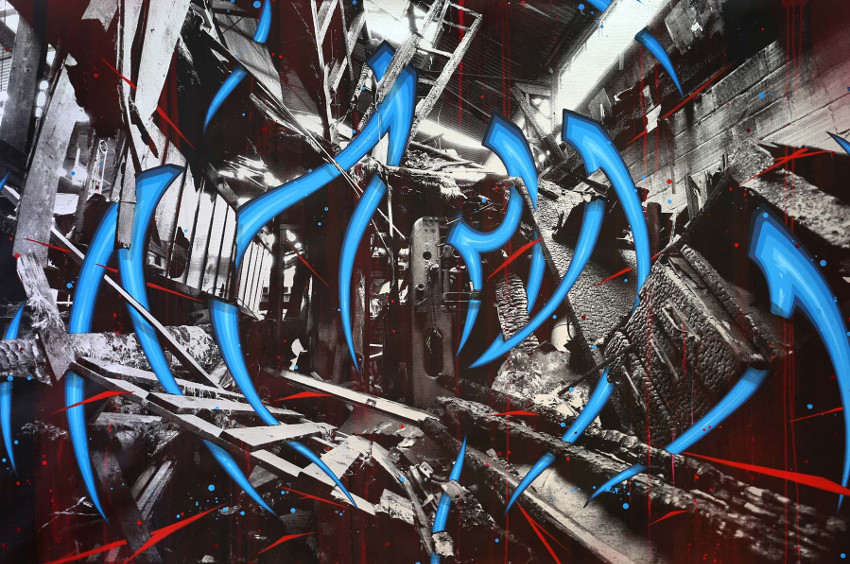 The Divercity
He grew up in a family of artists – his father is a Plasticien, his mother a photographer, and both of them were art professors. They are responsible for many of his influences, as they took him to see the work of many famous artists, like Picasso, Kandinsky, Klee, Mondrian, George Rousse, Matta-Clark, Kawamata, and many more. Of course, he wouldn't truly feel as a graffiti artist if he didn't have some inspirations from the field – the work of Dondi White, Seen, Lee, Mode 2, is also very important to Katre.
Having been inspired by such diverse group of artists, who work indoor and outdoor, it wasn't a surprise that Katre's art ended up somewhere in-between. In a way, he's practicing an indoor type of art that is most commonly seen outdoors, in the streets. He often attempts to apply his studio research on the walls rather than canvases, and vice-versa.
He is influenced by many street artists, but many ones practicing fine art as well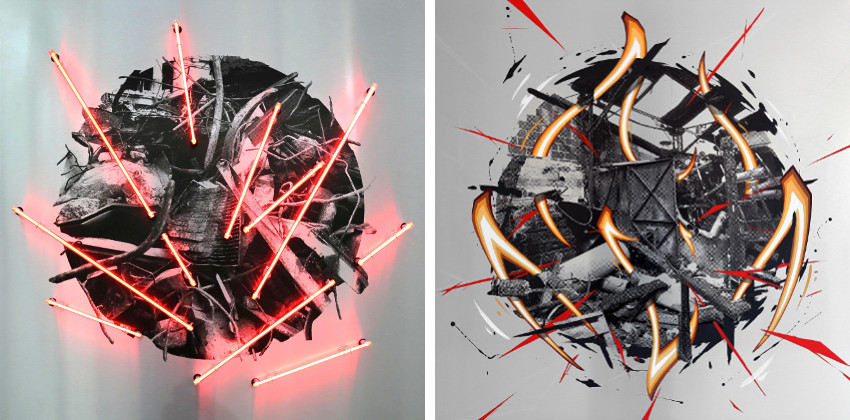 Out of Time
In 2005, he published a book titled Out of Time, that involved fifty artists operating in urban brownfield sites. It was passion that led him to walk the roads in search of brownfields while continuing to paint the walls of Paris. His second book, Out of Time – Timeless, came out in 2012, and it represents a benchmark in the French street art. Katre is currently thinking about a third book, which will be about abandoned places. Since books usually take a lot of time to be written, he is taking his time slowly, meeting new people, exchanging ideas, and working in different cities.
He is represented by GCA Gallery in Nice and Artsuggest.com, an online gallery.
Katre currently lives and creates in Paris.
Featured image: Katre - portrait. Image via The Associated Press
All images courtesy of the artist