Katrin Fridriks is an Icelandic conceptual artist, the vanguard of a new abstract expressionism movement. Fridriks was born in Reykjavík, Iceland and she's been active at the art scene for more than 10 years. Katrin is known for fusing natural energies of her native Iceland with an organic, abstract expressionism together with Japanese calligraphy, sometimes filtered through conceptual installations. Elements from the contemporary pop art and graffiti culture can also be seen in her works.
Katrin Fridriks Between Science and Art
Although Katrin's first love and passion was architecture, she ended up studying calligraphy which definitely influenced her characteristic work - learning the technique of executing a letter in one brush stroke triggered what today has become a chorographical painting process. What points her out is that in her artworks Katrin Fridriks addresses controversial scientific innovation – and that includes genetic research and cloning, with amorphous color splashes on finely crafted materials and sleek surfaces. While exploring ties between science and art, Katrin distils her questions about human life and its future. In her native Iceland, a government-backed pharmaceutical company named DeCode controversially keeps a DNA database of the country's citizens. A part of that genetic code and its classification adventure can be observed, for example, in her work Gene&Ethics. Other themes she refers are the flux of information in a technology-based context, and the natural resources expressing the consequences of human activities on Earth.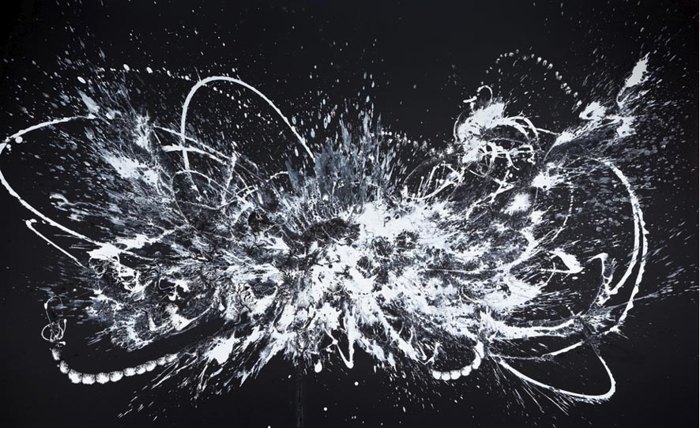 Fridriks' Monochromatic works and Color-rich Compositions
The architectural dimensions of Katrin's paintings highlight her interest for large-scale works and compositions of painting - playing with the size, thickness and format of the canvases. However, pictorial process she brings is taking her to the enlargement of her drippings - from swings to even covering the whole canvas sometimes. Katrin acts as a trigger for natural processes, chemical reactions, which create fractal structures on the paintings'surfaces. These processes give Fridrik's paintings a quite uncommon depth.
Fridriks have been compared to Jackson Pollok for her color-rich compositions with tangles of drips and brushstrokes. Her work is richly colorful, to the extent that it supercharges the imagination but she also paints monochromatic works—black on white, and white on black.
In 2013, Katrin created a work titled Silver Three Crayon Installation that presents her abstract paintings on three-dimensional, modernist sculptural forms. Key concepts for the series where this piece belongs to are: wave-particle duality, harmonic oscillation, and linear functional.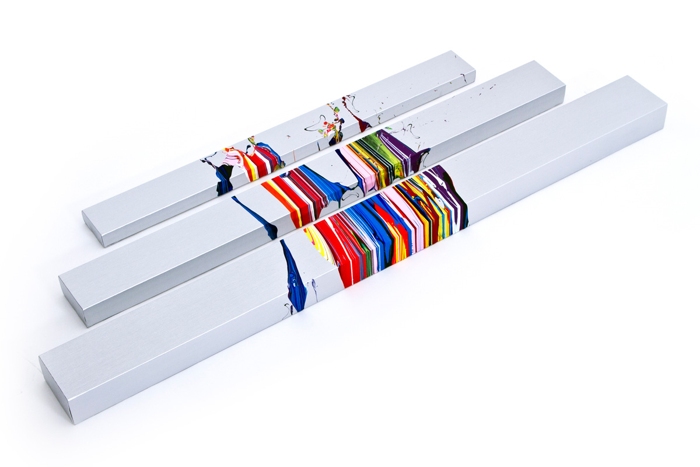 Red Sea at the Olympic Stadium of Nîmes
Katrin Fridriks has been internationally exhibited and she received high-profile grants from the Ministry of Culture, Higher Education & Re­search in Luxembourg in 2009, and from private Companies such as the Goss-Michael Foundation for the MTV Re-define project in 2011 and 2014, Ralph Lauren Foundation in 2010, the Biennial of Liverpool and the Centre of Icelandic Art in 2008… In 2007, Fridriks received a high-profile commission from the French Government to create Red Sea, an 80 m² fresco for the Olympic Stadium of Nîmes.
Although Katrin is best known for large-scale paintings, her truly contemporary artistic practice originates in an early engagement with Performance Art with her project Dust of Galaxy, in 2002 or Land Art presented through Energy Flow in 2004.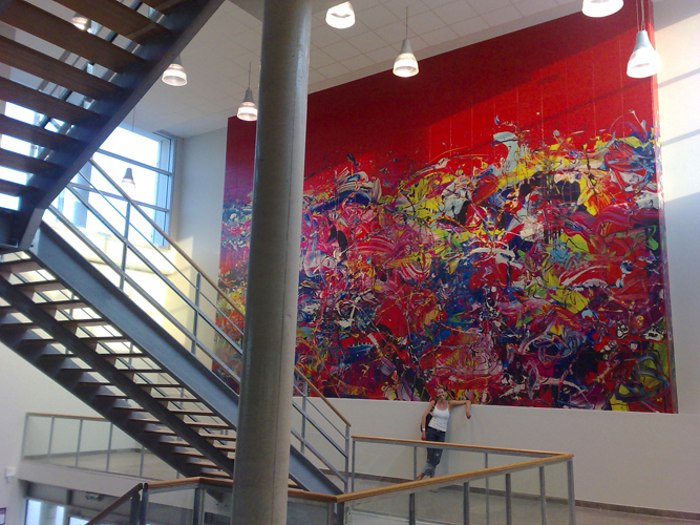 Stendhal Syndrome at Circle Culture Gallery in Berlin
Fridriks began to work on installation too: her ensemble Molecular Spaces in 2008 where she focused on transforming her pictures into three-dimensional theatrical settings. In 2014, Circle Culture Gallery in Berlin showed Stendhal Syndrome as Katrin's solo show.
The title derivates from the series of works she has been producing as her visualization of "a psychosomatic disorder that causes rapid heartbeat, dizziness, fainting, confusion and even hallucinations when an individual is exposed to an experience of great personal significance, particularly viewing art". The theme has been elaborated through the exhibited works and the overall setup, but most of all, through a captivating main installation of the show including a large canvas work that can be examined through a custom made magnifying glass.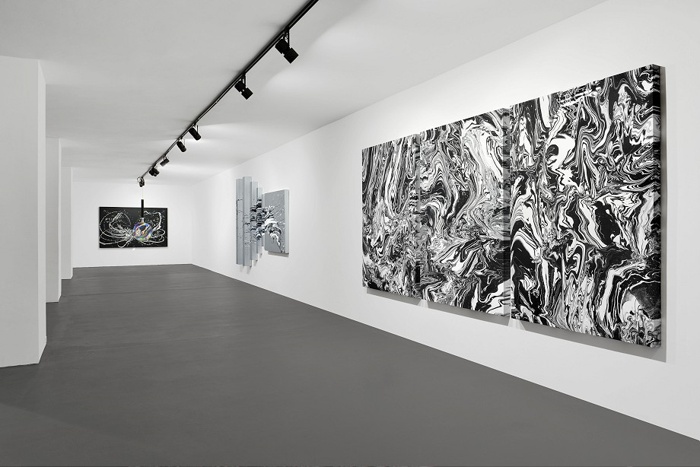 Personal Structures – Crossing Borders at Biennale di Venezia 2015
In 2015, Katrin installed her large installation Perception of the Stendhal Syndrome at the Palazzo Bembo in Venice, Italy, as a part of the Personal Structures – Crossing Borders group exhibition opening at la Biennale di Venezia 2015. That same year, the first significant monograph dedicated to Katrin Fridriks was released by Skira editorial. Being released as part of their Artist Collection, this 250 page hardcover edition provides a unique journey into the artist's universe and past 15 years of Fridriks' creation and evolution. The main focus is on her latest and most innovative paintings and shows. The author is Fiamma Arditi, an Italian writer and journalist based in New York.
Katrin Fridriks lives and works between Luxemburg and Paris.
Featured image: Katrin Fridriks - photo by Philippe Bonan
All images courtesy of the artist