In the late '80s and early '90s, the interesting thing was happening on the streets of Jersey City – one artist came up with the idea of stealing advertising posters by unlocking the glass panels at the bus stops and phone booths. He would add his own graphics in acrylic paint on the posters and return them to their natural habitat, making a funny or harsh statement that ad inspired. That creative was no one else but Brian Donnelly, better known as KAWS, an American artist, so skillful in his pranks that no one could ever distinguish his piece from the original ad. Today, KAWS is a well-known graffiti artist, painter, illustrator, sculptor, toymaker, and product designer.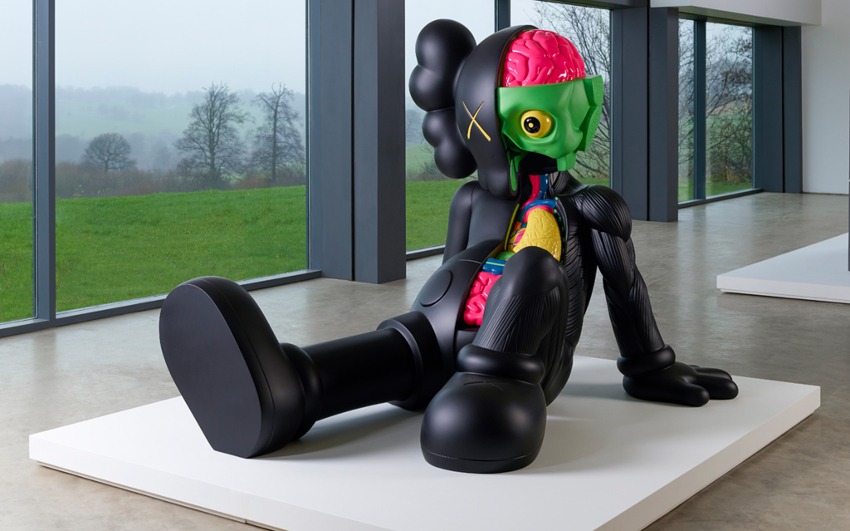 KAWS and His Street Art Beginnings
KAWS was born in 1974 in Jersey City. Growing up in a state in the northeastern and mid-Atlantic regions of the United States, he became interested in graffiti in elementary school, where he would spend hours just copying graffiti images to paper. His first influences were neighborhood children, who painted graffiti images on walls within his community. KAWS spent his high school years graffiti-bombing trains, walls, and billboards. He honed his street-art act in New York City, hanging out with the spray can–wielding skate kids in downtown Manhattan. KAWS graduated to a more covert form of interventionist street art in the mid-'90s, when he began unlocking the glass panels encasing bus stop and phone booth ads, stealing the poster, changing it and putting it back. Later, moving to New York City in the 1990s, KAWS continued subverting imagery on billboards, bus shelters, and phone booth advertisements. These reworked advertisements were at first left alone, lasting for up to several months, but as KAWS' popularity skyrocketed, the ads became extremely popular and his fans would search the entire city to find and take them home. In addition to New York, KAWS has done interventions in Paris, London, Berlin, and Tokyo.
KAWS plays with the iconic imagery of Mickey Mouse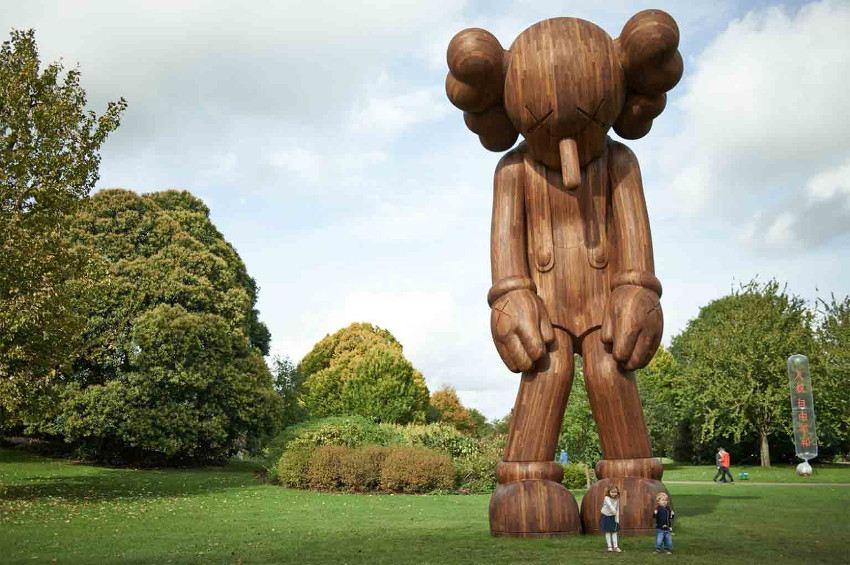 KAWS: New York and Japan
KAWS graduated from the School of Visual Arts in New York with a Bachelor of Fine Arts in illustration in 1996. After graduation, he briefly worked for Disney as a freelance animator, painting backgrounds. He participated in animation of the animated series like 101 Dalmatians or Daria and Doug. In the late 90s, KAWS began to design and produce limited edition vinyl toys - an instant hit with the global art toy-collecting community especially in Japan, where this genre is well respected and widespread. In those years, KAWS traveled to Japan, pursuing his street art projects with Tokyo subculture heavyweights Hectic and Jun Takahashi of Undercover. In 1999, KAWS made his first toy with Japanese company Bounty Hunter, a vinyl figure of Mickey Mouse with x-'ed out eyes (as if Mickey just drank from a bottle marked POISON - this image was even incorporated into a balloon for the 2012 Macy's Thanksgiving Day Parade). His street-born cartoonish graphics—specifically shaped figures with x-'ed out eyes entitled spermatozoa—have achieved a subculture iconography. He has applied this KAWS signature to his street art, a clothing line, heroically outsize toys and sculptures, and countless co-branding ventures: KAWS participated in commercial collaborations with Nigo for A Bathing Ape, Jun "Jonio" Takahashi for Undercover, Michael "Mic" Neumann for Kung Faux, snowboard projects with Burton, and sneakers with Nike and Vans, Comme des Garçons… More toys and later clothing were made for Original Fake, a recent collaborative store with Medicom Toy, in the Aoyama district of Tokyo where an original limited edition product is released each week.
Subverting the famous American cartoon - The Simpsons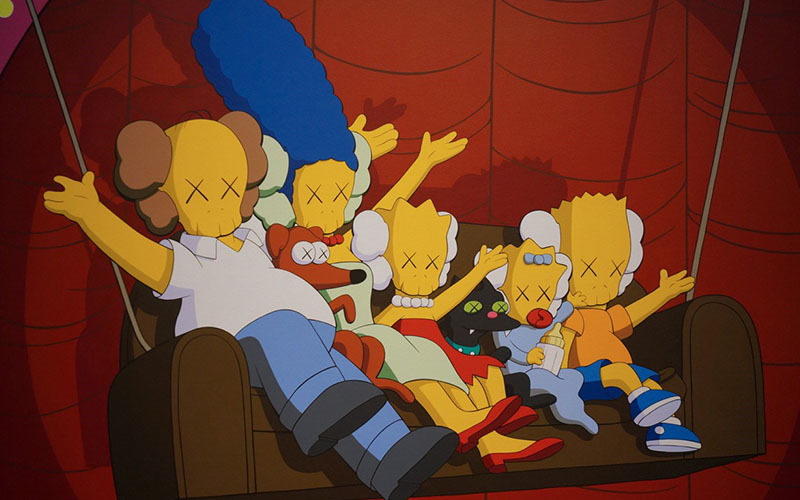 The Kimpsons
KAWS' acrylic paintings and sculpture have many repeating images, all meant to be universally understood, surpassing languages and cultures. One of KAWS' early series, Package Paintings was made in 2000. This series, entitled The Kimpsons, subverted the famous American cartoon, The Simpsons. KAWS explains that he found it weird how infused a cartoon could become in people's lives; the impact it could have, compared to regular politics. In addition, KAWS has reworked other familiar icons such as Mickey Mouse, the Michelin Man, the Smurfs, and SpongeBob SquarePants. KAWS books like C10 and early exhibition catalogs are rare and collectors items. The first comprehensive survey of the artist's oeuvre was a monograph from Skira/Rizzoli in 2009, written by Mónica Ramírez-Montagut, a curator at The Aldrich Contemporary Art Museum. Through this publication, KAWS has gotten approval from an art-world establishment that he felt would never take his guerrilla act as its own. Soon after, he bought a building not far from his Brooklyn studio, which his good friend, the interior designer Katayama, converted into a massive studio that will become the creative hub of the KAWS universe.
Pass the Blame was solo show by KAWS at Galerie Perrotin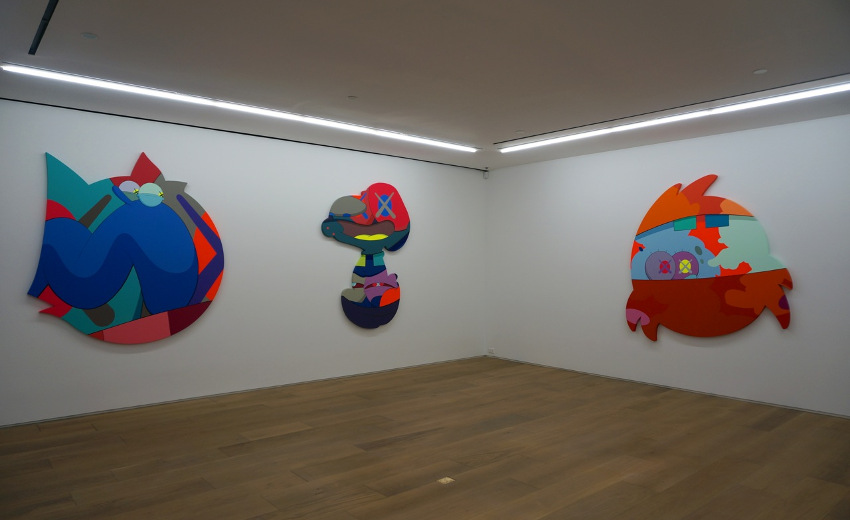 KAWS' Redesign of a VMAs' Moonman
In 2013, KAWS was commissioned to redesign the VMAs' Moonman award, giving the silver spaceman his first facelift in 30 years. The artist said it was such a strong, iconic thing to be in charge of. As he thought, everyone sees the Moonman and knows right off the bat what it is, the task seemed if not impossible, then at least extremely difficult. KAWS explained that when he was first invited to do the project, he knew that he didn't want to create something new entirely. What KAWS desired was to create something that the public will see immediately as his work, but as the evergreen Moonman, as well. Casted in a striking gunmetal finish, it features several of the flourishes that have made his artworks instantly recognizable in galleries and on street corners around the world — namely, the comical skull-and-crossbones head and cartoonish gloves of Companion — while, at the same time, remaining faithful to the iconic award that's been handed out to the biggest names in music for almost 3 decades.
Giving the new face to VMA's Moonman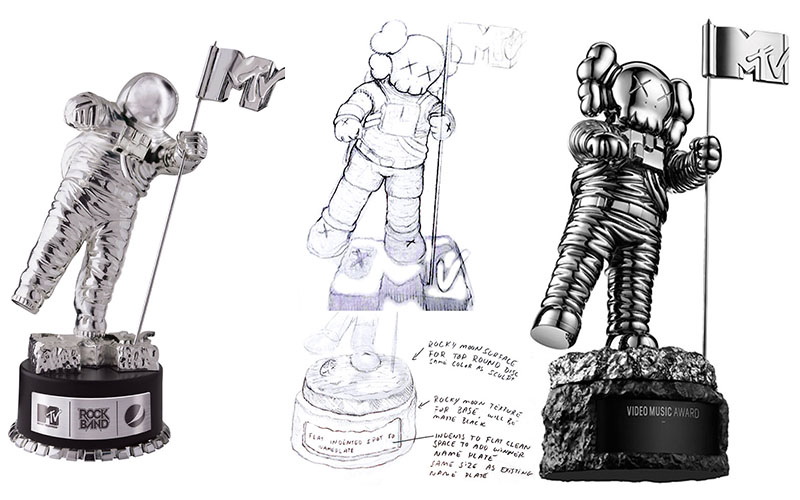 Man's Best Friend
In September 2014, KAWS artworks were on display in the show entitled Man's Best Friend at Honor Fraser in Culver City, CA. In Man's Best Friend series, KAWS reinterprets the beloved American beagle Snoopy, along with other familiar shapes from the cast of the syndicated cartoon Peanuts, reworking them with the vividness, brightness, displacement, and playful abstraction he's known for. Man's Best Friend is an exceptional collection of artworks which shows the artist taking from the creative ethos of his stylistic progenitors and modifying a standard in the American cartoon world, giving his audience a glimpse of its transformation in development. These days, it sounds like he's taking his time with his art, and taking a step back to look at the bigger picture.
KAWS reinterprets the beloved American beagle Snoopy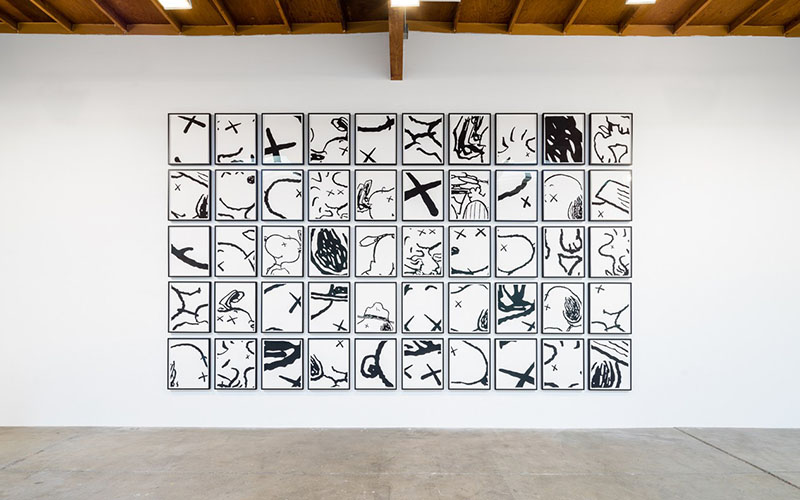 Influenced by a Modern Pop Culture
In 2014, music star Pharrell teamed up with KAWS and Comme des Garcons on a fragrance for both men and women. Titled Girl and based on Pharrell's ongoing infatuation with the fairer sex, the bottle, logo, and packaging had been designed by House + Holme, featuring bold, cartoonish artwork by KAWS. His practice is greatly influenced by iconic characters from modern pop culture, so KAWS' work treads the fine line between art, commerce, cartoons, and commercials. It distorts, yet at the same time, pays homage to, all objects produced, bought, sold, exchanged, desired, and cherished; the essence of American consumerism. Using his skills through various disciplines and mediums, KAWS ties together hip hop, skateboarding and cartoon culture all in one perfectly positive, a pristine vision of impossible perfection. His oeuvre is also a joy to behold; an all singing all dancing fun-packed celebration of positivity, life, and fun. His work is a craft, a skill that most mere mortals couldn't even begin to comprehend. As he grew older, his influences came from traditional life painters, such as Gerhard Richter, Klaus Oldenberg, and Chuck Close.
Brian Donnelly aka KAWS currently lives and works in Brooklyn, NY.
Featured image: KAWS - portrait, photo via AP