Although he was famous for many aspects of his life and work, Japanese artist Kazuo Shiraga was primarily recognized for his performative painting practices. His particularly unorthodox set of techniques was underlined by Shiraga's style which was heavily influenced by the dominant American Expressionism movement. Kazuo was a pivotal part of the artistic group called Gutai, an organization which spurred an avant-garde creative current based on an idea of having action and everyday life translated into dynamic artworks[1]. Although it is fairly common to hear comparisons between Jackson Pollock's drip method and this Japanise's own technique, Kazuo Shiraga had a practice that required more enhanced textures and general thickness of the piece.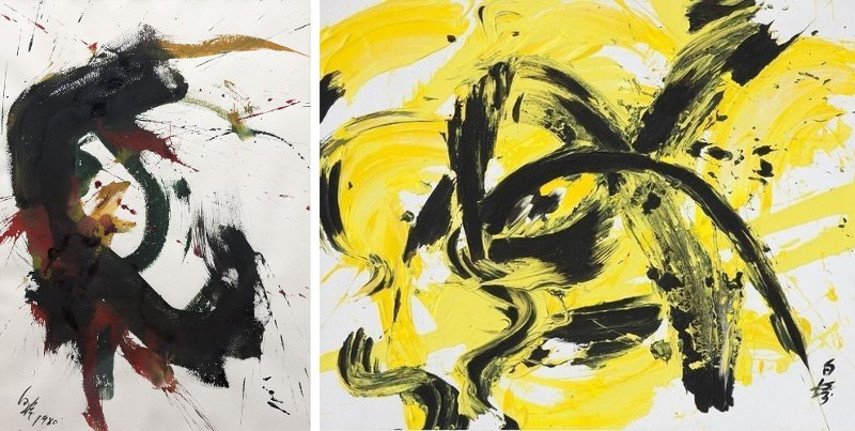 Formative Years and the Pollock Influence
Kazuo Shiraga was born during the year of 1924, in the town of Amagasaki, an industrial city located in Hyōgo Prefecture, Japan. He was brought up by a kimono merchant family, a situation which placed the young boy in a very traditional setting. Shiraga soaked in the beauty of kimonos which can arguably be described as his earliest influence. Another influence came from his parents as Kazuo's father was interested in oil painting and was always eager to show his son some techniques or explain artistic concepts[2]. During the year of 1938, Shiraga enrolled in Yōga classes which followed the Western conventions and techniques whilst staying true to the core of Japanise painting practices. Four years later, ambitious Kazuo began his artistic education at the Kyoto City University of Arts. Just before graduating, the author married Fujiko Uemura. Shiraga majored in Traditional Painting (Nihon-ga) in 1948 and continued his artistic training with Ito Tsuguro, a famous local painter. These were the early pivotal times of Kazuo's development. In 1951, the young artist visited the Yomiuri Independent Exhibition where he had the opportunity to view the works of Jackson Pollock. Inspired by the American artist, Shiraga started exploring the drip technique, a venture that led him to an opportunity to meet Jirō Yoshihara.
Right from the start of his career, Kazuo Shiraga was heavily impacted by the dripping system of Jackson Pollock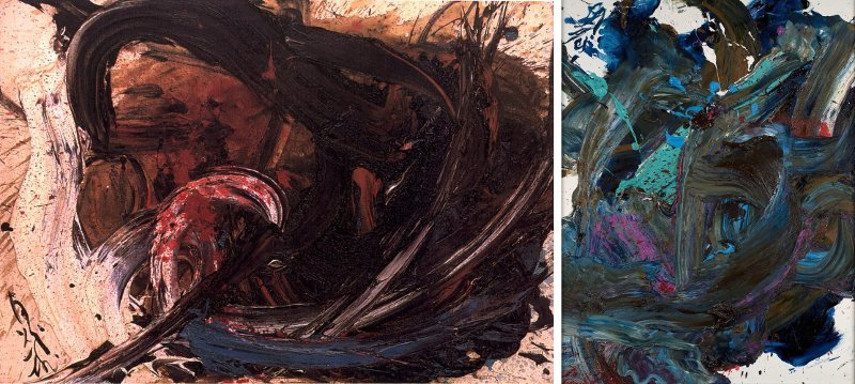 Kazuo Shiraga and The Gutai Association
Shiraga's new friend Jirō Yoshihara was a well-known Japanese painter who established Gutai Association in 1954. Naturally, he included his close friend and colleague in this organization. Gutai was a radical post-war association of artists primarily focused on attaining genuine originality and innovation in artworks. Kazuo became one of the leading individuals of Gutai, adding that to his list of activities as Shiraga was already a member of Zero Kai Group, a collective based on the belief that artworks should be created out of nothing. In both groups, Shiraga presented his pieces made by no tools, only using his bare hands.[3] It has been noted that this author produced his first painting without a brush in the year of 1953. The following year, Kazuo extended his arsenal of tools by introducing pieces made strictly by his bare feet. In 1955. Shiraga created his most famous piece, called The Challenging Mud. He used nothing but his own body, turning and writhing in a pile of mud, recording the entire process of making in order to turn his method into a variant of performance art[4].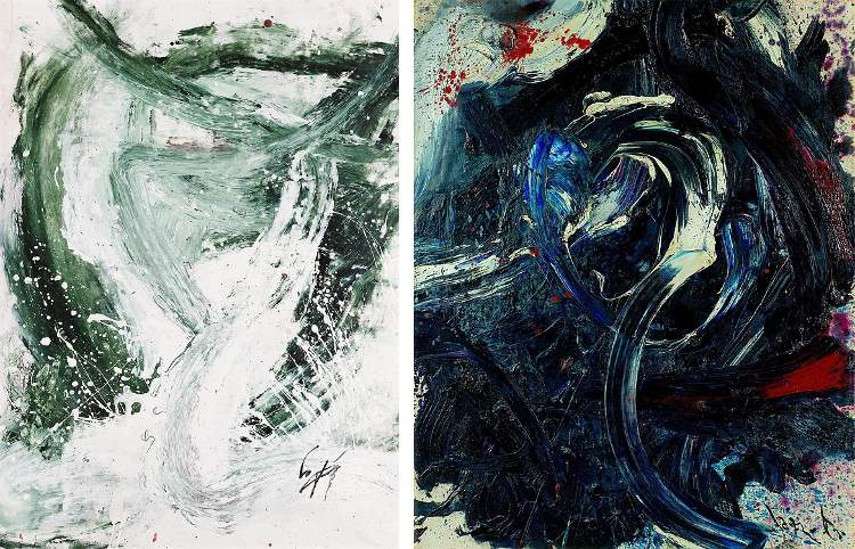 National Success and Later Life
Shiraga's career reached its undeniable peak in the mid-50s, lasting all the way throughout the 60s. In 1957, the French curator and collector Michel Tapié heard about his works and met with Jirō Yoshihara, through whom he became acquainted with Kazuo's art. Tapié and Kazuo concluded a contract and his paintings broke into the European market in 1958, although he was never too popular with anyone outside Japan during his life. Interestingly, the author started signing his pieces in kanji, as well as naming his pieces after the famed Suikoden warriors. Following one incredible national success after another, Kazuo abandoned painting completely in 1971 when he discovered a spiritual path in Enryaku-Ji, a Tendai Buddhist monastery located deep in the wilderness of Hiei Mountain, near Kyoto. This monkhood lasted for a while, but following the sudden death of Jirō Yoshihara, Shiraga returned to art-making and started exploring different styles and mediums. He did stay true to his original techniques, however, as the brush never substituted his hands, fingers and feet.[5] To the last day of his life, Kazuo remained popular in Japan as he never managed to establish himself as a household name in Europe or in the United States. Shiraga died on April 8, 2008, in his hometown of Amagasaki. Due to the versatility and innovative nature of his art, the interest in Shiraga never started to fade as the decades were passing by. Naturally, many publications concerning the subject of Kazuo's art have appeared oveer the course of the artist's long career - arguably offering the best analysis and insights into Shiraga's art are the two books titled Kazuo Shiraga and Body and Matter: Kazuo Shiraga.
The entirety of Kazuo Shiraga's art was based on the concept of painting without a brush which was substituted by the contact of bare fingers and toes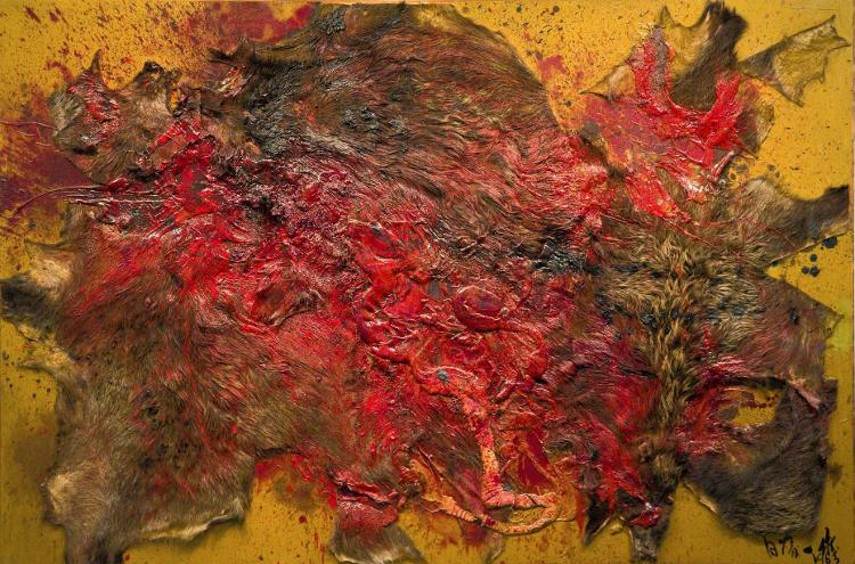 A Fascinating Devotion
As far as Kazuo Shiraga was concerned, a painting was defined by the gestures of its creation. He would suspend himself over the canvas, use his own blood as a material, create marks with nothing but his toes - resulting in a totally unique way of shaping the painterly composition. He would stop at nothing in order to achieve the perfect painting, using the entirety of his body as a mere tool. Ultimately, this is regarded as Shiraga's greatest contribution to art history. Such dedication is hard to find as only a handful of authors over the course of centuries was prepared to sacrifice so much in order to make their artworks more complete. And at the core of such a method was a highly theoretical concept, adequately put into words by the author himself: I want to make paintings as slippery and as uncatchable as a sea cucumber, pieces with no center what so ever.
References:
Hoshino , S., Shiraga, K., Body and Matter, Dominique Levy; 1St Edition, 2015
Shiraga, K., Kawasaki, K., Tiampo, M., Rajchman, J., Kazuo Shiraga, Dominique Lévy/Axel Vervoordt Gallery; 1st edition, 2016
Ritter, G., Kawasaki, K, Kunimoto, N., Sawayama, R., Nakajima, I., Between Action and the Unknown: The Art of Kazuo Shiraga, Dallas Museum of Art, 2015
Reiko Tomii, S., K., Tiampo, M., Kazuo Shiraga, Mnuchin Gallery; 1St Edition, 2015
Shiraga, K., Kazuo Shiraga Paintings and Watercolours 1954-2007, Annely Juda Fine Art, 2007
Featured image: Kazuo Shiraga - Photo of the artist - Image via archesart.co.uk
All images used for illustrative purposes only.