Widely renowned for his distinctive contemporary pieces of portraiture, Kehinde Wiley is extremely capable of fusing traditional techniques with modern motifs and photorealistic style. The idea behind this American painter's art is the principle of selecting artworks of old masters like Jean-Auguste-Dominique Ingres, Peter Paul Rubens or Jacques-Louis David and then replacing the subjects of these paintings with handsome young men, usually African Americans. Many of his artworks are also recognizable for their colorful backgrounds. This feature is especially present in the ongoing series of World Stage in which Wiley's figures are depicted in front of colorfully ornamented patterns. Wiley's large-scale canvases are a true delight to observe and analyze as his paintings are so visually stunning one can spend hours upon hours simply looking at the level of detail Kehinde is capable of achieving within his compositions. Besides the aforementioned painters, Wiley also finds inspiration in French Rococo, Islamic architecture and African textile design.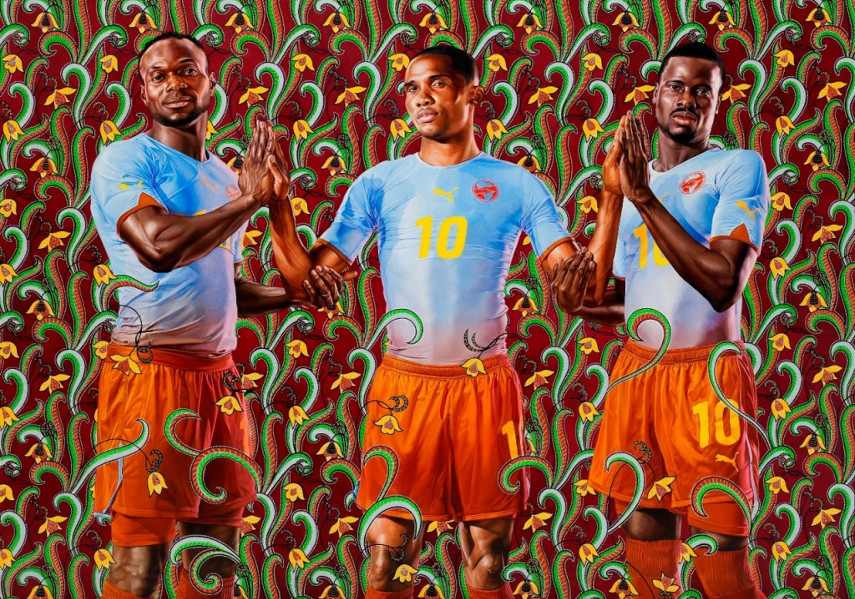 A Long Road to an Artistic Identity
Kehinde Wiley was born in the heart of Los Angeles, California, during the year of 1977. He started showing interests in art making from an early age and was lucky enough to have a mother who supported such dreams. She had him enrolled in an after-school art class ever since Kehinde's toddler days, making sure her son had a chance to express himself creatively. When he was twelve years old, Wiley spent a short time at a school in Russia. It should be noted that this painter grew up without a father as his dad, Yoruba, lived in Nigeria. Desiring to both explore his roots and meet his father, Wiley traveled to Nigeria when he was twenty. Upon returning to the United States of America, Kehinde earned a BFA from the San Francisco Art Institute in the year of 1999. This was followed by a 2001 MFA from the Yale University and it's School of Art sector. By this time, he was already starting to explore what will eventually prove to be his exclusive topic - portraiture. Initially, these portraits were based on photographs of young men Kehinde found on the streets of Harlem. However, as he was growing both as a person and as an author, Wiley desired to somehow channel an international character to his work. Soon, he began to reference Old Masters paintings by adopting the poses of their subjects. By doing so, Wiley was blurring the lines between traditional and contemporary modes of representation. Combining such fields as urban hip-hop with something as French Rococo, Kehinde created a completely original and utterly unique way of expressing himself on the canvas surface.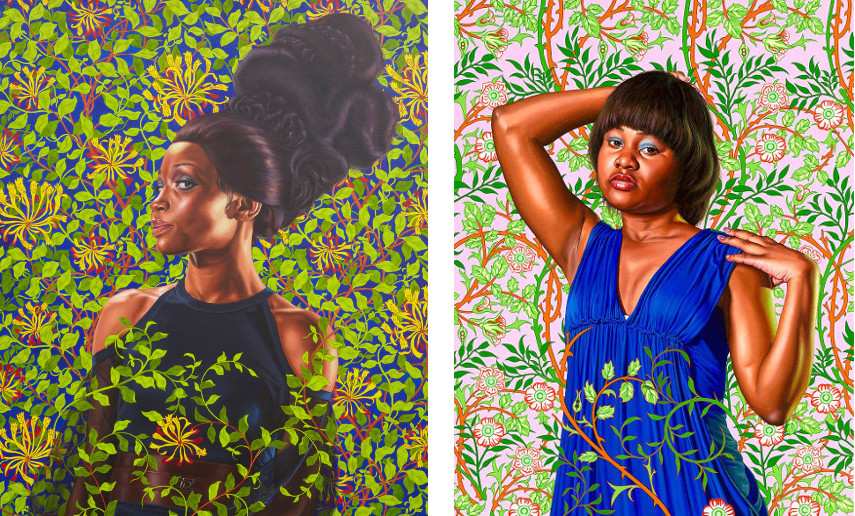 Examining the Uniqueness of His Art
Examples of Wiley's art are not too hard to find as this painter's reputation and popularity reached a sensational level during the last few years. As an indicator of how Wiley creates, we chose to present his Napoleon Leading the Army Over the Alps (2005), a piece based on a masterpiece titled Napoleon Crossing the Alps (1800) which was done by Jacques-Louis David. In this piece, Kehinde restaged the composition by adding an African rider wearing modern army fatigues and a bandanna. As he said himself in one of his numerous interviews, Wiley investigates the perception of blackness and creates a contemporary hybrid Olympus in which tradition is invested with a new street credibility[1]. Wiley's somewhat bigger than life size figures are rendered in a realistic fashion and are usually portrayed in a heroic and noble sort of manner, in poses that indicate power as well as a spiritual awakening. Throughout these poses of strength and spirituality, Wiley also depicts a certain amount of masculinity which is usually rather docile and filtered.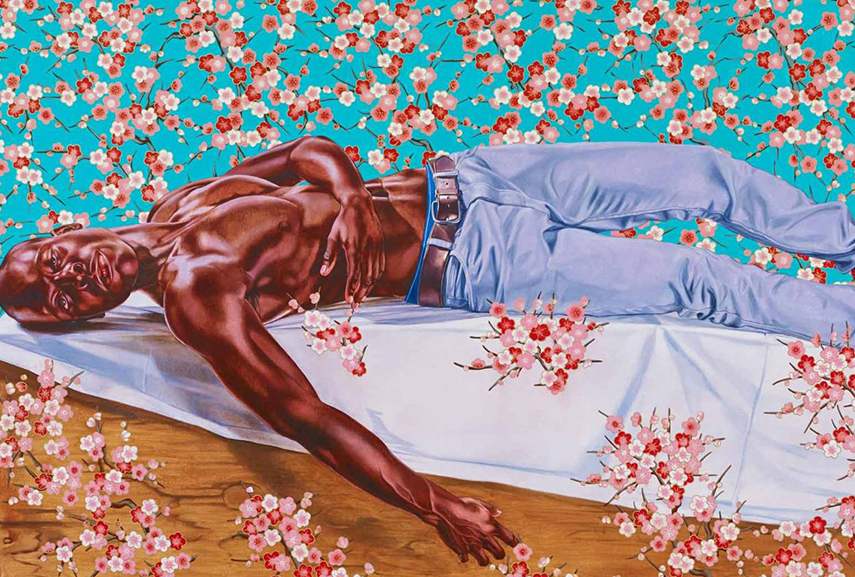 Other Projects
Besides creating artworks such as Napoleon Leading the Army Over the Alps, Kehinde also continued to paint portraits of random people he photographed in urban locations. Interestingly, the author often asks these individuals to take poses of different famous historical figures, making sure that even this kind of production still stays true to Wiley's idea of mixing unblendable worlds. His aforementioned project titled The World Stage is also very interesting - in it, the author included models found in urban landscapes throughout the world, visiting such areas as Haiti[2], Israel[3], Jamaica[4] and Brazil[5]. Naturally, due to his incredible talent and original concepts, Wiley has been on the receiving end of many recognitions and honors. In the October of 2011, Wiley received the Artist of the Year Award from the New York City Art Teachers Association/United Federation of Teachers. A similar reward was received from the Canteen Magazine as well.
Kehinde Wiley has a unique way of creating his paintings - he chooses pieces from legendary artists such as Rubens or Jacques-Louis David and then replaces their subjects with young black men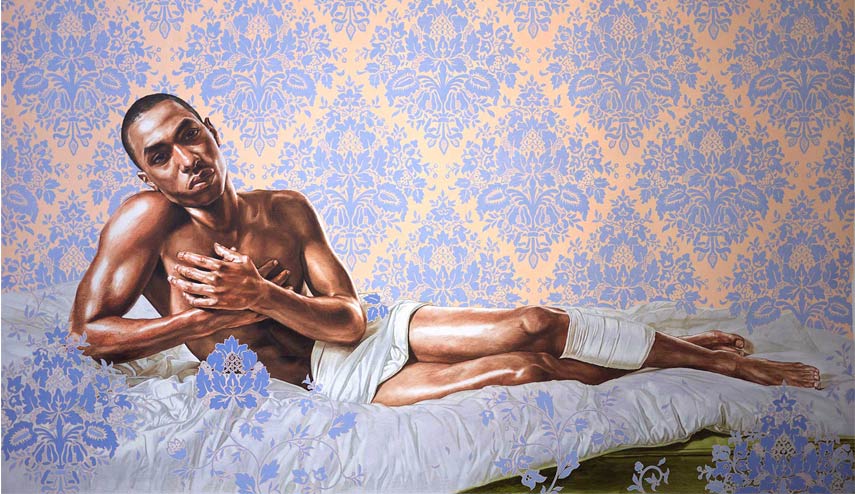 Kehinde Wiley's Wonderful Blend
Ultimately, Wiley's affinity for jarring juxtapositions derives from his aim to complicate notions of group identity. As the painter himself explained, Kehinde desires to go beyond the media stereotypes about national identity. This characteristic makes Kehinde's art much deeper than expected, opening up an entire array of analyses and discussions concerning every single piece[6]. However, even if we put that aspect of his art aside, we are still left with a beautiful visual vocabulary which is rich with color, details and charm, as well as full of art historical references. Wiley's style and the peculiar blend of seemingly uncombinable elements work perfectly and it would not be wrong to call Kehinde one of the most unique and influential African American painters of the 21st century.
This artist is represented by Me Collectors Room Berlin.
Kehinde Wiley lives and works in New York City, United States.
References:
Wiley, K., Black Light, powerHouse Books, 2009
Oliver, C., Rogge, M., Kehinde Wiley: The World Stage: Haiti, Roberts & Tilton, 2015
Eglash, R., Nahson, C., Kehinde Wiley: The World Stage: Israel, Roberts & Tilton; Bilingual edition, 2012
Eshun, E., Kehinde Wiley: The World Stage Jamaica, Stephen Friedman Gallery, 2014
Jackson, B. K., Roels Jr., R., Wiley, K., Kehinde Wiley: The World Stage, Brazil, Roberts & Tilton, 2010
Golden, T., Kehinde Wiley, Rizzoli; 1St Edition edition, 2010
Featured image: Kehinde Wiley - Photo of the artist - Image via kehindewiley.com
All images used for illustrative purposes only.