Keiichi Tanaami is one of the most important artists of postwar Japan and a prolific creator who has been active since the 1960s as a graphic designer, illustrator, and video artist. His imagery is crowded with various war motifs, such as American bombers, fleeing masses, and searchlights. His paintings and sculptures blend together the elements of pop art with the memories from his childhood that don't include only World War II scenes, but also hallucinatory experiences and high fevers. At the same time, Tanaami's works have a certain connection with the religious practices of Asia and Japanese history and culture.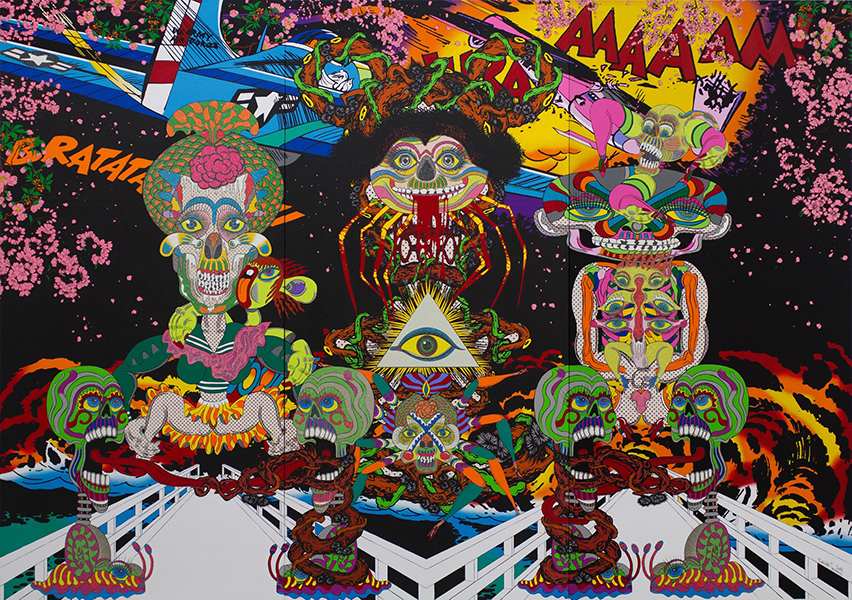 Early Biography and World War II
Keiichi Tanaami was born in the mid-30s in Tokyo and he was only 9 years old when Tokyo was bombed during the World War II in 1945. My dreams were a vortex of fear and anxiety, anger and resignation, recalls Tanaami. He was into visual arts from his early childhood and during his high schools days he started practicing drawing together with the famous cartoonish Kazushi Hara. However, after Hara has suddenly died, Tanaami got involved with the pioneering disciplines of early manga and graphic novel art which eventually led to his career of a professional artist at Musashino University. He was very successful and talented and in 1958 he was awarded the Special Selection at an exhibition held by the Japanese illustration masters. After graduation, Keiichi Tanaami started working in an advertising agency, but due to the popularity of his works and numberless private commission, he had to quit this job. In the second part of the '60s, he got dedicated to innovative forms of creation, such as making video pieces.
Keiichi Tanaami got involved with the pioneering disciplines of manga and graphic novels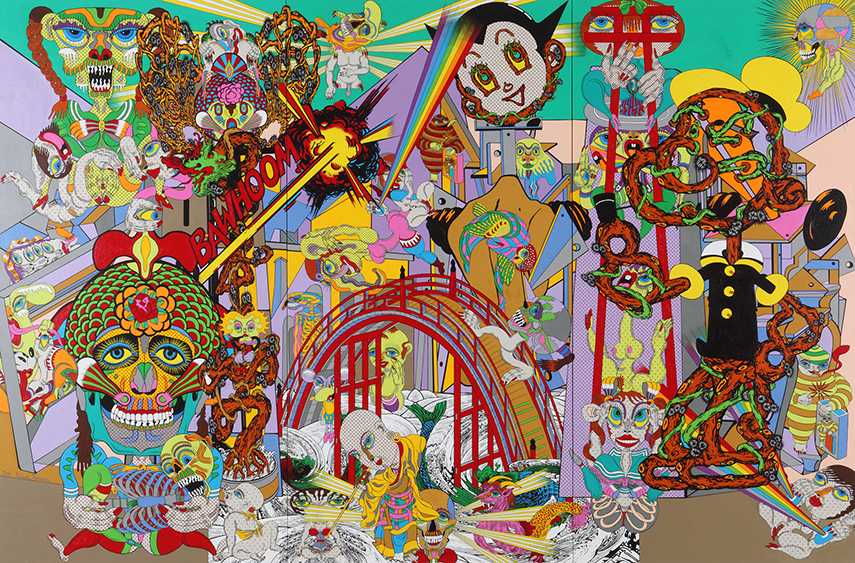 Support of Psychedelic Culture and Pop Trends
During the 1960s, the Sogetsu Center in Akasaka became the gathering point of many experimental, avant-garde artists such as Yoko Ono and Nam June Paik. The Sogetsu center was also playing new experimental films and videos from America. Around that time, Keiichi Tanaami heard about the Sogetsu Animation Festival held in 1965 and decided to make an animation for it, called Marionettes in Masks. During the festival, he learned more the works of Andy Warhol as well as the phenomena of American consumerism along with psychedelic culture. He started producing kitschy, colorful illustrations and designs which resonated well with the current artistic tendencies and they were praised in both Japan and the United States. Some of his most famous pieces from this period are NO MORE WAR poster from 1968 and album covers for bands such as The Monkees and Jefferson Airplane. Thanks to these artworks, Tanaami managed to introduce the psychedelic trends to Japan. The same goes for his series of erotic paintings portraying Hollywood actresses, which show the artist's attitude related to the American contemporary world.
Some of Tanaami's famous pieces are NO MORE WAR poster from 1968, album covers for bands such as The Monkees and Jefferson Airplane and many bizarre video series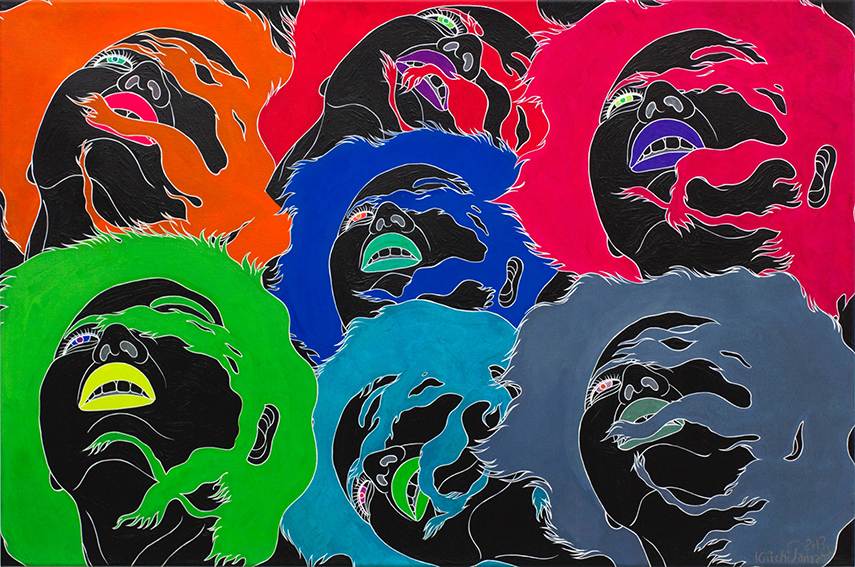 Works after the 70s and Exhibitions
In the mid-70s, Tanaami became the director of the Japanese version of Playboy Magazine and around the same time, he traveled to New York to visit Playboy's headquarters. For the occasion, he also went to see Andy Warhol's Factory. When it comes to Tanaami's personal style from the 1970s and 80s, he was producing both film and print-based works, which were highly provocative. His movies were well-received and they appeared many short film festivals, such as the International Short Film Festival Oberhausen in Germany, the New York Film Festival and the Ottawa International Animation Festival in 1976. Unfortunately, in 1981, Tanaami suffered a pulmonary edema which nearly killed him. During the '80s and '90s, the majority of his works revolved around the theme of life and death, based on his personal experiences and traumas. In 1999, a major retrospective of Tanaami's works was opened at Gallery 360° in Tokyo and the exhibition was a great success amongst youth. Encouraged by this achievement, Tanaami started presenting his new works in the field of fine art, such as painting and sculpture. In these works, he still relies on his personal memories related to war, illnesses, and psychedelic motifs. During the 2000s, Keiichi Tanaami continued participating in various film festivals, such as the Stuttgart Festival of Animation Film in Germany, the Annecy International Animated Film Festival in France, the Los Angeles Animation Festival and Japanese film screening at the MoMA in New York, in 2013.
In 1999, a major retrospective of Tanaami's works, which are a bridge between the East and the West, was held at Gallery 360° in Tokyo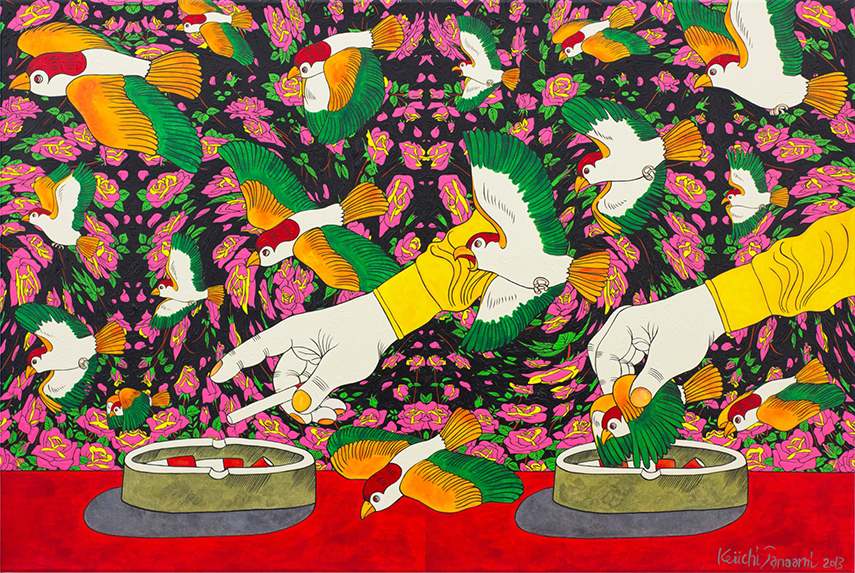 Combination of Eastern and Western Elements
Keiichi Tanaami's innovative projects are much more than an unusual mix of Eastern and Western traditions. Tanaami also introduces a lot of personal elements to his works, making this mix appear powerful and bizarre at times, in line with the psychedelic tradition and surrealism. Since 2006, the presence of Tanaami's works on the worldwide exhibition scene go stronger and he obtained a lot of international acclaim at galleries and museums across the world. His new works in the sector of film and animations are still regularly screened at various movie festivals.
Keiichi Tanaami lives and works in Tokyo, Japan.
Featured image: Keiichi Tanaami's Portrait - Photo Credits Finbar O'Mallon
All images courtesy of the artist.