Kelly Reemtsen is an American visual artist, whose paintings, sculptures and drawings are mainly focused on themes such as the role of the modern day woman. Kelly Reemtsen was born in Flint, Michigan in 1967. The artist studied Fashion Design and Painting at Central Michigan University and California State University Long Beach. She was most recently an Artist in Residence at the Venice Printmaking Studio in Italy.
Kelly Reemtsen's Art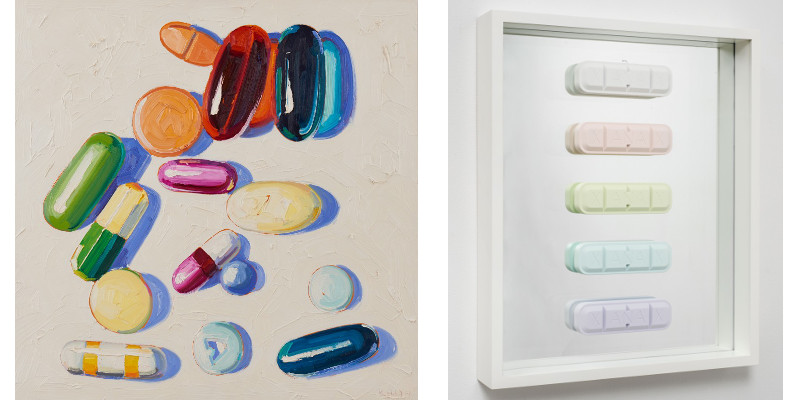 Pieces exhibited at her Smashing solo show carry a recognizable, recurring motifs - delicately dressed women, in a festive cocktail vintage designer dresses, yielding tools and household equipment that is at odds with her leisurely costume, like carpentry equipment or power tools. The objects that they hold, intended for often traditionally masculine tasks - from wrenches, sledgehammers, and axes to chainsaws – impose the question of society role of the contemporary woman. By not displaying a woman's face, these anonymous torsos remain beautiful representations of the female with which anyone can identify. Frequent motifs in her works have included cotton candy - a reference to a painter Wayne Thiebaud, as well as iridescent bubbles, and gem-like pills, depicted with multi-colored contour lines.
Smashing Solo Exhibition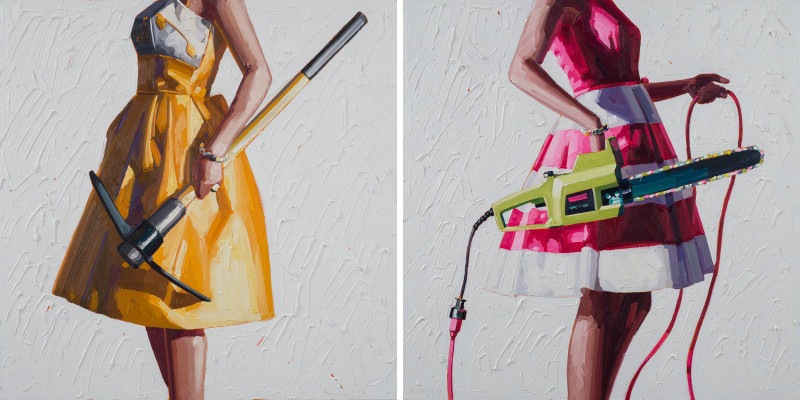 Kelly Reemtsen's work has been exhibited throughout the United States, and is part of the Twentieth Century Fox in Los Angeles, Bon Appetite in San Francisco, and AT&T corporate collections. Her art has been featured in many group and solo shows, including her 2013 America's Sweetheart and 2015 Smashing solo exhibitions, both held at De Buck Gallery in New York. In addition to her paintings, Reemtsen's book titled I'm Falling, published in 2013, was the recipient of The Independent Spirit Award at the 2014 Independent Publisher Books Award.
Kelly Reemtsen currently lives and works in Los Angeles.
All images courtesy of De Buck Gallery