Keltie Ferris is an artist that caught the public eye for her large-scale canvases covered with numerous layers of spray paint that form characteristic geometric fields. Ferris's pixilated backgrounds and atmospheric foregrounds of these geometric depictions create an illusion of depth that allows for multidimensional readings and analyses of the work. Her colorful paintings are full of vividness and life, literally bursting with energy. Perhaps the best depiction of her artwork was published in The New Yorker magazine: Picture Monet's garden as a graffiti-tagged plot in Bushwick and you get some sense of the grit, bravado, and beauty of these big abstract paintings made of oil, spray paint and pastel.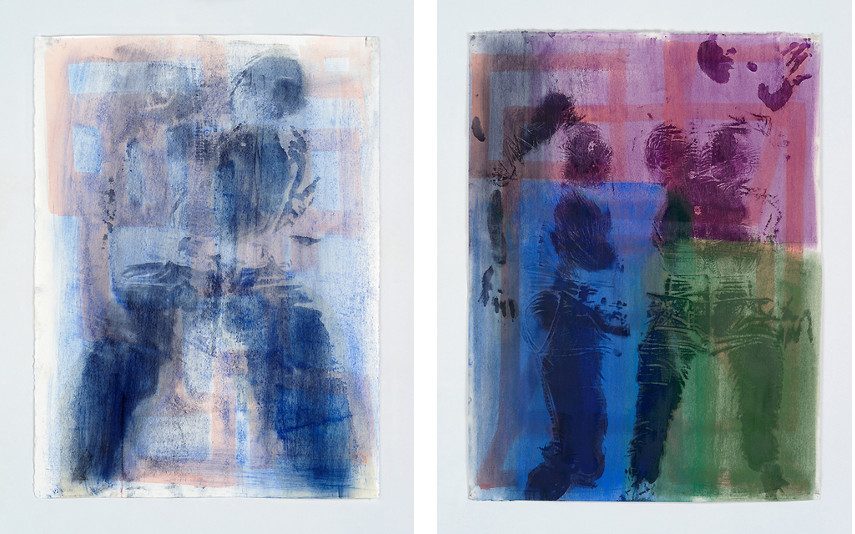 Early Life And Education
Keltie Ferris was born during the year of 1977 in Louisville, Kentucky. She was exposed to artistic ways of thinking and expressing from an early age. A friend of her family was an owner of an extensive art collection and that allowed young Keltie to stroll around some of the most important paintings of art history before she even old enough to go to an elementary school! How many people can say that they spent their toddler years by directly exploring works of Pablo Picasso? Ferris's mother and father had painter's blood in them as well, so there really was never any doubt if Keltie would try herself at painting too. After she finished the Nova Scotia College of Art and Design, the artist gained her advanced knowledge of art on the Yale University in New Haven, where she received her MFA in 2006. Studying at such a prestigious university provided Keltie Ferris with a vast understanding of how to express herself artistically to a maximum degree. One of Ferris's teachers at Yale, Peter Halley, had a massive impact on the artist's style and its development. He once told her that the paintings she creates are not expressive of emotion in the typical sense of the word, but are expressive of energy. After graduation, Ferris moved to New York City and worked at Izquierdo Studio in Manhattan, where she made, among other things, props for the Victoria's Secret models and complex arrangements for Ralph Lauren.
Keltie Ferris tries to place as much energy in her work as possible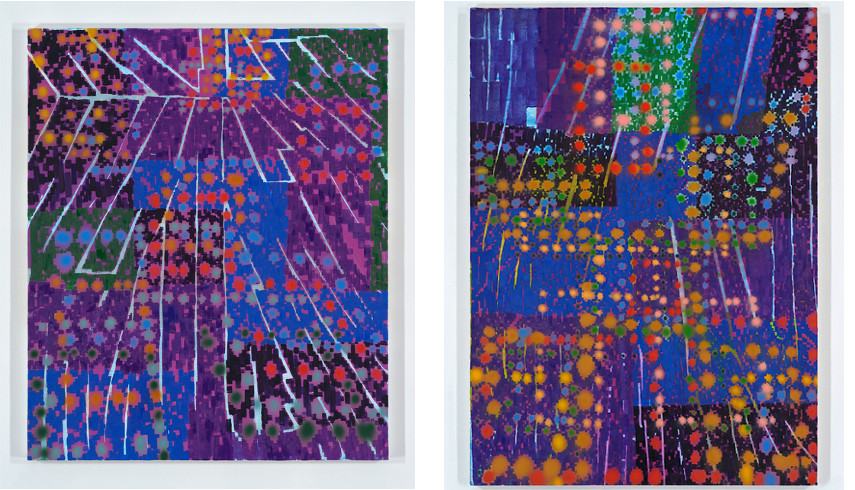 Analyzing Her Artwork
The characteristic balance and symmetry inside Keltie Ferris's paintings make them extremely tempting to try and understand the grids and formations this artist creates. However, this is not an easy task, as you will soon come to see. It is possible to note several techniques Keltie Ferris uses regularly on her pieces. One of the biggest difference between her and the rest of painters is that Ferris often turns to the application of spray paint that is used in graffiti street art and airbrushing. The artist started using spray paint in order to make gestural, expressive marks that serve as a modern looking modification of the traditional brush stroke. She also uses traditional paint through the usage of broad brushstrokes and it can be noticed she often turns to natural oils. Ferris's oversize - typically 80-inch square - canvases are impressive harmonies of layered contrasts that she describes as individual persons. She once stated: Sometimes I think of my paintings as people, like I'm sending them out into the world and they'll have their own relationships to people and writers and cameras. You make them the best you can and then they go on to have their own lives. As you can see, the art of Keltie Ferris is a complex one - her strong patterns and electric colors simply invite attention.
Ferris often likes to think of her paintings as human individuals, all different in their own way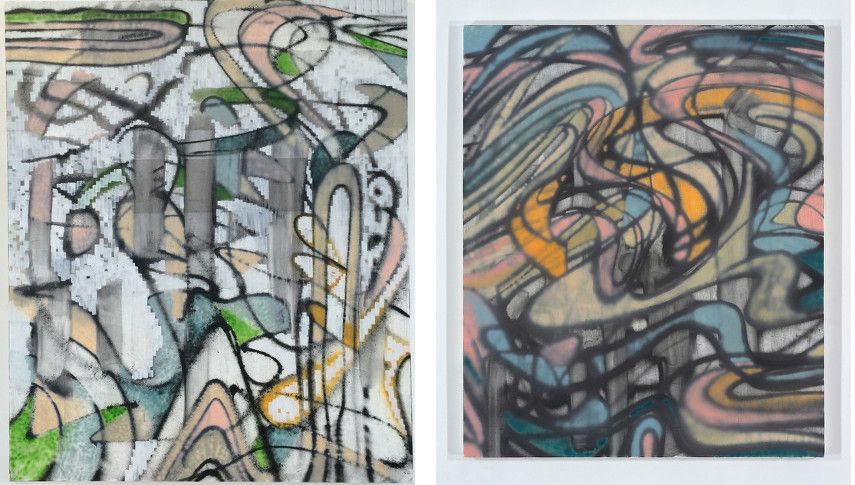 A Further Look At Ferris's Paintings
Ferris's compositions are obviously influenced by dynamics of the expressionist paintings. However, although that may be the main feature of Expressionism movement, Keltie Ferris's paintings are not made impulsively, they are not even that dependent on the type of mood the artist is in while painting. As her Yale teacher said, what they are is full of energy - pulsing beyond the limits of the canvas and vibrating with power. Keltie Ferris likes to describe her painting process as trying to keep all the paths alive. This may be interpreted in a way that connects all her pieces in one logical group, as they are all somehow bonded. Very conceptual and symbolic, but amidst that abstraction lies Ferris's inner life - all the monster, defensive towers, emanating rays of light. Keltie Ferris's paintings have been included in numerous group exhibitions at institutions around The United States, at such galleries as The New York's Kitchen, The Addison Gallery, The Nerman Museum and The Indianapolis Museum of Art. She has been recognized for her works on many occasions, including the Jacob Javits Fellowship and a Rema Hort Mann Foundation Grant.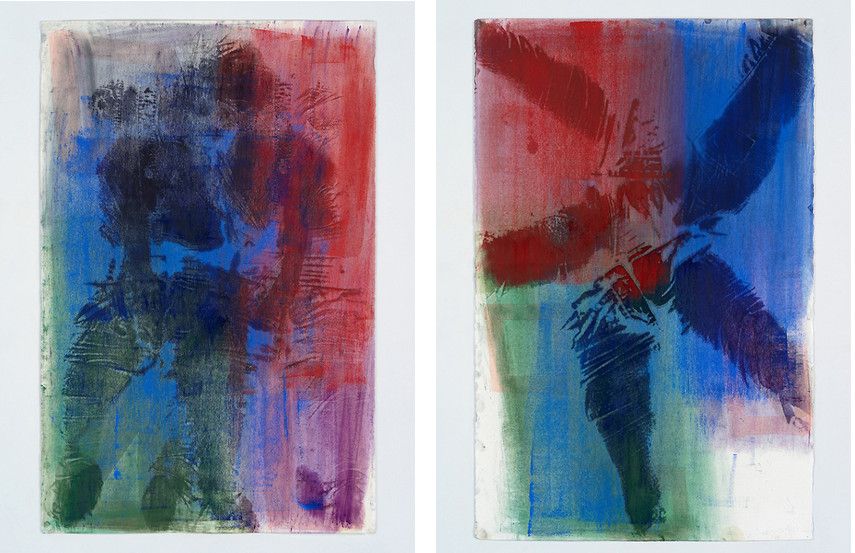 A Unique Artist
I like the feeling of looking through things to the world you can't quite access, or a residue of a former world that you can't quite get to, and I try to have that in my paintings. With these words, Ferris gives us a further insight into her work, but still does not compromise her mysticism. Through minimal materials and vague impressions, Ferris uses bursts of yellow, pink and blue to tempt us into intruding her flat fields of color and geometry. This artist may have took some concepts from avant-garde painters such as Henri Matisse and Piet Mondrian, but ultimately Keltie Ferris managed to create a whole new world of expression based on uncontrollable energy, intense colors and strict shapes.
Keltie Ferris lives and works in Brooklyn, New York City.
Featured Image: Keltie Ferris - Photo of the artist in her studio - Photo Credits Pencil In The Studio
All Images Photo Credits Keltie Ferris