Living and working in the time when Abstract art movement reached its height, Kenneth Noland emerged in the wake of the first generation of the New York School. Interested in breaking away from the prevailing aesthetic of abstract expressionism in the 1950s and 1960s, he began to experiment with geometric shapes, these evolving into a new kind of picture, where large areas of color were more dominant than any particular shape, which would give their name to Color Field painting, the dominant school of American abstraction after Pollock. In the 1950s, Noland made his most famous series of works, which included nearly two hundred paintings of concentric circles that seemed to float in the center of the canvas, animated by pure, pulsing color.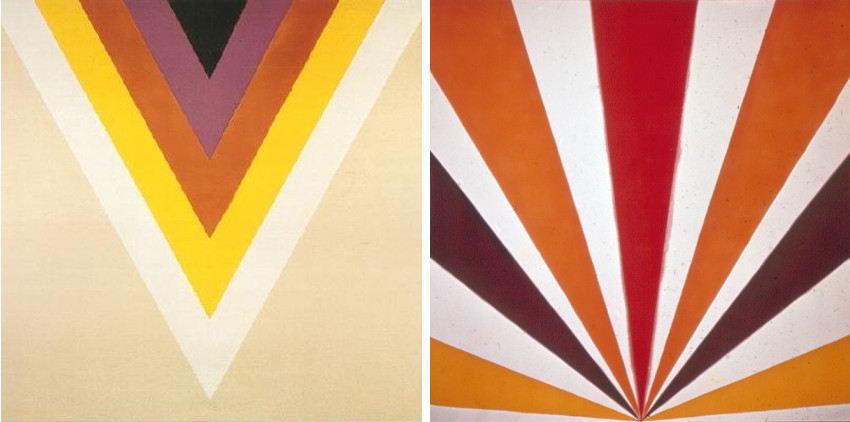 Early Years and Academic Background
Kenneth Clifton Noland was born on April 10th, 1924 in Asheville, North Carolina. Aged 14, he visited the National Gallery in Washington and was amazed by the works of Claude Monet. His father - who was a pathologist and an amateur painter - gave the boy his art materials and Kenneth began to paint. During World War II, Noland was enlisted in the U.S. Air Force and served in the Air Corps as a glider pilot and cryptographer. He was also stationed in Egypt and Turkey. After demobilisation in 1946, Noland enrolled at Black Mountain College, an experimental school in his home state of North Carolina, where he studied under a German-born American artist and color theorist Josef Albers, as well as under Ilya Bolotowsky, an abstract painter, and professor who introduced him to neoplasticism, a style of geometric art invented by a Dutch painter Piet Mondrian. At Black Mountain, the young artist became interested in Paul Klee, specifically Klee's natural color sense. Noland's first solo exhibition was held at the Galerie Creuze in Paris in 1949 after moving there in 1948 to study for a year with a Russian-born French sculptor Ossip Zadkine.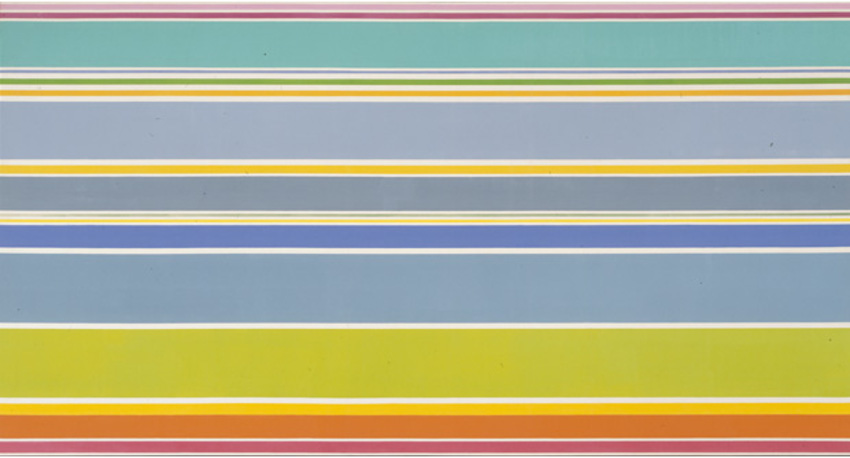 Influence of Helen Frankenthaler
After returning to the United States, Noland settled in Washington, where he taught at the Institute of Contemporary Art from 1949 to 1951 and at the Catholic University from 1951 to 1960. In the 1950s, Noland also met and developed important associations with many artists including the established sculptors David Smith and Anthony Caro, as well as critic Clement Greenberg who introduced him to Abstract Expressionism. In the early 1950, he taught night classes at the Washington Workshop Center for the Arts where he befriended an American painter Morris Louis. Two friends traveled to New York City in 1953 where they met an abstract expressionist painter Helen Frankenthaler and visited her studio. It was an influential experience for Kenneth and Morris, who adopted her "soak-stain" technique of allowing thinned paint to soak directly into the canvas, creating a liquefied, translucent effect that strongly resembled watercolor and revealed the canvas surface. Returning to Washington, D.C., they began to produce the major works that created the Color Field movement in the late 1950s.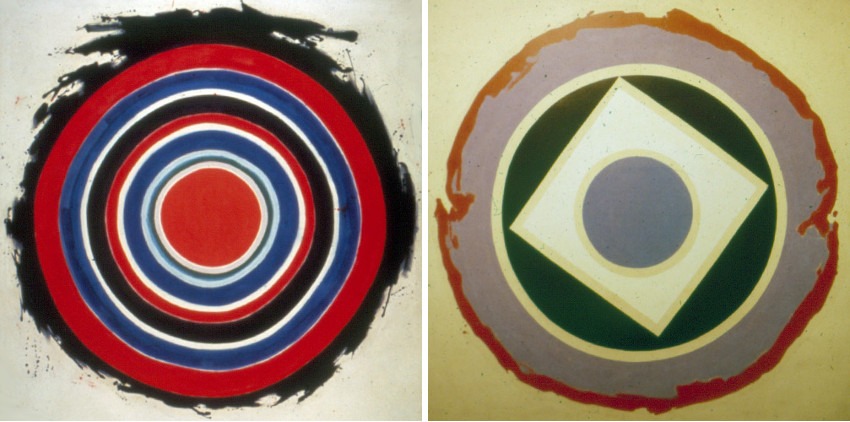 Color Field Painting
Kenneth Noland's colorful concentric circles, targets, chevrons, stripes, and shaped canvases were among the most recognized and admired signatures of the postwar style of abstraction known as Color Field painting. Inspired by European modernism and closely related to Abstract Expressionism, Color Field painting is a style of abstract painting characterized primarily by large fields of flat, solid color spread across or stained into the canvas creating areas of unbroken surface and a flat picture plane. He also helped establish the Washington Color School movement. Preoccupied with the relationship of the image to the containing edge of the picture, Noland created a series of studies of concentric rings or bullseyes (targets), which used unlikely but great color combinations. This also led Noland away from his friend Morris Louis in 1958.
Kenneth Noland was one of the primary exponents of Color Field painting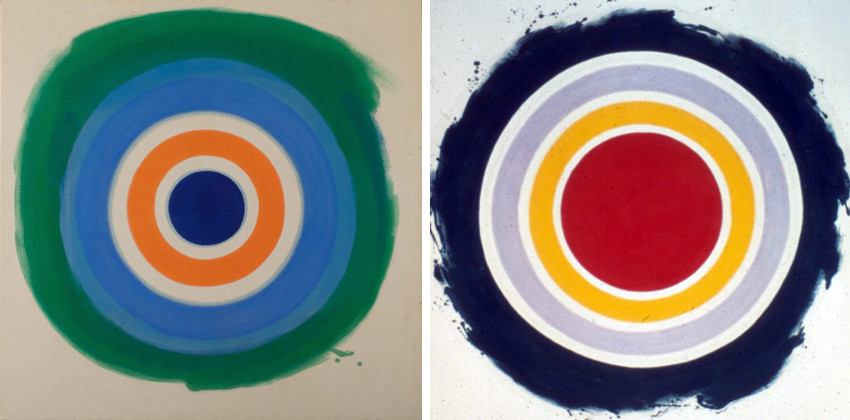 Shaped Canvas
In the early 1960s, Noland continued to experiment with color, eventually pioneering the use of the shaped canvas in many of his compositions. Shaped canvases are paintings that depart from the normal flat, rectangular configuration. Canvases may be shaped by altering their outline while retaining their flatness. In these series of paintings, the edges of the canvas became as structurally important as the center. During the next two decades, he produced extremely irregular and asymmetrical shaped canvases, which resulted in ever more multiplex structures of highly refined and controlled color and surface integrity.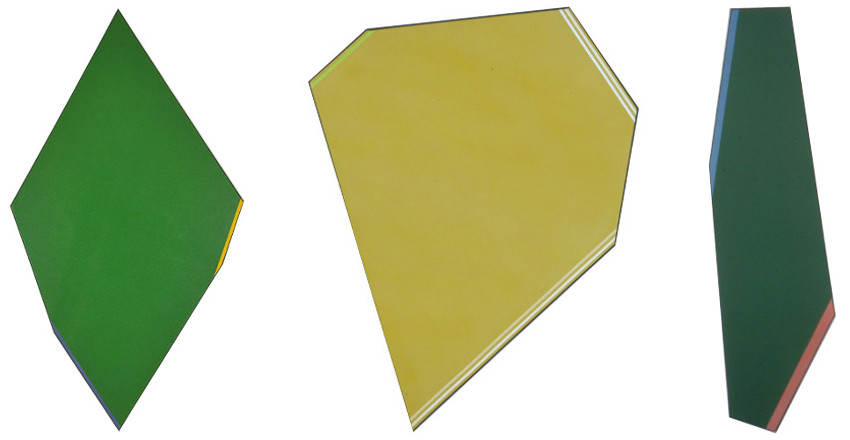 Post-Painterly Abstraction and Other Exhibitions
In 1954, Kenneth Noland's work was included in the Emerging Talent exhibition at the Kootz Gallery in Manhattan. His painting In a Mist (1955) was selected by Dorothy Miller for her traveling exhibition Young American Painters, organized for the Museum of Modern Art in 1956. One year later, Kenneth Noland was given his first solo exhibition in New York and in 1964 he was included in the Venice Biennale. The same year, he participated in the exhibition Post-Painterly Abstraction curated by Clement Greenberg at the Los Angeles County Museum of Art, which subsequently travelled to the Walker Art Center and the Art Gallery of Toronto and helped to firmly establish Color Field painting as an influential new movement in the contemporary art of the 1960s. In 1977, a major traveling retrospective of the artist's work was presented by the Solomon R. Guggenheim Museum in New York. The same year, the artist was elected to the American Academy and Institute of Arts and Letters. Additionally, his work was included in numerous individual and collective shows in such art spaces as Mitchell-Innes & Nash, New York; Pace Prints, New York; Museum of Fine Arts, Houston; Toledo Museum of Art, Ohio, among others. Noland was the first artist in residence in Computer Video Arts, Pratt Institute, New York, from 1986 to 1987.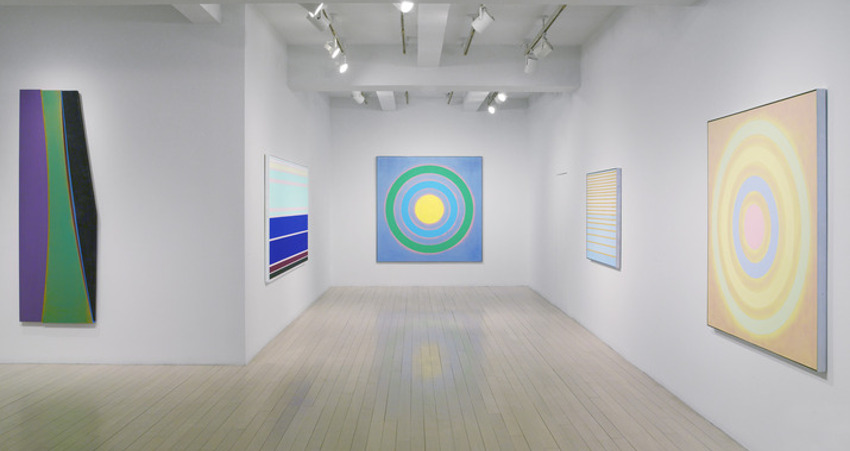 Massachusetts Institute of Technology and Collections
Between 1979 and 1985, at Kathy Halbreich's instigation, Kenneth Noland worked on a commission for I.M. Pei's Wiesner Building at the Massachusetts Institute of Technology, a remarkable project that is celebrated for its integration of art and architecture. His work is included in the many notable collections of worldwide including Baltimore Museum of Art, Baltimore; Cleveland Museum of Art, Cleveland; Kunstmuseum, Basel; Metropolitan Museum of Art, New York; Boston Museum of Fine Arts, Boston; Solomon R. Guggenheim Museum, New York; Stedelijk Museum, Amsterdam; and Whitney Museum of American Art, New York, to name a few.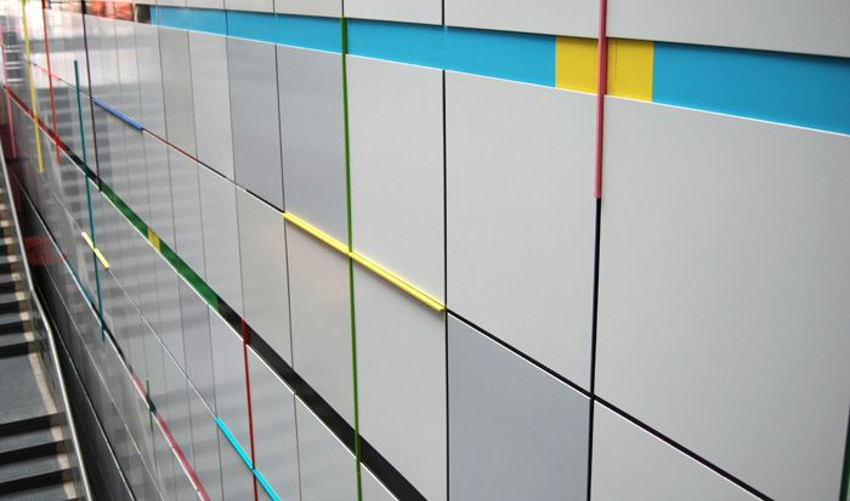 Devoted Until The End
The artist - who died of kidney cancer on January 5, 2010, in Maine, USA, at the age of 85 - had four children and was married four times. The explorer of color as a serialized form and the strongest expressionistic tool, Noland devoted his entire life to art and he spent his final days in the studio working on new paintings. In his latest works, the artist returned to the circles and chevrons of his early style after experimenting with different shapes for many years. Abstract, Color Field, and Minimalist painter whose most famous pieces include Beginning (1958) and Bridge (1964), Kenneth Noland has been recognized as one of the most important figures of post-abstract-expressionist painting.
Featured image: Kenneth Noland - Adjoin, 1980, installation view
All images copyright Kenneth Noland Estate