The artworks of Kenny Scharf, who is a  muralist, painter, sculptor, and installation artist, have been often described as playful, optimistic, bubbly and full of joy.  Scharf, a native of sunny California, is most famous for his highly imaginative large-scale paintings of anthropomorphic creatures. Even though his imagery is colorful and bright, with a child-like appeal, it refers also to darker issues of the modern world. However, these traits of his works are latent, only lurking beneath the  colorful and idyllic surface of his paintings and collages. Scharf has participated in the 1980s East Village Art movement and his major influences are abstract expressionism and surrealism.
Educational Background in New York
Kenny Scharf was born in Los Angeles in the late 50s and he has earned a B.F.A. from the School of Visual Arts in New York, in 1980. Scharf first came to artistic prominence in the early 1980s in New York, along with eminent street artists and muralists Keith Haring and Jean-Michel Basquiat. He placed his bright imagery, drawn from television and pop culture, on the streets and in nightclubs of the city, helping to nurture a dynamic and freewheeling scene. Compared with the work of Haring and Basquiat, Scharf's pieces are less chaotic and less emotionally turbulent, but on the other hand more humorous and more heart-warming. It is known that Haring and Scharf were close friends and even roommates for a while, which is the reason they were exposed to similar artistic influenced at NYC scene of the 80s.
Scharf first came to artistic prominence in the early 1980s artspace of New York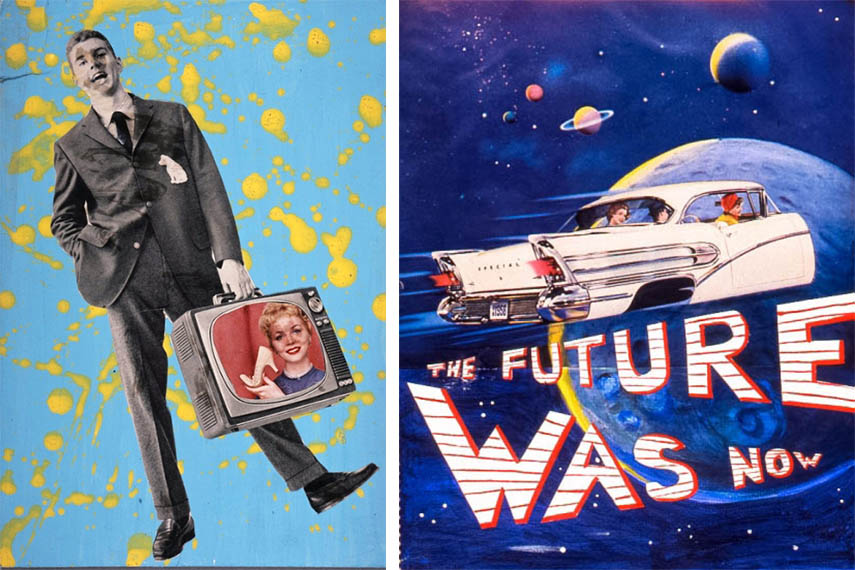 Scharf's Approach Related to Pop Surrealism
Kenny Scharf considers his art as pop surrealism because he draws his inspiration from the realm of unconscious, which is typical for surrealists. The images come from the unconscious except that my unconscious is filled with pop imagery. My unconscious is pop, so therefore, the art would be the pop surrealist, says Scharf about his body of work. He believes it is weird and interesting at the same time that something recognizable to everyone, such as Fred Flintstone, is a personal thing for him. So something that is very personal for one person can also be personal for others because of the world that we live in today, concludes Scharf.
It is impressive how prolific and creative Scharf is. During his career that spans over a couple of decades, he  has worked in a variety of traditional media, much as painting, printmaking, drawing and sculpture. At the same time, he also did less traditional and more innovative works, such as designing lifeguard stations, Zippo lighters, watches, cell phones, carpets and carnival carousels. His earliest works from the 70s were mainly humorous collages, while his recent pieces from 2015 and 2016 are mostly murals and installations.
My unconscious is pop, so my art would be the pop surrealist, says Scharf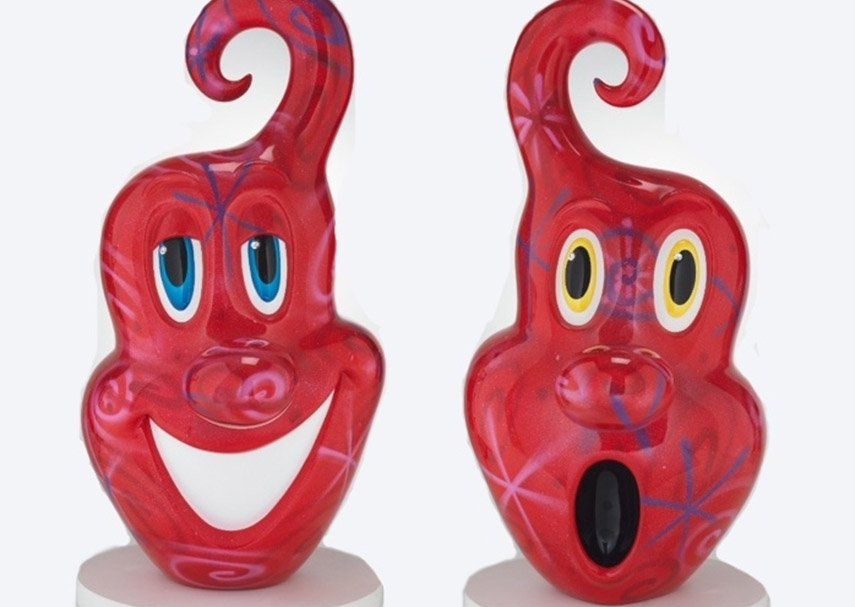 Kenny Scharf and Cartoon Images
It is evident that Scharf enjoys the world of cartoon characters. He often uses images from the animated cartoons which here popular during his childhood, such as The Flintstones and The Jetsons. Later in his career, in 2011, he also made a humorous depiction of popular snack foods, such as many variations and flavors of donuts. The reason Scharf uses cartoon images in his work is to bring the popular culture into the fine arts. He wants to see how far he can push the line between high and low art. This makes sense because he is originally from LA, which is the cradle of lowbrow movement, but at the same time, he is a classically trained creator. In 2001, Scharf has even released a cartoon of his own, called The Groovenians, which is unfortunately an unfinished project.
The reason Scharf wants to select and emphasize cartoon images in his work is to bring the popular culture into the fine arts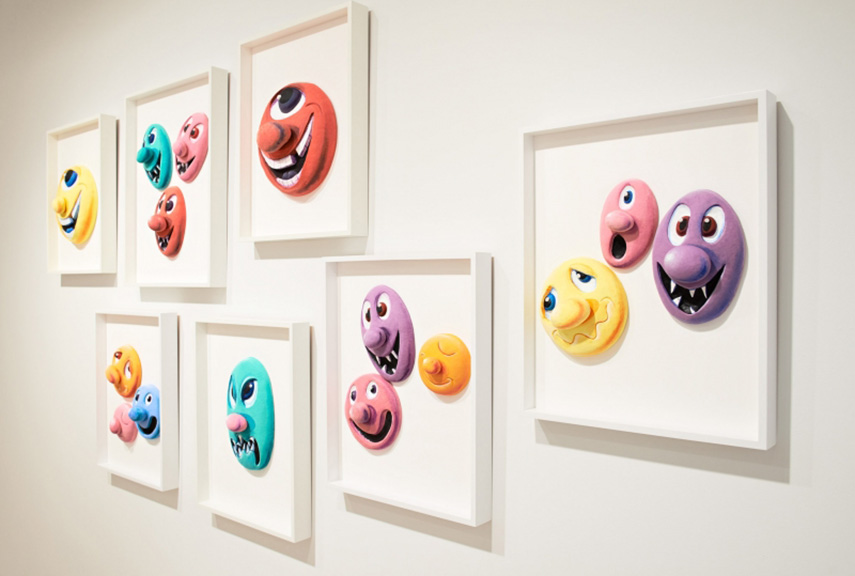 Participating in East Village Art Scene and Gallery Shows
Scharf is known as a key figure in the East Village art scene of the 1980s. His shows were held at Fun gallery in 1981 and Tony Shafrazi in 1984, before he started showcasing his pieces in museums, such as the Whitney, which selected him for the 1985 Whitney Biennial. After many successful exhibitions, Scarf became busy with additional projects, such as designing album covers and various interior spaces. For example, he did the album covers of The B-52's in the mid-80s and he designed a room at the legendary Tunnel nightclub in New York. Because of his friendship with the iconic graffiti celebrity Keith Haring, Scharf has appeared in the documentary called The Universe of Keith Haring. With Haring, who was also his roommate, Scharf has created a blacklight disco installation called The Cosmic Closet,  which was situated in their apartment close to Times Square. This unique project got transformed into its incarnation called The Cosmic Cavern, which is an immersive installation which brings together graffiti, cartoon imagery, and futuristic environments. In 2004, Scharf has also appeared in The Nomi Song, a documentary about the other friend of his, an opera singer and new wave star Klaus Nomi. In 2010, Scharf has initiated new collaborations and started working with artists Joe Grillo and Laura Grant, who belong to an artist collective from Virginia Beach, called Dearraindrop. After his initial success at New York art spaces, he started to have solo and group shows internationally, including the Salvador Dali Museum in St. Petersburg and Bienalle de Sao Paolo in Brazil. Some of his most notable solo exhibitions took place at the Museo de Arte Contemporaneo de Monterrey in Mexico, MoMA PS1 in New York, and the Pasadena Museum of Contemporary Art. In 2015, Scharf had an exhibition in Hammer Museum in Los Angeles, where he has presented his early murals with frenetic energy which reflects their fast-paced creative processes.
Scharf is known as a key figure among the artists of the East Village art scene in the 1980s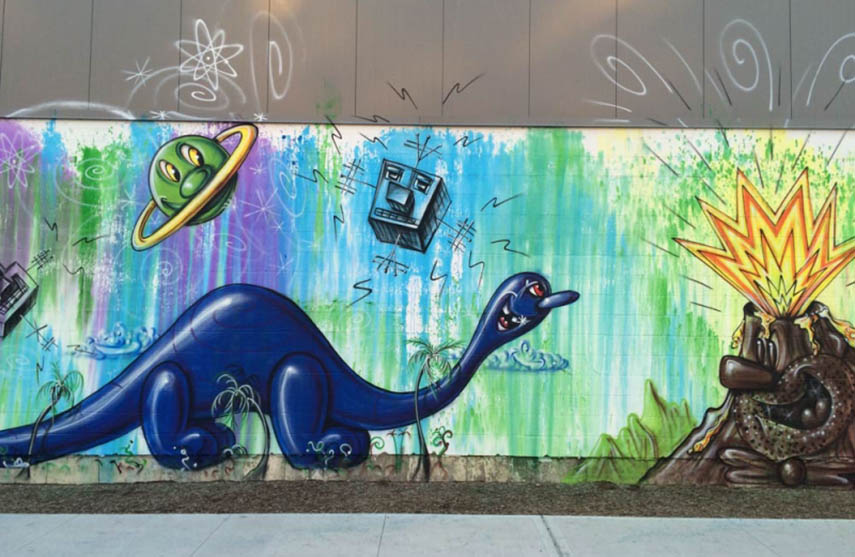 Naturafutura Series
Scharf has never abandoned his pastel and neon-tinted worlds of colors – in 2010, he has produced a new series of work, which combines oil and acrylic colors with spray paints. The series is called Naturafutura and it represents an amazing world of swamps, cartoonish oceans, and cosmic jungles with purple palm trees. I don't look at any picture, there's no silkscreen imagery, says Scharf about his inspiration behind this series. However, even though he doesn't have any clear imagery he relies on as a source of inspiration, he depicts things he always used to like, since his early culture. This means nature, the effect of man on nature, the interconnectedness past and future, and outer-space experiences. Also, many of the lush, tropical places that surround his studio in Bahia in Brazil inspired this work. However, the American artist is still faithful to his old ideas even when portraying a tropical paradise. Despite the overall happiness and idyllic atmosphere of his scenes, there are seahorses, sharks and similar razor-teethed creatures which create a slight menacing effect and leave the viewers perplexed. It is true that most of Scharf's paintings are celebrating nature, but some of the pieces from this series are also talking about the destruction of nature, which is a very important and overwhelming issue in the nowadays world. In addition to Naturafutura series, in 2010, Scharf has also produced a series of 36 two-by-two-foot paintings of donuts. When asked about the reason behind these works dedicated to the most popular American desert, Scharf has wittily replied: I like this theory that the universe is shaped like a donut. They're just a great image: It's cosmic, it's pop, it's everything I love.
Naturafutura is a series of paintings from 2010 and it represents an amazing world of swamps, cartoonish oceans, and cosmic jungles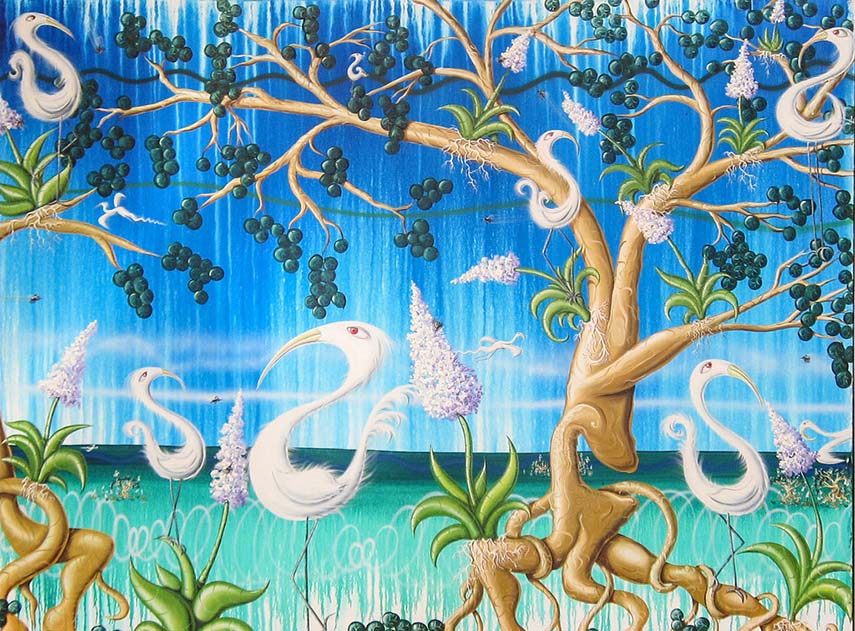 Scharf's Objective and Future Plans
Scharf is an active artist who doesn't like to take breaks – his main ambition is to maintain the course of work that he has established around 30 years ago. He is creating new paintings, sculptures and murals and organizing performances based on his rich past experiences and knowledge.  His original approach is still  unchanged – he wants to produce the best work possible every time and he aims at reaching out beyond the elitism of fine art. Instead, he wants to keep building an extraordinarily beautiful bridge which connects the popular culture with fine arts.
The artist is represented by Gregg Shienbaum Fine Art in Miami.
Kenny Scharf lives and works in Los Angeles.
Featured image: Kenny Scharf's Portrait - image via animalnewyork.com
All other images courtesy of the artist.