Through juggling, ripping, disassembling and then reassembling photographs, a Japanese artist Kensuke Koike creates new images with their own independent lives, just barely connected with their previous ones. As he constantly searches for a perfect image processing that would ultimately lead to a perfect collage, the artist slowly becomes an alchemist who uses everyday materials, turning them into artistic gold, showing that everything depends on our point of observation of reality and the way in which we take into consideration.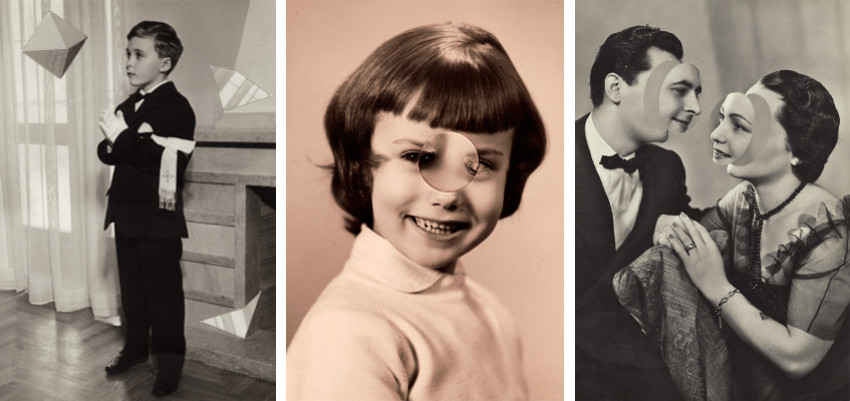 The Story of a Diamond and the Perfect Collage
Arguably, his most famous pieces are the diamond shaped collages. He chose this particular shape because it is a widely recognizable symbol, but also because of the memorial diamonds, made from the ashes of departed loved ones. Indistinguishable from the actual stones, they possess a value much greater to their owners. Koike knows that the value here isn't economical, and if the diamond is artificial, the emotions it causes are certainly honest. A precious stone can be pretty much ruined by a bad, faulty cut, losing its monetary value – this is also true for Koike's work on paper. Once again, the idea that a man's ability determinates the object's value is proven axiomatic; otherwise, a diamond would be just an ordinary stone, and a collage would simply be a piece of paper. Speaking of his process applied in all his works, the composition of the collage sees the exclusive application of fragments of the same photograph. Challenging the objectivity of the photographic product, Koike's subjects regain possession of a soul that lives only in the fantasies of the viewer. Through his work, he always wanted to see and unravel the birth of imagination, and this fantastic trait is so characteristic for many of his artworks.
Koike considers a carbon based precious stone to be far less valuable than the paper diamond that's filled with memories

Over Their Dead Bodies
Born in Nagoya, Japan, Koike moved to Italy, pursuing studies. He graduated from Accademia di Belle Arti, Venice, Italy in 2004, and he spent the next three years further expanding his knowledge at the IUAV University, Faculty of Arts and Design in Venice. Since 2005, he has actively exhibited his works, mainly in Italy, but also in Germany, the USA, Canada and Slovenia, first as a part of group shows, and later having his own successful solo shows. In 2015, Koike introduced his most recent opus in a publication entitled Over Their Dead Bodies. Inspired by the photographs of two group portraits that he saw at a flea market, the artist wanted to find out why there were eight women in the first photo and only six in the other. The six women from the second picture were also in the first, though he had some troubles recognizing them. Intrigued to discover what happened to the other two, what was the relationship between all of them, Koike took an adventurous journey that culminated in the beautiful publication. Since the photographs were very old (from WWI), there was no doubt that the characters were long deceased, and with the people were also gone their stories and memories. Now, the artist has allowed us to use our own imagination, so we can grant them new stories.
He is represented by A plus A gallery.
Kensuke Koike lives and works in Šempas, Slovenia.
Featured image: Kensuke Koike - Blow (detail), 2015
All images courtesy of A plus A gallery