Kerstin Brätsch is making abstract art, seeking to envision something that cannot be visualized. She wants to paint abstract concepts, intangible occurrences such as heat, cold or transmission of energy, or the non-language notions. Her methods include everything except the typical brush painting. She uses oil paint, glass, foil, volcanic and metamorphic rocks, and colorful fragments of old paintings. Brätsch uses stiff paint, that she previously hardened in water, so the small marbelized splashes of color can be applied to her work instead of regular paint. The marbleizing technique consists of dropping a small amount of paint, or ink from a great height into the water.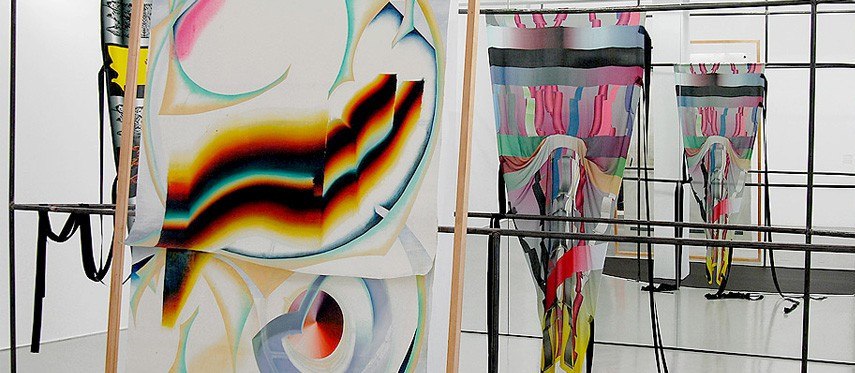 Atypical Displaying and the Engagement in DAS INSTITUT
Kerstin Brätsch was born in Hamburg, Germany in 1979. She studied at the University of Arts in Berlin, and at Columbia Univeristy in New York and graduated with MA in Fine Arts in 2007. She creates large pieces that she displays in a specific manner. It is as far as possible from the standard form of exhibiting artwork. She hangs her works by magnets, puts them into double glass frames and leans them on the wall while keeping them on the ground. Using this peculiar method of presentation, she combines a little bit of performance art into her visual works. Along with her solo career, she is also a part of the artistic duo DAS INSTITUT that she co-funded with artist Adele Röder. They were inspired by export-import business associations, and organized their team in order to explore how the artwork has been selling, moving, exhibiting, and how modern day art dealers do their business. Together they make works from glass, projected images, and neon particles.
In the Unstable Talismanic Renderings the artist presented large pieces made of several inherent fragments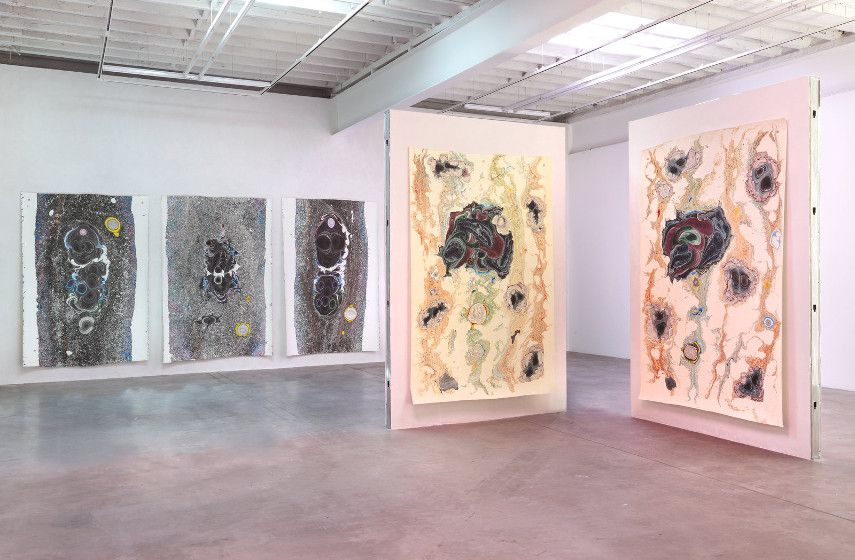 Unstable Nature of Language
One of her motivational drives is the power of language. Speaking both German and English she questions the concept of naming and plays her way into the philosophy of language. Creative arts and crafts work on the opposite note of determination, so when she makes her pieces she leaves them open to the interpretation. The power is not in the meaning, it is in the reference. The viewer can play with the definitions, references, and symbolism. Misunderstanding, different origins of words, misleading connotations, those are the tools that artist can use in storytelling. In the Unstable Talismanic Renderings series from 2013, she presented large pieces made of several inherent fragments, that together escaped the coherent definition. That is why the talismans are unstable because they make their own rules of interpretation. That is how her language of painting works. It operates outside of the usual framework, giving both the artist and the audience a chance to find their own unique sense.
Both in her solo work and in DAS INSTITUT, Bratsch shows the desire to push the boundaries of abstraction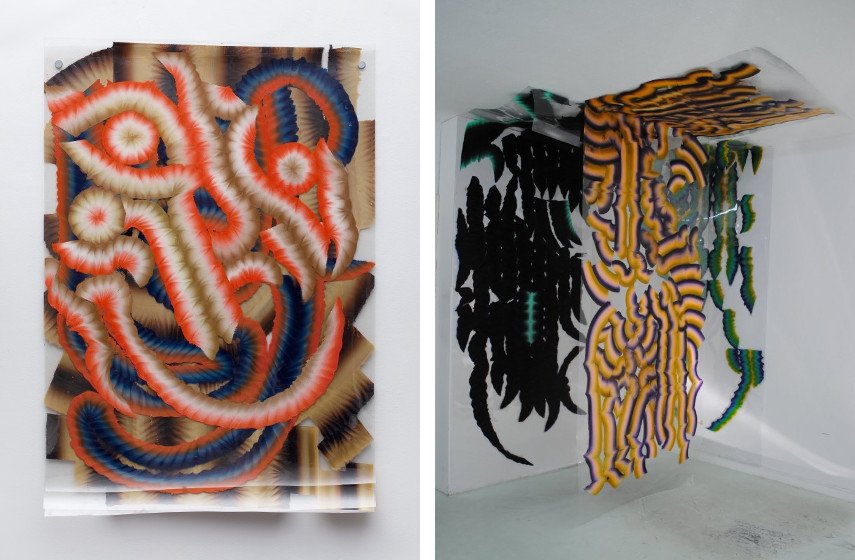 Pushing the Boundaries of Abstraction
Brätsch's posters, paintings, sculptures, and performances are everything but static. They rely on interpersonal communication, that exists only in its dynamic character. Both in her solo work and in DAS INSTITUT, she shows the vigorous desire to push the boundaries of abstraction. The combination of materials is chaotic, but the result is elegant and sophisticated. She does not attempt to deconstruct the concept of abstraction, she merely offers a different view. The items she uses originate from another dimension, and together they give a chance to enter a different universe. She uses various types of paint, mixing it with epoxy, plastic, plexiglass and metal. The way she displays her work, on transparent surfaces or in a sculptural manner, adds a powerful property to the whole concept.
Kerstin Brätsch lives and works in New York.
Featured image: Kerstin Bratsch - Brätsch in her Williamsburg, Brooklyn, studio with one of her pieces (Detail), 2014, photo credits WMagazine
All images used for illustrative purpose only © Kerstin Brätsch