Widely known for her sculptures, prints, and drawings, Kiki Smith is a German-born American contemporary artist, who focuses on narrative, the human condition, and the natural world. Coming from a family whose artistic potential is almost immeasurable, she was able to materialize the potential into something tangible, creating an oeuvre that is acclaimed and appreciated throughout the world. With themes such as death, sexuality, and gender, the artist addressed the largest audience possible, but that was by no means a signal to sink into mediocre work. Instead, Smith has kept an insanely high level of quality, evolving over time, embracing and speaking courageously of the inevitable.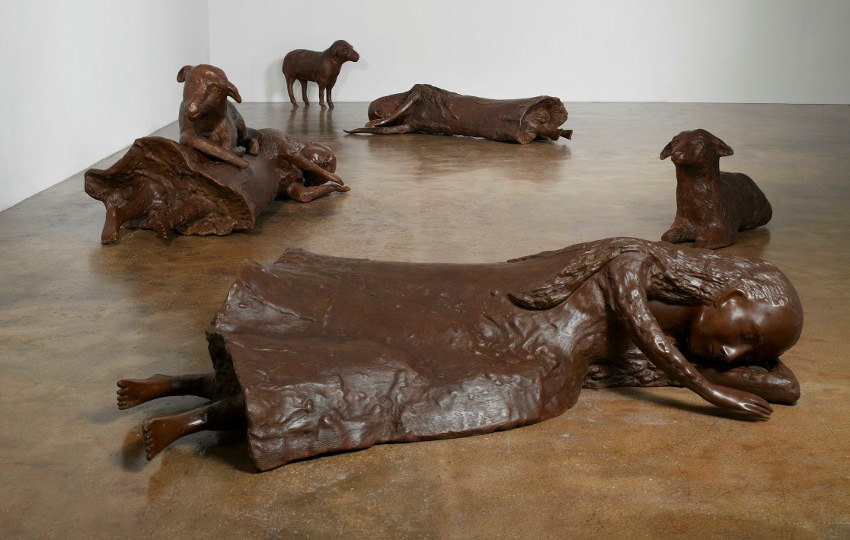 Kiki Smith: A Story that Originates in Art and Some Related Artists
As mentioned above, her family was (and still is) art-oriented. Smith was born in Nuremberg, Germany, where her mother, Jane Lawrence, was working as an actress and opera singer. Her father was Tony Smith, an American sculptor, one of the creators of Minimalism, known for his large-scale geometric works in steel. They had three daughters, Kiki, and one-year-younger twins, Seton and Beatrice. Seton had showed an interest in visual arts from an early age, eventually becoming a successful photographer, while Beatrice shared her mother's passion for theater. Sadly, she died from complications caused by AIDS in 1988, making Kiki and Seton even more connected. Observed from outside, the family house in South Orange, New Jersey looked the same as all the ones around. On the inside, an entirely different aesthetic prevailed. These were the 60s and early 70s, and three sisters were growing up completely surrounded by Abstract Expressionist paintings by family friends and frequent visitors like Mark Rothko, Jackson Pollock, and Barnet Newman, but also by the Minimalist sculptures made by their father, Tony.[1] With abstract expressionism dominating their living environment, the sisters were aware of della Francesca, da Vinci, Matisse and Bonnard, but for example, didn't know anything about Andrew Wyeth until they went to college.
As a teenager, Smith started making craft-oriented art, approaching things in a more symbolic, figurative way. Those early crafts soon became something more complex. She engaged art-making as a part-time thing, deciding to pledge herself entirely only after her father's death in 1980. That sad occasion was accompanied by the untimely death of her sister Beatrice eight years later, pushing Smith further into the examination of the inevitable death. Since she makes drawings, prints, sculptures, videos, photographs, and tapestry, it can be a challenging task of categorizing Smith's work. As the artist states: "Creativity is just the capacity of consciousness. It is a way to synthesize. It is a good language to ground your consciousness in a condensed manner that you can see physically outside yourself." However, the basic way of making things is similar to how she made things all her life, and she makes changes depending on the changes in her life.[2] There are several artists that made an impression on her, as she recalls seeing Picasso's Guernica at MoMA when she was a child, but also the Oceanic prints on cloth by Matisse and then Van Gogh's Starry Night. She went to Colmar five times to see the Isenheim Altar by Grünewald. Speaking of people closer to her generation, there are Rob Voerman, Peter Buggenhout, Leon Golub.
She fully dedicated herself to art after her father's death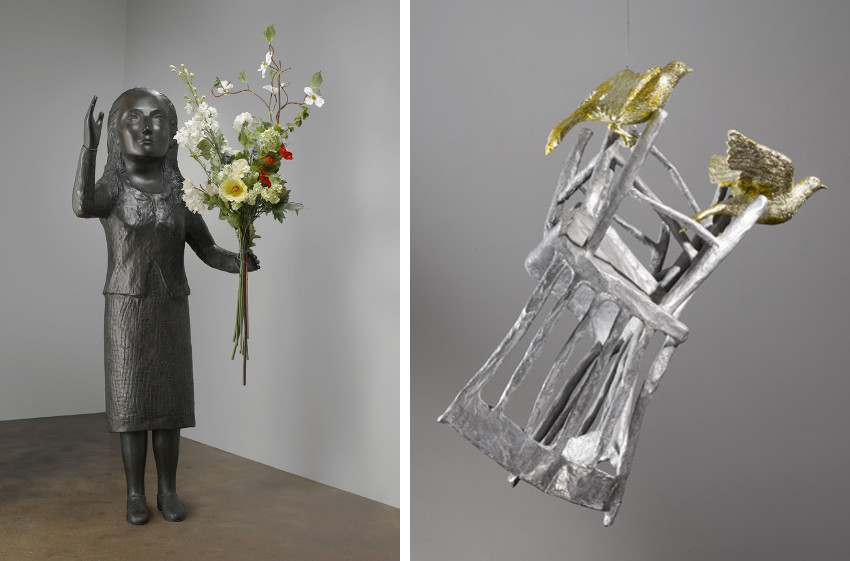 Influences and Important Recent Exhibitions
When it comes to female artist influences, Smith points out Frida Kahlo, Lee Bontecou, Eva Hesse, Nancy Spero, Pat Steir, and Sonia Delaunay. Asian art is also an influence, both back in her formative years, and now. Growing up in the 60s, in a very overt way, India was very present in the cultural imaging. Then China, Japan, Korea, and Vietnam. "At different times I paid more attention to one over another. It moves around what influences you. Certainly today Asian art is a dominant influence."[3] Buddhism is also quite influential in people's thoughts on art. Smith is particularly interested in Guanyin. Naturally, representation changes over different time periods, so she looks at Japanese fashion, Egyptian things, etc. Speaking of recent exhibitions, in 2014, Smith participated with Jaume Plensa and Barthélémy Toguo in a group show at Lelong Gallery. The trio of artists comes from the same generation, but from very different backgrounds. It was a wonderful opportunity to see three extinguished sculptors at the same place and at the same time.
In 2016, there were two major shows. First, Gallery C218 presented Kiki Smith and Tony Smith: Masterpiece in Focus. The name of the show pretty much tells the tale – one next to another, there are artworks from two masters that have each marked their own generation. Belonging to the opposite artistic movements (Kiki's aligning with figuration and Tony's with Minimalism and Abstraction) the exhibited pieces offer equally compelling meditations on the presence, embodiment and consciousness. And second - on May 13, Smith's latest solo show Woven Tales opened at Peters Projects. It represents the culmination of her interest in tapestry, showing that the approach she took is similar to artists of the past. The artist filled her work with emblematic imagery and referencing the compositional components of historic weaving. Consisting of 11 large-scale tapestries, the exhibition shows that her pieces should be read as narrative pieces, but their imagery suggests open-ended meanings with variable interpretations. Each tapestry in started with Smith making what is called a cartoon, a full-scale model of the design. After that comes photographing, working on a computer, reworking by hand – a series of stages with a lot of translation happening.
Smith is an artist whose projects include sculptures, drawings, prints, and tapestries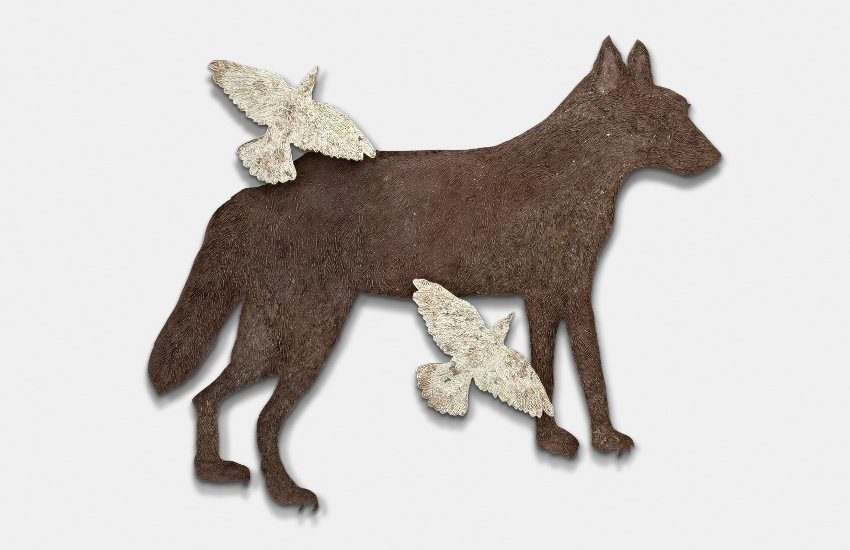 Legacy
With a career spanning almost four decades, Smith is yet to face any sort of repetition, consolidation, completion, conformity, or depletion in her never-ending quest of describing and establishing a discourse of the meta-body. Since reality is brutally honest, she tirelessly continues to produce new pieces. She's also forging an even greater definition and expansive resonance to the individual and collective implications inherent in those works. As people are increasingly forced to finally face the unavoidable and inescapable questions of sexuality, gender, health, and self that Smith has been tackling all along, the art world has come to understand her work more deeply and profoundly.
She is represented by Pace Gallery.
Kiki Smith lives and works in New York.
References:
Rowlands P. A Tale of Two Sisters, The Wall Street Journal [October 7,2016]
Elkann A. Kiki Smith, Alain Elkann [October 7,2016]
Kuan C. Interview with Kiki Smith, Oxford University Press [October 7,2016]

Featured image: Kiki Smith - portrait (detail) - photo credits Erik Madigan Heck
All images courtesy of Pace Gallery