Shaping the graphic art of the 20th century, a pioneer of modern design, Koloman Kolo Moser was creating in various types of media, making two and three-dimensional pieces in a distinctive combination of predominantly geometric shapes with its surroundings that resulted with rhythmical space of cubic forms and contrasting colors. One of the foremost artists of the Vienna Secession, Moser was also a founder of the Wiener Werkstätte, along with his colleague and friend Josef Hoffman. His oeuvre covered a wide range of artworks from graphic, furniture, and interior design, to applied arts and painting. His portfolio of designs, Die Quelle, created between 1901-2 placed the themes that stayed in production for many years. Similar to Art Nouveau arabesques and floral motifs, these solutions showed the shift towards different aesthetic, inspired by Japanese textile patterns and designs.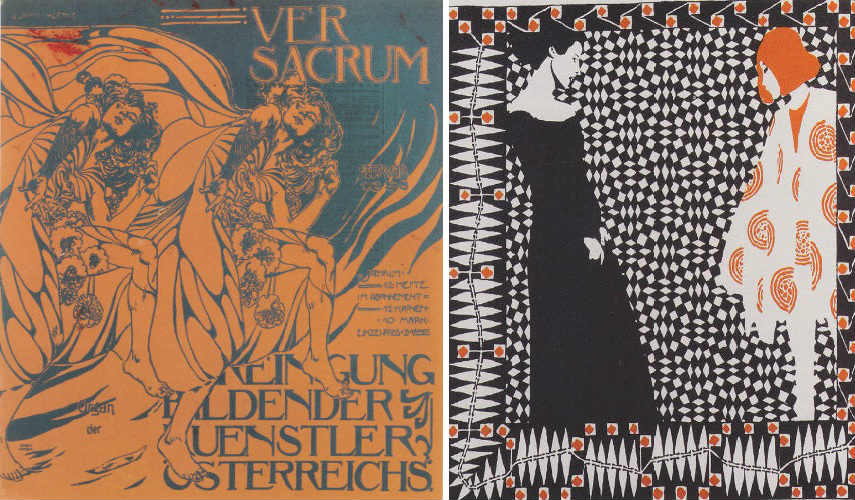 Koloman Moser and the Founding of the Viennese Secession
Moser was born in 1868 in Vienna to a family who supported his desire to study art. After his drawing studies at the Trade school in Wieden, he applied at Vienna's Akademie der Bildenden Kunste (Academy of Fine Arts) in 1885. After the sudden death of his father three years later, Moser had to start to earn money by illustrating books and magazines, the fashion and humor publications. As a member of the Siebener Club, along with Josef Hoffmann, Joseph Maria Olbrich, Otto Wagner and Gustav Klimt, he was a co-founder of the Viennese Secession in 1897. It was based on the model of five and four years older Berlin and Munich Secessions that were also formed by a group of artists who have rejected the academic art scene. Moser was in charge for the design of their journal Ver Sacrum that was published in an unusual large square format for only five years, but long enough to lay the foundation for graphic design among the magazines worldwide.
Moser was born in Vienna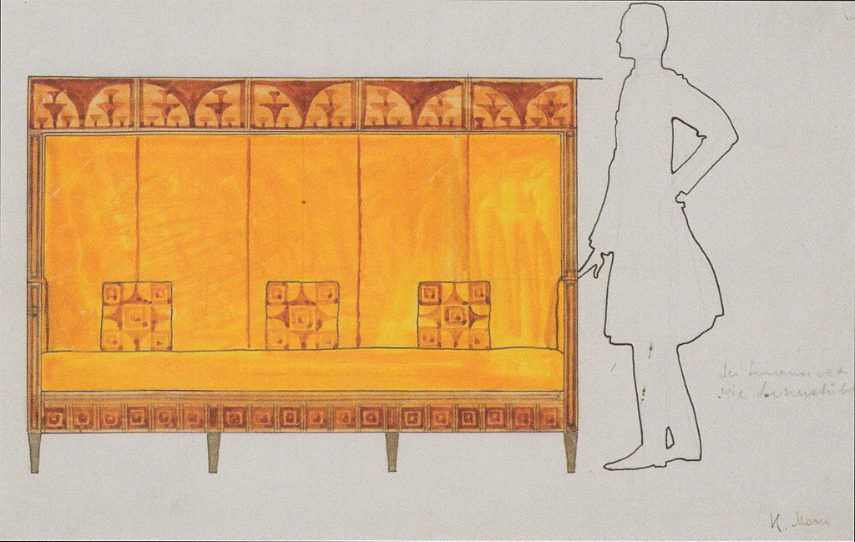 Creation and Expansion of the Wiener Werkstätte
United by their iconoclasm, not by a common style, members of the Secession had the numerous disagreements, and Moser soon started to move away from the curvilinear Art Nouveau style to the precise lines and geometric shapes that were more appropriate for his interior designs, designating himself as the group leader in developing innovative language of forms. In 1903, Moser, Hoffmann, and Fritz Waerdorfer founded the Wiener Werkstätte (Vienna Workshops) as a production community of various visual artists that began its work in three small rooms and soon expanded to the three-story building with the section for metal, leather, bookbinding, woodworking and a paint shop. Besides being a co-director, he also designed the glass, textile, and furniture for different firms. The objects produced by the Wiener Werkstätte bear the mark of the both designer and the craftsman, in accordance with the principle of equality of art and craft. Their aim was to establish a close relationship between the public, designer and the craftsman by producing simple and useful domestic items.
Koloman Moser: The master of modern designing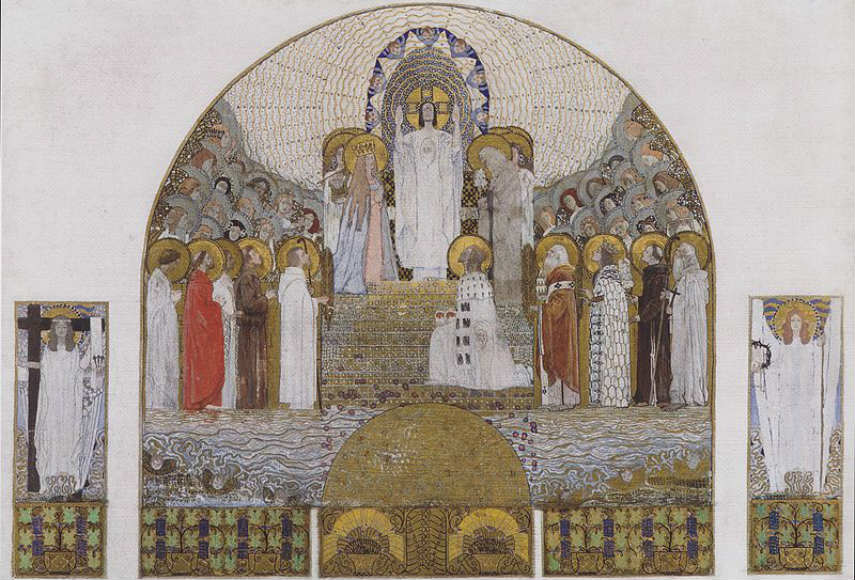 Painting as the Expression of Personal Philosophy
In 1905, at the same time as Klimt, Moser left the Secession. One year earlier he made a stunning achievement with the design of the stained glass windows and Apse mosaic on Otto Wagner's Steinhof Church in Vienna. He married Editha Mauthener von Markhof, the heiress from an industrial family who helped him with a loan when in 1906, the Wiener Werkstätte suffered financial hardship. Due to a difference of opinion, Moser withdraws from the institution, directing his creative energy to painting and theater design. As a painter, he made series of landscapes of The Alps, characteristic for their simple composition, naturalistic detail, and vivid colors, inspired by the Swiss painter Ferdinand Holder. Few years before he died, Moser has been focused on monumental figurative pieces devoted to Vitalism, a philosophy of idealized man he believed in.
His series of landscapes of the Alps are characteristic for their simple composition and naturalistic detail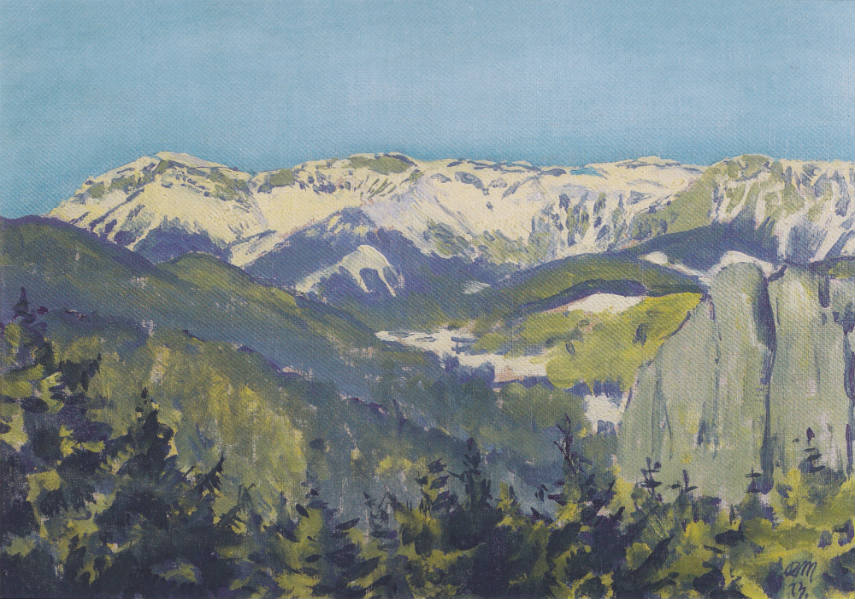 Fulfilling the Gesamstwerk Principle
During his career, he designed a wide range of different artworks, from books illustrations and postage stamps to magazine designs, stained glass windows, porcelains and ceramics, blown glass, silver, jewelry and furniture. Always inspired by the clear lines and repetitive motifs of classical Greek and Roman arts, he skillfully managed to incorporate modern elements of his Viennese surroundings. Leaving his mark on many ways, in 1900, he became a professor at the Kunstgewerbeschule where he taught decorative drawing and painting until his death. Koloman Moser died on October 18, 1918, at the age of fifty. His influence on Graphic design was noticeable at the beginning of the 20th century and during the time, it became even more significant in various spheres of arts and crafts. His furniture is recognizable by its cubic forms and both aesthetic and functionality, fulfilling the Secession's Gesamstwerk principle of the total artwork in which architecture, painting, sculpture and decorative arts would be integrated into environments, creating the unified whole.
Featured image: Koloman Moser - Guardian Angel, Design for the Right Side Altar in Steinhof Church, 1904, Image via wikiart.org