In Konrad Klapheck's work comically absurd, sexually indicative and magnified cartoonlike everyday objects had found its depiction in a very strict, strong, vivid and stark style. This German graphic artist and painter have become famous for his Typewriters – repetitive series of monumental and ironized typing machines that he created in 1955; in a manner to which he is still persistently loyal, and although connected with pop art has actually been invented earlier when he was a 20 year old student.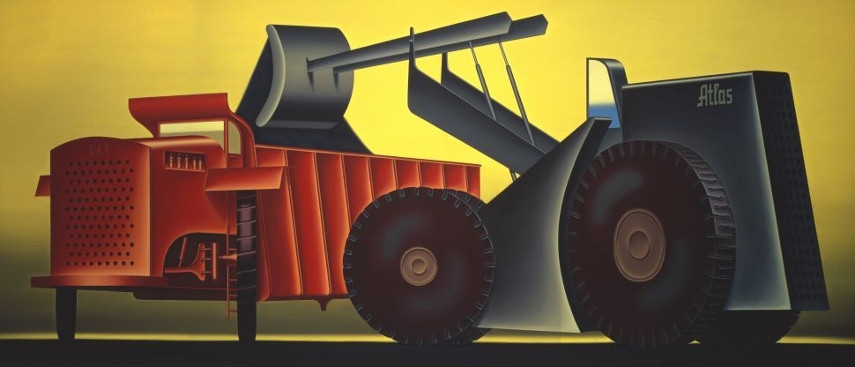 The Progress of Klapheck's Career
Klapheck was born in Düsseldorf in 1935 as a child of two art history teachers at the Düsseldorf Art Academy, where he graduated under Bruno Goller in 1956. He started exhibiting in the late 50's and spent time in Paris where he had contact with the circle of surrealist, even participated in their last show in the gallery L'Oeil in 1965. In the 70's he was working on engraved plates and in the late 90's he turned to painting portraits and figures, mostly of his friends, colleagues or celebrities. Later, he even started painting interior nudes that were based on old work with erotic and autobiographic elements. After 2004 he begins new series of paintings portraying jazz musicians and big bands, in which he wanted to highlight the solitude of the soloist in front of the crowd and the band. In 2009 he was invited to create the official poster for Roland Garros tournament.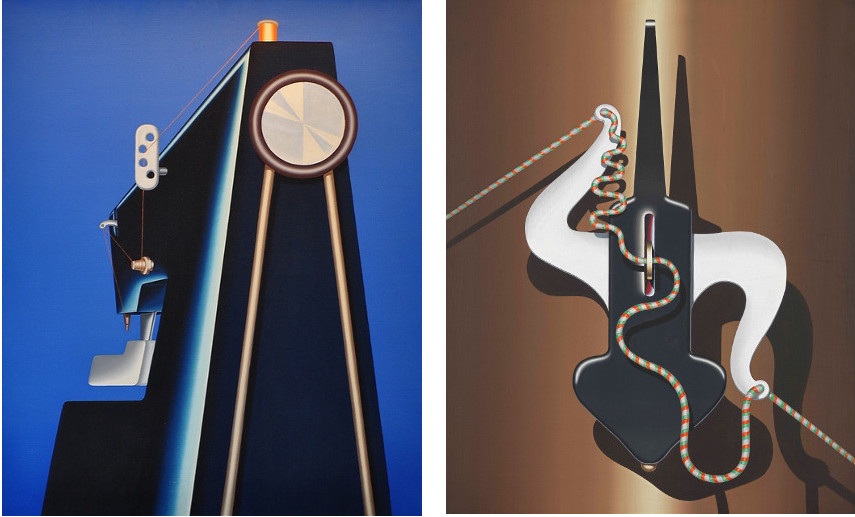 Combination of Influences
Regarding Klapheck's art, it combines elements of realism, Surrealism, and Pop art. Realism can be traced in the choice of painting drills, sewing machines, clocks, water taps and showers, telephones, irons, shoes, keys, saws, and car tires – painted with obsessive precision. But despite that, objects in ominous forms are sinisterly isolated, magnified, ironically both anthropomorphized and architectural. The influence of other artists, for example Duchamp, Man Ray, and Max Ernst, is seen in his treatment of mechanical objects and the irony with which they are rendered. In his own words: My main weapons are humor and precision. Only the coldness of precision allows the translation of the fire in the soul, and only humor allows the translation of what we have seen. I must put no limits to my subjectivity in order to obtain objective canvases. All the enigmas and solutions of life are inside oneself.
Sinisterly isolated and ironically magnified objects, both anthropomorphized and architectural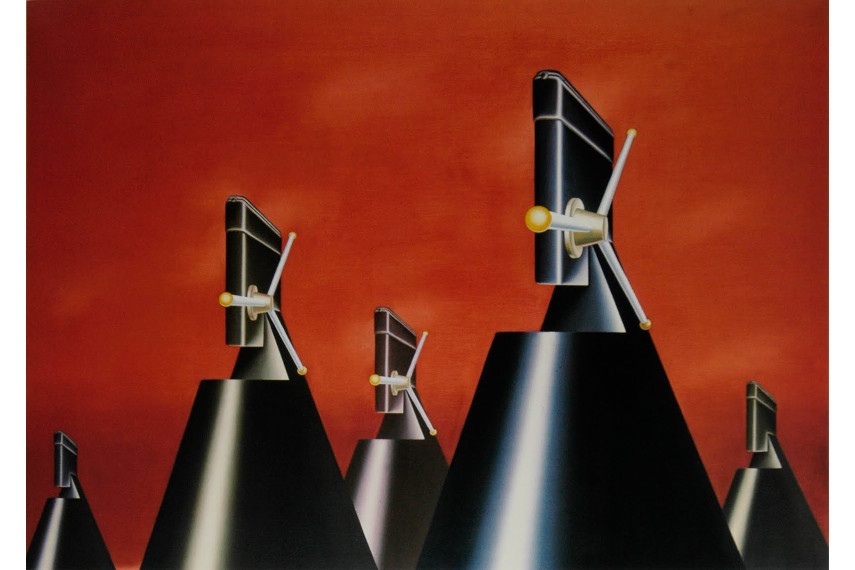 Two Most Important Retrospectives
During his long career, Klapheck exhibited worldwide one of the most prominent retrospective shows being at the Boijmans van Beuningen in Rotterdam in 1974 and the latest Klapheck Paintings and Drawings at the Kunstpalast in Düsseldorf in 2013. He was a professor at the Kunstakademie Düsseldorf since 1979 until his retirement in 2002.
Konrad Klapheck lives and works in Düsseldorf, Germany.
Featured image: Konrad Klapheck portrait photo
All images used for illustrative purposes only