Korin Faught's elegant and subtle figurative paintings pay homage to the mid-century design, fashion, and white on white style. The artist from Los Angeles finds the inspiration for her mysterious and somewhat gothic depiction of women prevalently in photography and horror movies. The main topic of her work are twins or triplets – the artist is painting the same model in multiple poses in order to achieve this goal. Her work has a very specific atmosphere, solemnly dark and even unsettling at times, created by Faught's limited palette and puzzling moods of her models.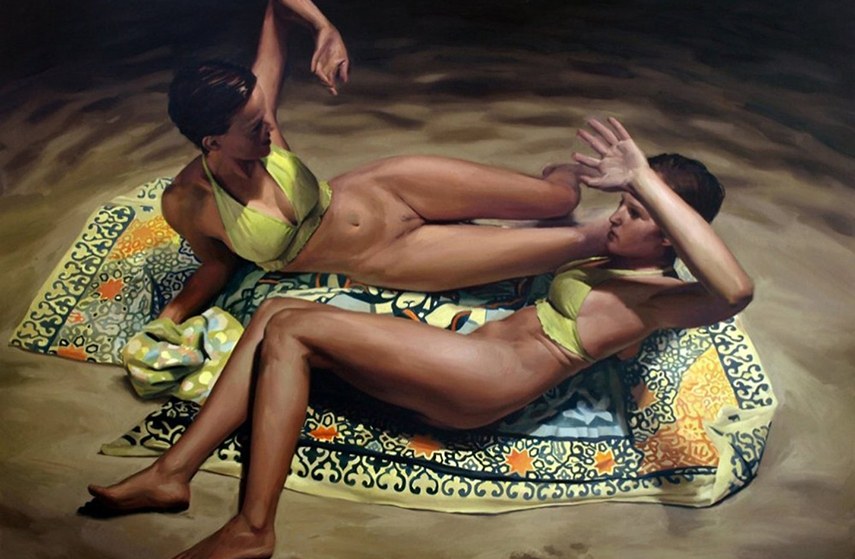 Limited Edition of Ethereal and Sensual
Faught was born in Arizona and raised in Colorado. She moved to Los Angeles in 1999, where she obtained her BFA from the Art Center College of Design. She was a very talented student who won a scholarship and she was highly esteemed by both fellow students and faculty members. Faught considers painters Aaron Smith and David Luce to be the major influences when it comes to her work since these artists are famous for their photographic portraits from the Edwardian and Victorian era. Faught has been a full-time artist since 2004 when she graduated and started concentrating on the gallery work as well as commissions. Already as a student, she started to build her own, recognizable style, which revolves around her interest in the mid-century clothing and lifestyle.  The elaborate human figures in her paintings seem full of longing, cut off from the world in their melancholy, simultaneously ethereal and sensual. Faught's inspiration are prevalently women and she likes to depict curvy models with expressive and beautiful big eyes. The outfit is as important as the models themselves and Faught enjoys depicting complicated and patterned designs and luxurious textures set against plain backgrounds.
Faught's inspiration are prevalently awesome curvy models with expressive and beautiful big eyes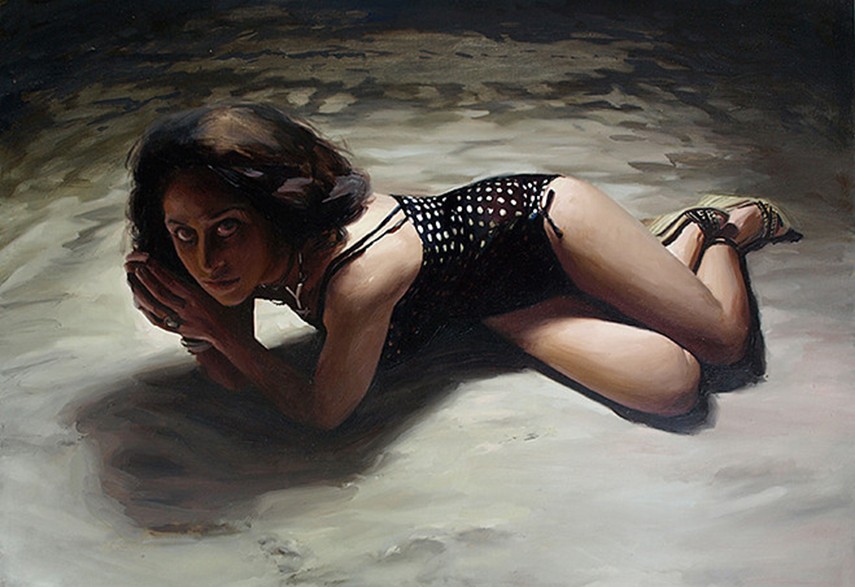 Twins and Triplets Related Artworks
Twins and triplets are the recurring motifs in Faught's art. Her figures are captured making formal, classical gestures, resembling the illustrations we can see in Dante's Inferno or in the masterpieces of the Italian renaissance painting. Faught is enhancing even furthermore the motif of twins by introducing reflections cast by her figures in water or on polished floors. This creates the surreal, slightly uneasy feel that the events represented in her paintings are happening twice, both in real life and in a dream. Faught's female figures look at the same time familiar and iconic because they are captured in intimate settings but their body postures and the way they interact with each other creates a formal, posed feel. Faught's compositions include mostly plain white interiors under the natural daylight, which contributes to the classical solemnity of her pieces.
The artist enhances the topic of twins by introducing reflections in water or on polished floors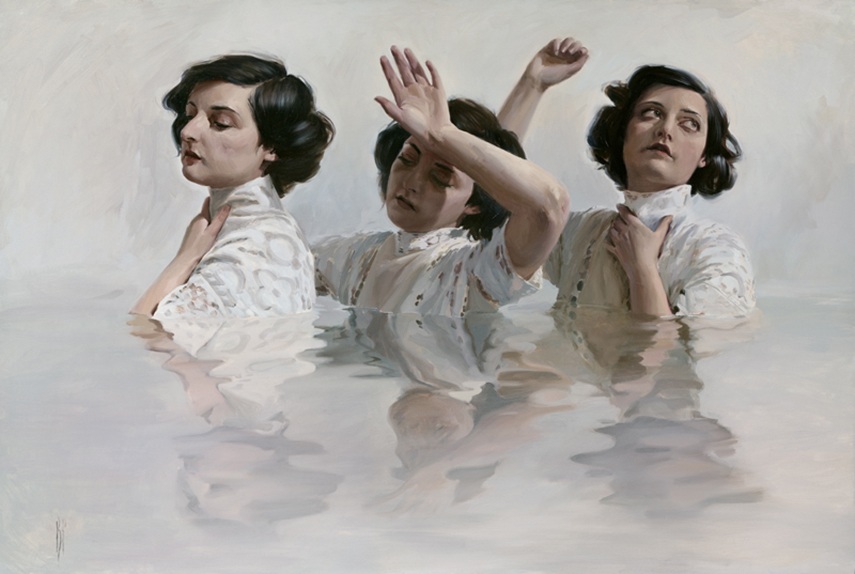 Intrapersonal Dialogues
The precise meaning behind Faught's stylish figurative paintings  remains mysterious, but it is safe to guess that through her series of twins and triples, the artist is pointing out at multiple personalities that we all have or at the way that we lead our intrapersonal dialogues and interact with ourselves when we are alone. Faught's work has been exhibited at numerous shows in Los Angeles, New York, Toronto, San Francisco and Seattle as well as featured in prestigious magazines such as ArtNews, Abitare, and American Art Collector.
The artist is represented by Corey Helford Gallery.
Korin Faught lives and works in Los Angeles, California.
Featured image: Faught's portrait - via arrestedmotion.com
All images courtesy of the artist.