One of the most distinguished sculptors alive today and one of the leading artists in the field of fantastic realism, Kris Kuksi uses the assemblage to make highly detailed and rich sculptures that comment on history, life, death, spiritual conflict, and fleeting childhood memories. He creates his eerie and astonishing sculptural pieces from found objects or items such as small toys and mechanical components. Amongst sculptural assemblages, Kuksi is also an accomplished painter whose wildly unpredictable and rich pieces have been exhibited in numerous individual and collective shows throughout the United States and beyond.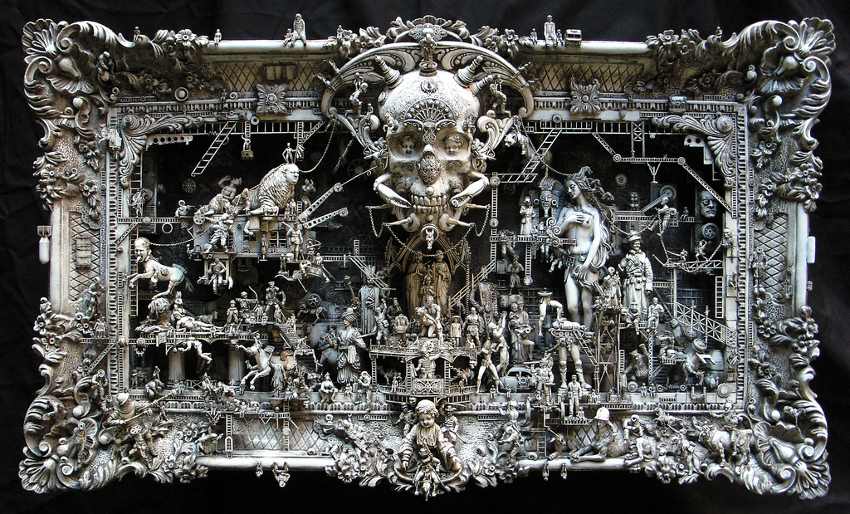 Early Years and Academic Background
Born in 1973, in Springfield, the third largest city in the state of Missouri, Kuksi was raised his mother, an alcoholic stepfather and two older brothers in an isolated, rural part of Kansas. He spent a lot of time alone, playing with Star Wars action figures. There was little external stimulation or distraction so the artist early started creating his own imagined world of bestial animal-faced military, structures in a state of crumbling majesty, and mythical divinity. Although he made his first assemblage in 1995 it took him until 2004 to make the second one titled Parasite and Host. From there his practice has evolved into inimitable and unique sculptural style. Kuksi earned his BFA in Studio Painting in 1998 from Fort Hays State University in Hays, KS. Three years later he completed a seminar on Studio Painting at Santa Reparata International School of Art in Florence, Italy. Additionally, he was awarded an MFA in Studio Painting from Fort Hays State University in 2002. He also studied internationally while enrolled in programs in Germany, Austria, and Italy.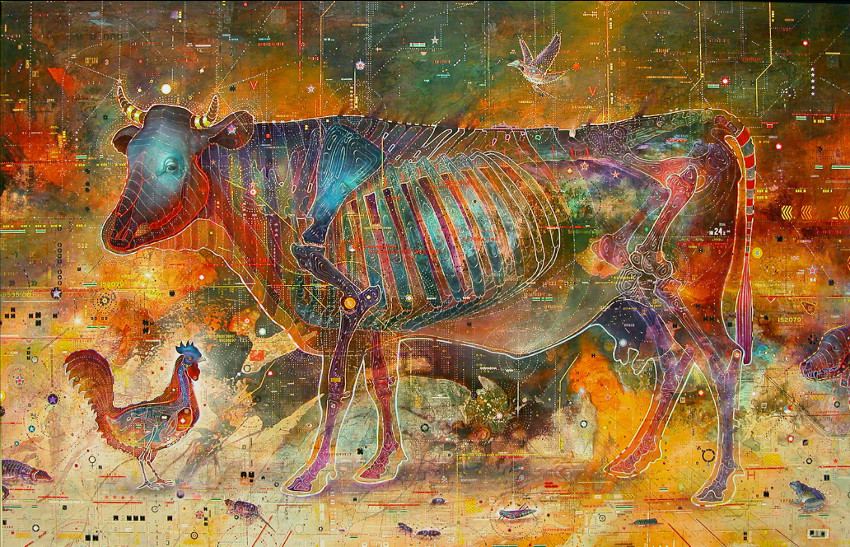 Assemblages by Kris Kuksi
Kuksi's surreal artworks are quite unique in that they are not assembled from conventional materials. Composed of the bones of dead model kits and figures, wood, jewelry, model railroading structures and accessories, resins, sculpting compounds, modeling pastes, rocks, gravel, sand, and lots of other miscellaneous items, his Baroque and Rococo-influenced assemblages seem to splinter out like sculptural fractals, each component fused to another object or detail even smaller and intricate. Inspired by modern Western civilization driven by the imperatives of industrialism, Kuksi creates mixed-media sculptures that serve as a constant reminder of human frailty. His work has often been compared to religious altarpieces and the proto-surrealist pieces of a Dutch painter and draftsman Hieronymus Bosch.
Kris Kuksi creates mixed-media sculptures that serve as a reminder of human frailty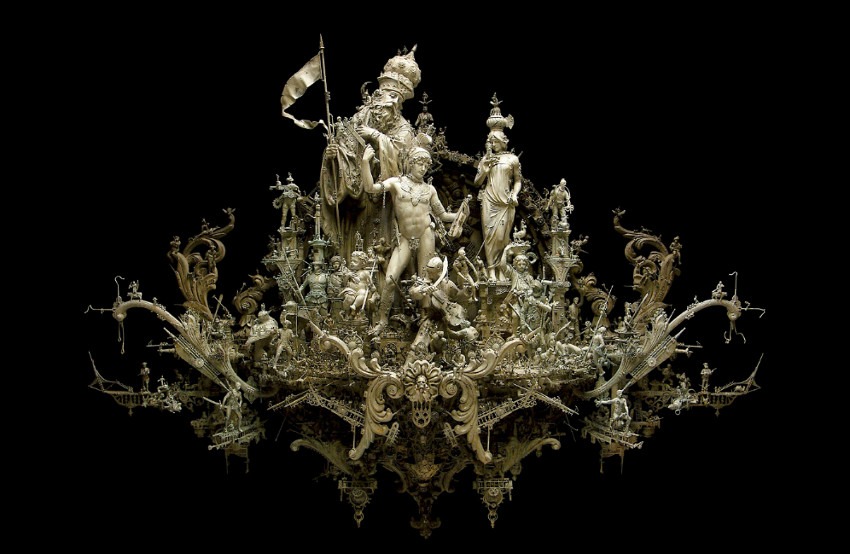 Art, War and Religion
Kuksi's inspiration comes from mythology, religion, and events from our time, the war, corruption, death, and degeneration. One of his most popular creations is the series of sculptures titled Churchtanks. The artist explored the link between war and religion by making stunning church buildings combined with powerful military tanks blending the two structures smoothly and seamlessly. His unique artworks make people think about religion and war. Churchtanks thus represent the power of art to enchant and simultaneously to raise awareness.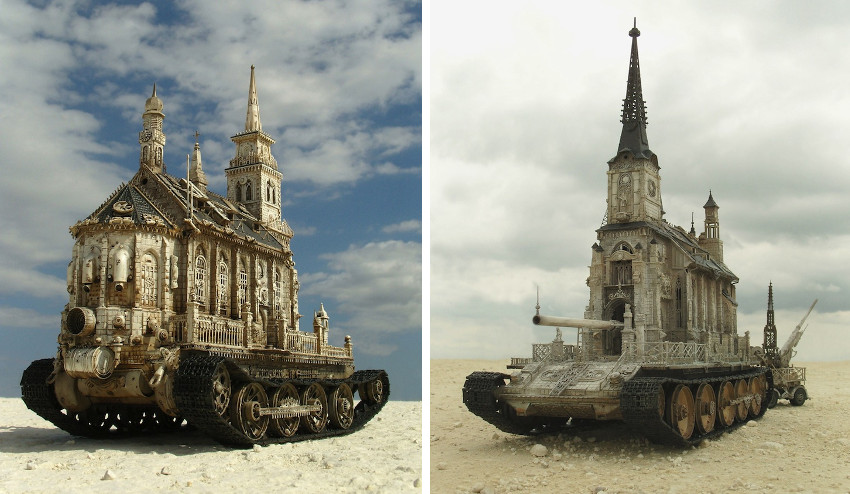 Exhibitions and Publications
Kris Kuksi has participated in over a hundred of individual and collective exhibitions and special events throughout the world. Some of his solo shows were held at Joshua Liner Gallery, New York, NY; Mark Moore Gallery, Culver City, CA; Meta Gallery, Toronto, Ontario, Canada; Optic Nerve Arts Gallery, Portland, Oregon; and Moss-Thorns Gallery of Art, Hays, Kansas. Recently, his work was featured in group show Opus Hypnagogia: Sacred Spaces of the Visionary and Vernacular hosted by the Morbid Anatomy Museum in NY. In 2011, Kuksi published a 140-page book entitled Divination and Delusion. It collects not just the assemblages by Kuksi but some paintings as well. The book contains photos that both show the details of his pieces as well as photos that show their overall scope. His work was featured in numerous magazines, book covers and theatrical posters.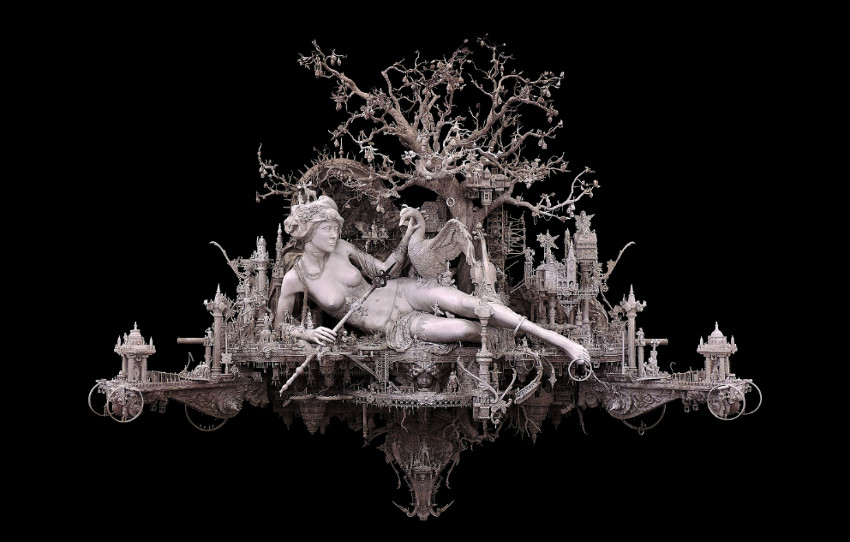 Stories Behind Kuksi's Sculptures
Over the years, Kuksi has developed an original and specific approach to art making which brought him international recognition among both contemporaries and collectors. His incredibly dramatic, emotional, witty, and creative works – composed of waste and discarded materials – are so exquisite and compound that the observers can stand in front of them for hours trying to find out all the details and stories behind them. They bring us themes that range from corruption, violence, chaos, degeneration, to those that examine religious belief and iconography, and the artist's personal view of our turbulent world.
The artist is represented by Joshua Liner Gallery.
Kris Kuksi lives and works in Lawrence, Kansas.
Featured image: Kris Kuksi in front one of his pieces
All images courtesy of the artist