As is the case with most artists who have established a personal variation of the Pop surrealism style, Nataly Abramovitch has created a unique, intimate universe rich with content. Better known by her artistic name of Kukula, this young artist has been painting for years now, developing a characteristic visual effect with her doll-like figures in various scenarios. What makes her so intriguing is the amount of symbolism Kukula is able to insert into her compositions and the fact that her paintings are fascinating to observe. By her own admission, Abramovitch is inspired mostly by the European 18th-century traditional art and her cats. Dozens of cats, in fact.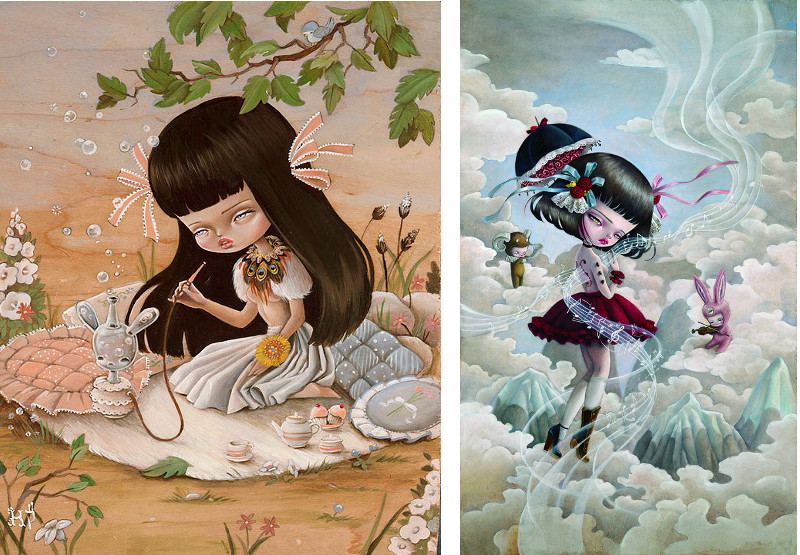 Early Days In Israel
To get to where Abramovitch was born, you'd need to travel for about an hour north of Tel Aviv, Israel. Don't let the fact that the proximity to Tel Aviv fool you into thinking that Kukula's hometown is as active and modern - actually, it's quite the opposite. It's a relatively isolated village and most of the neighbors Abramovich had while growing up were retirees and Holocaust survivors. This led to countless times when the young artist was in a situation where she listened to the stories about World War II, ranging from fabled princess fantasies to horrors of labor camps. This secluded village may have been a bit lonely for Kukulu, but it also provided her with enough peace and quiet to develop a characteristic imagination and a way of conceptualizing ideas. Probably due to isolation, Nataly was not a particularly happy child. Spending so much time alone, Kukula needed a way to channel her detachment into something creative - so she started painting in an attempt to express herself. Although she was also a ballet dancer and a piano player, Kukula realized nothing else made her as happy as painting. Having that in mind, Abramovitch decided to study Illustration at Vital-Shenkar. After graduating in 2003, the artist moved to the United States, where she lives to this day. By her own confession, Kukula fell in love with Oakland and everything concerning it almost instantly. In these early days of her career, Abramovich was still developing her artistic expression and was regularly printing her doodles on clothes, slowly establishing her own creative dictionary. As for the Nataly's choice for her artistic name, she remembered a Japanese show popular in her village that featured a little elf that lives in the forest and her name was Kukula. The artist loved that show and it's characters, so Abramovitch decided to stick with it.
Kukula's concepts are extremely influenced by the conditions in which she spent her childhood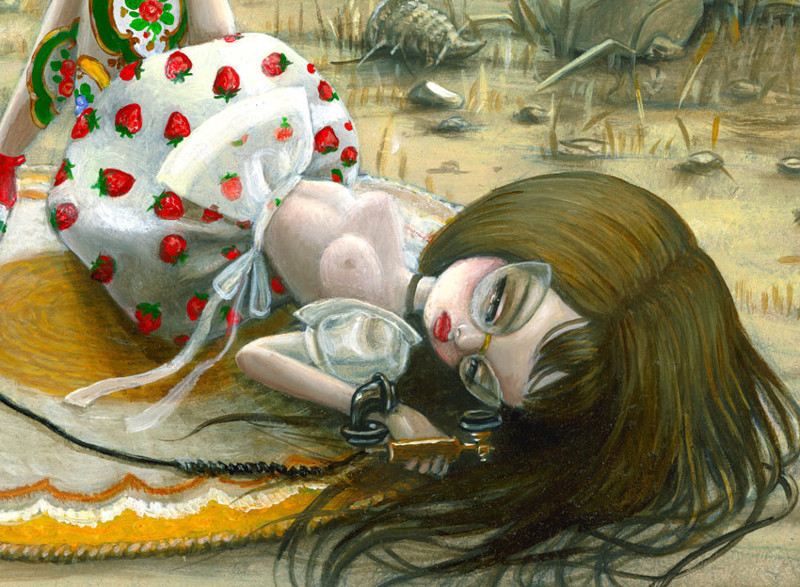 The Way She Paints
Kukula's style has a way of reconciling horror stories with fantasy sweetness. Her paintings center on feminine, doll-like figures which the artist places in different scenarios and contexts, surrounding them by objects of various symbolism. Those symbols in Abramovich's pieces range from clear-cut and obvious to obscure and totally irrational. In these symbols are the meanings of Abramovich's artworks - dolls are nothing more then means to the end. These figures are often used as contradictions, like princesses that have it all but are depicted with sad facial expressions. As a matter of fact, her dolls are never depicted smiling. They are sometimes illustrated in erotic poses or are slightly disturbed, all done with a goal of conveying a message. Another important element in her composition are the clothes her subjects wear. Kukula has a theory that a big part of our identity lies in the articles of clothing we choose to wear and she uses that hypothesis to full effect by dressing her dolls in various costumes fitting to the painting's circumstances. In Kukula's universe - both the real one and fictional -, fashion is a unique language of character and self-definition. Her entire artistic expression has been developed to a point it almost has a life of its own. One of the most intriguing quotes we've heard Kukula say is: My world doesn't exist so that's why I paint it. She creates her own personal universe, she practically lives in it. Kukuku always carries a small piece of her fantasy realm with her, as she can never be caught without her sketchbook full of doodled ideas.
Kukula's trademarks are her doll-like figures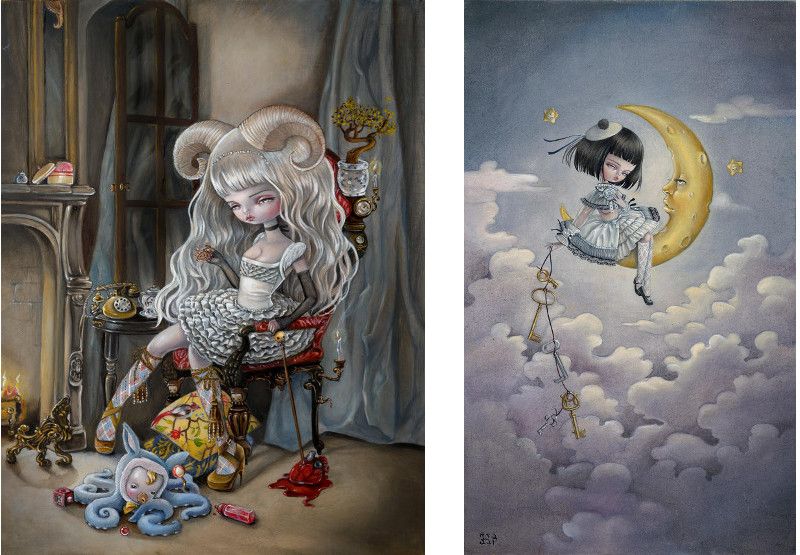 A Further Look On Kukulu's Dolls
Over time, Kukula's art evolved and changed along with her. When she was younger and sillier, Nataly was more interested in the shocking effect than deeper emotions as she is now - much of her provocative pieces have been done during this time. The kind of art Abramovitch represents is an efficient blend of contemporary pop culture and classical European art forms - especially the works of the French masters from the 18tch century. This is really obvious in her methods and ways of composing space, and especially when she is doing one of her portraiture pieces. However, her style is rather modern and pop-influenced, while her own personal iconography makes sure all her paintings are constantly challenging to analyze and interesting to observe. They are one of the finest examples of the Pop surrealism variations and as such they rely mostly on their content and style, not the color or technique. This kind of nature her portfolio possesses has, of course, led to much interest in her work and audiences have been lining up to see her paintings for years now. Kukula has displayed her artwork in galleries such as Corey Helford, AFA Gallery, CoproNason, Thinkspace, Shooting Gallery and Roq La Rue. She has exhibited her art on many occasions and was a part of numerous group shows as well.
Kukula's work relies on its style and content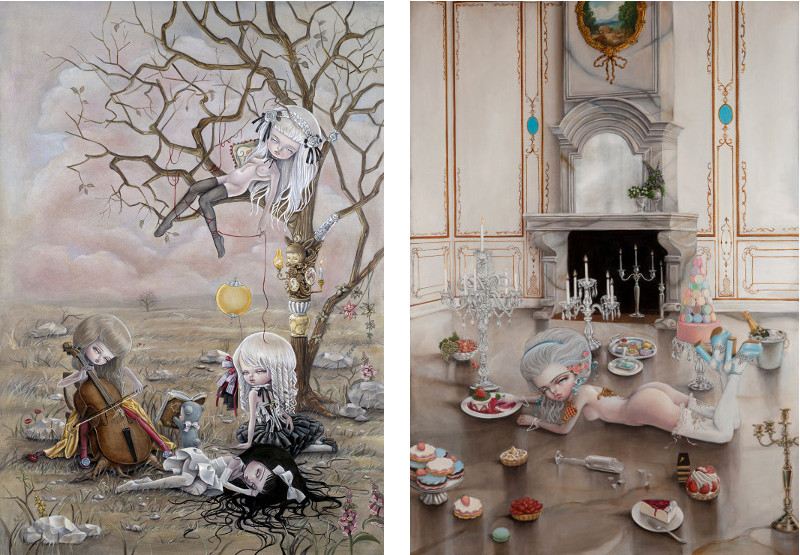 Kukula's Strugle
Ever since her early childhood, Nataly Abramovitch has been trying to suppress real life hardships through fantastic worlds created in her mind. Although her story is a bit sad and lonely, it resulted in some of the most amazing artwork we've seen in recent time. There is not a thing we would try and change in her paintings - every little element is perfect, from her beautiful doll-like subjects to the occurrences Kukula places them in. Abramovitch may be one of the finest examples of how a young artist should use various influences and channel them in a personal way, ending up with a unique visual expression. Luckily for us, there are still many years in front of Nataly and we're looking forward to witnessing her next successful artistic endeavors.
The artist is represented by Corey Helford Gallery in Culver City, California.
Kukula lives and works in New Haven, Connecticut.
Featured Image: Kukula - Photo of the artist - Photo Credits Arrested Motion
All Images Photo Credits Kukula