L.E.T. is a Franco-German contemporary artist with homebase in Düsseldorf, Germany. Starting with stencils in the early 90s, he experiments with graphics, sprayed scripts or images on posters or walls. Nickname L.E.T. stands for Les Enfants Terribles, which is how outsider and eccentric people from artistic circels are traditionally referred to. L.E.T. belongs to the early German street art movement and to this day, he is active in the streets, and shapes the image of his home city of Dusseldorf. He sprays his motives on paper and placards them as cutouts everywhere in the city.
Inspiration
He draws inspiration from the well-known works, which are interpreted by him in his own special way. He prefers similar ways of dealing with the subject of his art: his focus is on the design, which has a strong symbolic power. He uses different image elements from other known works, which he allocates as a new statement in his works, or the ideas of his fellow artists develops further.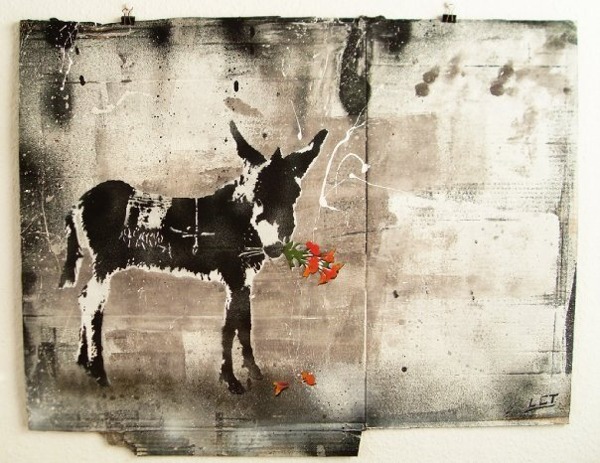 Technique and Social Criticism
L.E.T.'s technique and figurative language also remind of the street art classics. These parallels in his articulation are an intentional homage; in this way, he enters into a dialog with other street artists. Black-and-white figures, which get a new meaning through colorful accents, the smooth forms of his graphics and typographic works and creations with typical naturalistic appearance are the elements which designate his art and make it attractive and exciting for the viewers. Moreover, L.E.T.'s art is filled with social criticism and uncovers the disgraces of today's society based on consumption and hunger for enjoyment.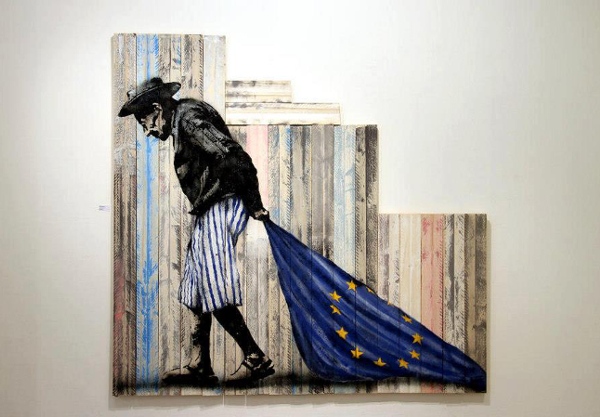 Exhibitions and Shows
L.E.T.'s art careeer is marked by group-exhibitions and street art conventions all over the world. His consistent development as an artist was his way into the galleries, where the ephemeral street art can be preserved for the public. For this work, he prefers such media as canvases, cardboard and wood, which are suitable for a gallery.
He has exhibited extensively throughout Germany: in Düsseldorf, Hamburg, Berlin, but also in Philadelphia, Milano, London and Los Angeles, among others, as well as in several online platforms. He is represented by Pretty Portal and 30works galleries.
L.E.T. currently resides and creates in Düsseldorf, Germany.