Best known for his menagerie of colorful bird murals, Luis Martins aka L7M is a Brazilian street artist who merges strong, bold and striking geometric shapes with natural elements to create his beautiful works. He captures both the elegance and graceful movement of birds by combining realistic and abstract elements. With eyes that often appear to look straight at the viewer, heads of owls, ducks, sparrows and similar species are surrounded by wild gestures and abstraction causing contradictory feelings in the observers. The artist's intent is to profoundly affect the one on a visceral level, through the use of seemingly clashing techniques.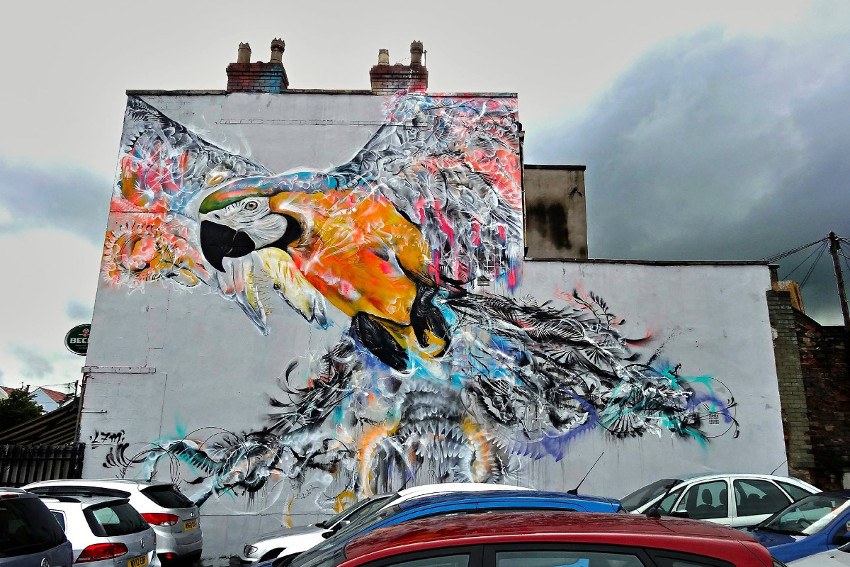 Background
Luis Martins was born in 1988 on the outskirts of São Paulo, Brazil. Although he dreamed of becoming a train driver, L7M changed his opinion at the age of twelve after winning an art award in his school which motivated him to take up painting and pursue an artistic career. Additionally, he took part in different art contests as a youngster, winning many awards in the process. Growing up in one of the most impressive and famous art centers in the world also had a profound impact on the artist. He discovered the wonderful world of graffiti during his early teens and became interested in spray can technique that soon became his favorite. Later he continued the technical research through experimentation in ink, latex, pastels and acrylic color creating his unique technique that he would become known for.
The artist experimented with many different techniques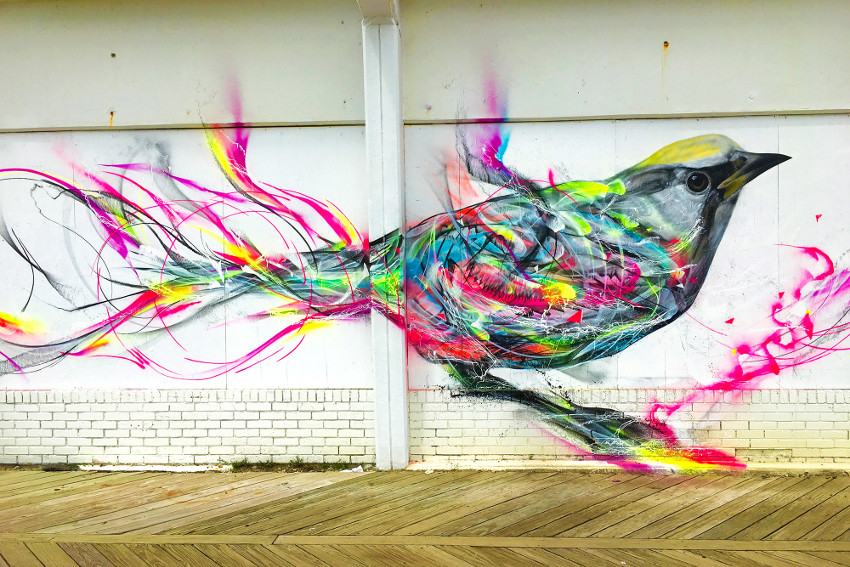 Color Simplicity and Free Geometry
It is not just the technique that L7M experimented with. He also came to an inimitable style through his experimentation – namely, he combines geometrical elements and very stylized color puzzles with realism attained by elaborated details. It is exactly the combination of color simplicity and free geometry that awakens certain contradictions and even uncomfortable feelings in the viewers. And this is inevitable, due to the fact that this artist is equally inspired by the beauty of life and its sorrow, landscapes and decay. Influenced by the disarray of the surrounding environment, he can't help generating the sophisticated chaos in masterfully blended coarseness and elegance of his subjects. The winning combination of realism and abstraction brought closer together in the artist's artwork, creates a melting pot of emotions, materials and media for viewer's eyes to enjoy. L7M's artistic skill is filled with all known human emotions and city's jumble, blend roughness with elegance, in order to transmit the concept of empathy for the surroundings.
"Everything generates the chaos, from the mixture of outlooks and feelings to the materials
and media utilized." – L7M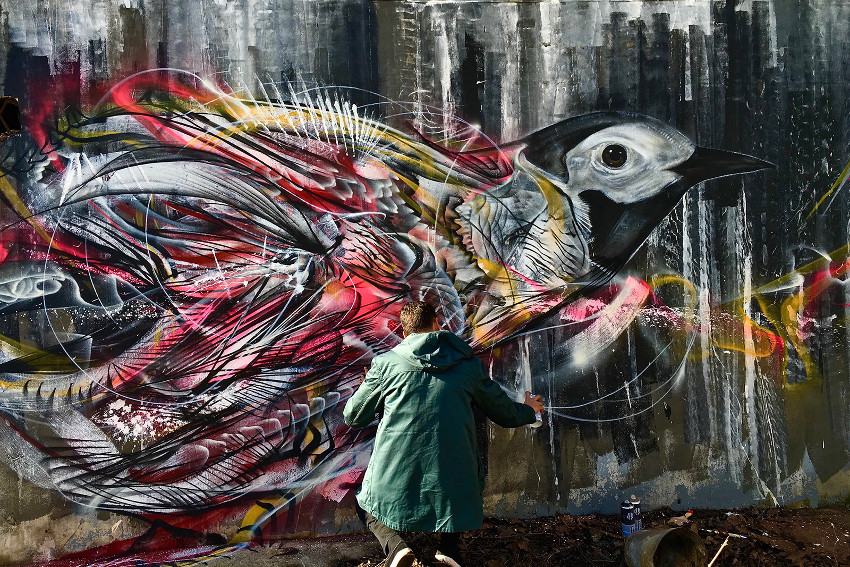 Artistic Influences
L7M'work is influenced by a wide variety of styles and techniques. His first love was Rayonism, a style of abstract art coming from Russia in 1911. Some of its representatives were Mikhail Larionov and Natalia Goncharova known for depicting the dynamic character of early 20th-century life. Other artistic influences include Modigliani, Van Gogh, Caravaggio, Picasso, John James Audubon and Mark Rothko. He admires them for being different and innovative but mostly for their radiant self-confidence and inner tension seen in their work. While working, the artist likes to blend in with the ambiance, listening to every sound it creates. He likes to paint in deserted places, so no wonder his dream is to work in Chernobyl, the place where the nuclear accident occurred in 1986 at the Chernobyl Nuclear Power Plant in Ukraine. Another wish for this artist is to paint the entire space rocket.
While working, the artist likes to blend in with the ambiance, listening to every sound it creates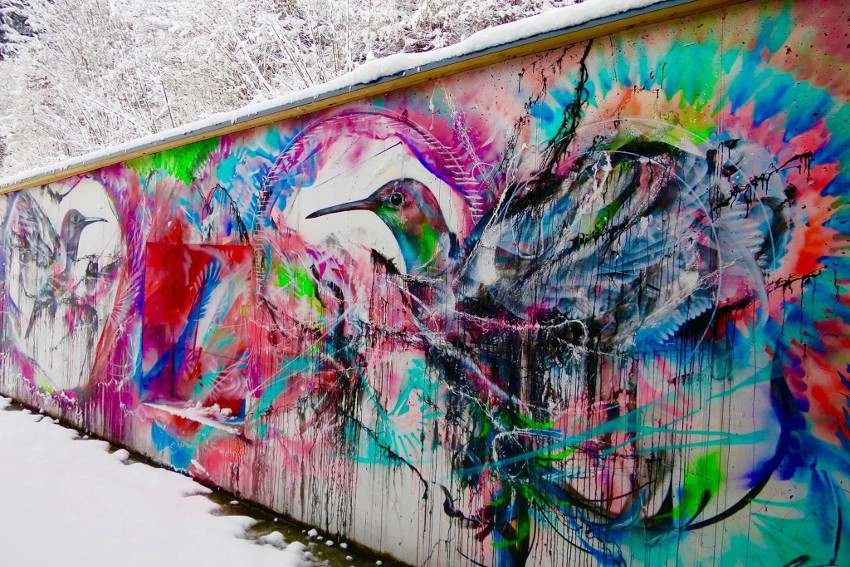 Abstraction, Nature and Street Art
In his practice, L7M merges graffiti with abstract art and nature capturing all the beauty and mystery of his subjects. His eye-catching pieces grace walls throughout the world including Brazil, France, US, Portugal, Venezuela, Italy and many others. The outstanding layers of geometry, textures and free flowing abstract gestures make for quite wonderful murals that are full of life and energy. His studio work has been exhibited in several solo and group shows in Paris, Dubai and Dortmund. Besides being a full-time artist, L7M works independently for various advertising agencies and workshops at enterprises, cultural centers and schools, conciliating with the street art freely practiced.
This artist is represented by 44309 Street Art Gallery and GraffitiStreet.
L7M lives and works in São Paulo, Brazil.
Featured image: L7M - mural in Barcelona, Spain, 2015
All images courtesy of the artist