His grandfather was murdered by Cossacks. His father, a first violin at the Warsaw Conservatory, was deported to Siberia in 1905, for participating in the uprising of the Poles against the Russian invasion. This kind of heritage can leave one constantly contemplating about the real nature of life. No wonder great Picasso described Ladislas Kijno as a powerful artist, a little crazy and perhaps too inclined to philosophize. Art and philosophy are two basic elements of the mixture that made Kijno one of major figures in the Art Informel painting movement. His experimentation in the use of aerosols earned him a title - the spiritual father of the French street art. Considering his age, this comes as quite a compliment for this visionary.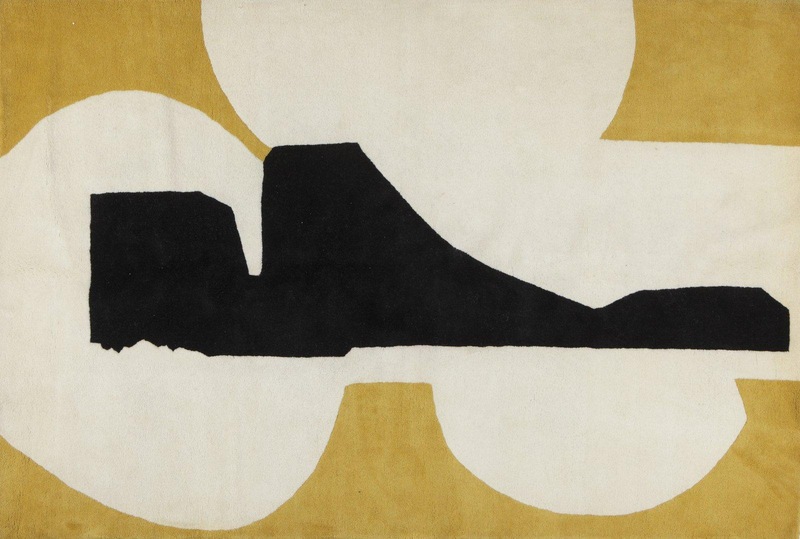 Between Grenier and Richier: Kijno Unites Philosophy and Art
Ladislas was born in Warsaw, and when he was only four years old, the family moved to France, settling in Noeux les Mines in the Pas de Calais. He studied philosophy at the University of Lille, where one of his professors was a French philosopher and writer, Jean Grenier, who used to teach in Algeria and had a significant influence on the young Albert Camus. However, the art kept calling him so, in the early 40s, Kijno created his first art piece, while still studying. Upon graduation, Ladislas attended the workshop by Germaine Richier, a French sculptor known for her human-animal hybrids, very bold at the time. Kijno moved to Paris in the late 50s, but maintained a strong friendship with Richier.
As a student, Kijno gravitated towards Taoism and libertarian ethic that will make him fall in love with the fire thieves: poets. Throughout his life and career, he was deeply fascinated and strongly inspired by these men of many words – numerous tributes are to be found in Ladislas' creations: like those to Louis Aragon and Ponge... Turned out, this feeling was mutual, so Kijno got a poetic essay titled Fenêtre d'aveugle (Blind window) – that explored his work and technique, written by Salah Stétié, a Lebanese writer and poet.
In 1950, Kijno created the Cadran group (together with Paul Gay) and in 1954, he held his first individual exhibition. That same year, Ladislas decided to devote himself completely to the painting. However, next year brought him a serious doubt in his work - Kijno burned all of his paintings (estimated around 250 works!) and resettled in Antibes, France where, in 1957, Dor de la Souchère, a friend of Nicolas de Staël and Pablo Picasso, took the initiative to organize the first large Kijno exhibition at the Musée d'Antibes.
Paris Opens its Door to Ladislas, he Returns the Favor with his froissage technique
The year of 1958 is very important for Kijno as he moved to the city of light and right away he became a member of the committee of the Salon de Mai, a collective of French artists originating from a café on the Rue Dauphine in 1943, during the German occupation. He participated regularly in major Parisian salons like New Realities, Comparisons, Department of Youth, and Today Sacred Art. Around this time, Kijno began his perennial written correspondence with the younger brother of the sculptress Camille Claudel, a French poet, dramatist, and diplomat Paul Claudel.
The innovative Froissage technique made Kijno immortal in the art world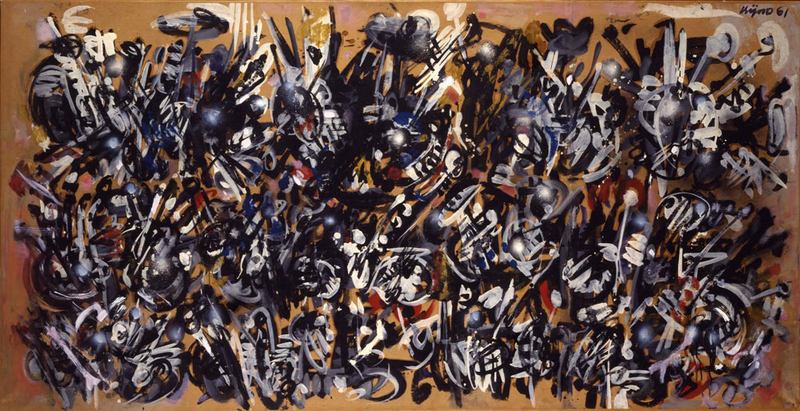 Paris stimulated Kijno to develop the technique that will make him immortal in the art world – a so called froissage, a method of creasing paper and later expanded into crumpling canvases, giving relief to his surfaces. He experimented with the multiplied spray paints and the in the field of vaporization and dyes, creating so a synthesis between traditional technique of painting and industrial discoveries. By pioneering the use of aerosols he became known as one of the spiritual fathers of the French street art.
Bridging the Gap Between Abstraction and Figuration
Although he inclined towards abstraction (mostly red or black forms and shapes that penetrate each other), he never stopped exploring the gap between the figuration and abstract art, looking for all means to fill it or bridge it somehow. This mission led to the creation of Kijno's own artistic universe ornamented with a modern mythology. During the 80's, Kijno began to add representational elements. It was the time when he was invited to participate at the Venice Biennale (1980). Ladislas accepted the invitation, bringing to Venice 30 of his monumental crumpled canvases, named Theater of Neruda. During this period, Kijno was searching for the true inspiration in many trips he took – he visited China, Marquesas Islands, Tuamotu, and Easter Island…
UFO, Cosmonauts and Einstein at Notre Dame de la Treille Lille
In the 90s, Kijno was commissioned to create the portal of Notre Dame de la Treille Lille, France. He came up with, at the time, some very unusual solution. A circular stained glass window, with its 6.5 meters in diameter, consisted of 20 tempered glass plates in a frame made out of stainless steel. Nothing strange in that, right? What comes next is what makes Kijno one of the most important artist of the XX century. He depicted, amongst other elements, a Christ's face buried in the tomb from which springs the light of the cross, a cosmonaut and UFO, the formula E = mc²… The entire work is signed with the imprint of three hands, including artist's, making a reference to the prehistoric cave art.
Kijno turned Notre Dame de la Treille Lille into contemporary sacred art center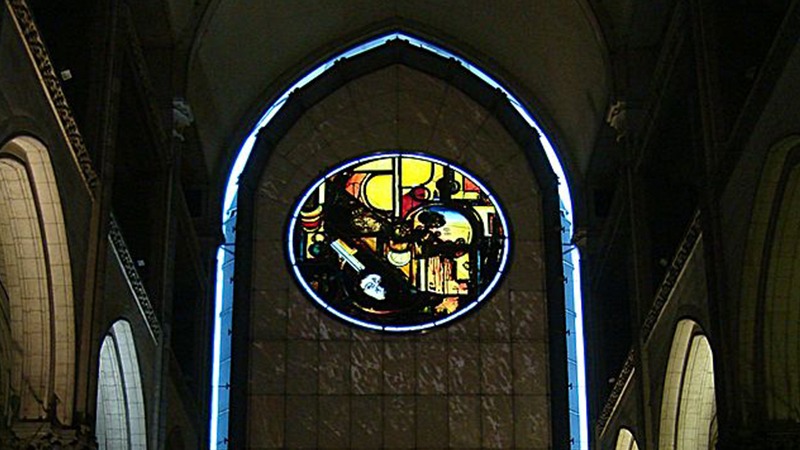 These courageous "deviation" from the religious art's canons secured Notre Dame de la Treille Lille a special place in a relationship between the modern art and the religion. Seven years after Kijno presented his vision of the portal, the contemporary sacred art center was created in this very church. No wonder The Amateur Art dedicated an entire issue in 1991 to him, with a title Ladislas Kijno: I am a monk of Art! The work of Kijno was the subject of numerous films, like those of Gérard Szabatura, Dominik Rimbault, Daniel Count, Agostini and Georges Marti.
Ladislas Kijno is one of the major artists of past century – it was him who said that the painting is giving hope that the world can be changed. As he saw it, we all live in a society where the will to power and the forces of destruction are leading us to our inevitable loss of everything. Creating art is our only chance of survival. He stood by that stance to the very last day. And that day came on November 27, 2012.
This artist is represented by Galerie Brugier-Rigai from Paris.
Ladislas Kijno dies in 2012, in in Saint Germain en Laye.
Featured image copyrights © Expertissim