For all those seeking freedom, the streets' call is more than appealing. Between the walls, dark corners and all other places suitable for painting – it's more than a belonging. It's a world where artistic urges are mutually understood by those who dwell in it. Lady Aiko, born as Aiko Nakagawa, is a Japanese-born street artist who's been living in the USA since the 90's. She's a female in a world dominated by omnipresent male figures like Banksy or Shepard Fairey, but that doesn't discourage her in any way. Driven out of the studio by the combination of freedom offered by the streets and the thrill that comes with the uncertainty and uncontrollability of the process itself, she's been recognized as one of the most influential and popular street artists in the world.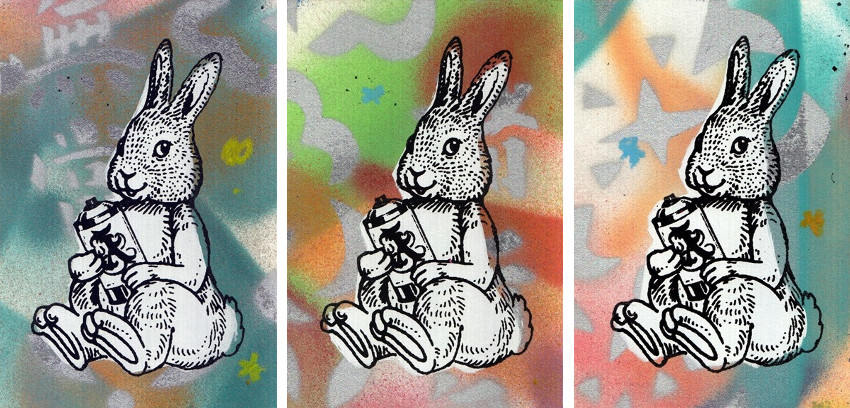 From Japan to the United States
Born and raised in Shinjuku, Tokyo, she's been very creative from an early age. Living in a concrete jungle, there wasn't many places or nature where she could play as a child. So she spent a lot of time at home, just creating something: paintings, drawings, collages and doing paper cuts. In Tokyo, Aiko studied graphic design and filmmaking and was interested in making documentary films. Thailand, Laos, and Vietnam are the places she visited with the intention of documenting the local lifestyles. All of that gave her an idea that she would like to travel even more, step into different scenes, discover new people and face new challenges. Her artistic career took off after one of the travel decisions – she moved to the USA without even speaking English! Takashi Murakami offered her apprenticeship, and she worked for him until the late 1990's, documenting his 1998's solo exhibition Superflat along the way. After leaving his studio, she continued to practice her own art, and began her studies at The New School in New York City where she received her MFA in Media Studies. In 1999, Aiko met Patrick Miller and Patrick McNeil, and the three of them went on to establish a group known as FAILE. For seven years the group worked locally and internationally, and in 2006, she left them and began a solo career, establishing herself on the street art scene as Lady Aiko. She rarely collaborates, but when she does, it is with a well-known artist, including the famous Lady Pink and Martha Cooper, but also with Banksy for his award-winning documentary Exit Through the Gift Shop in 2010.
She's been creative from an early age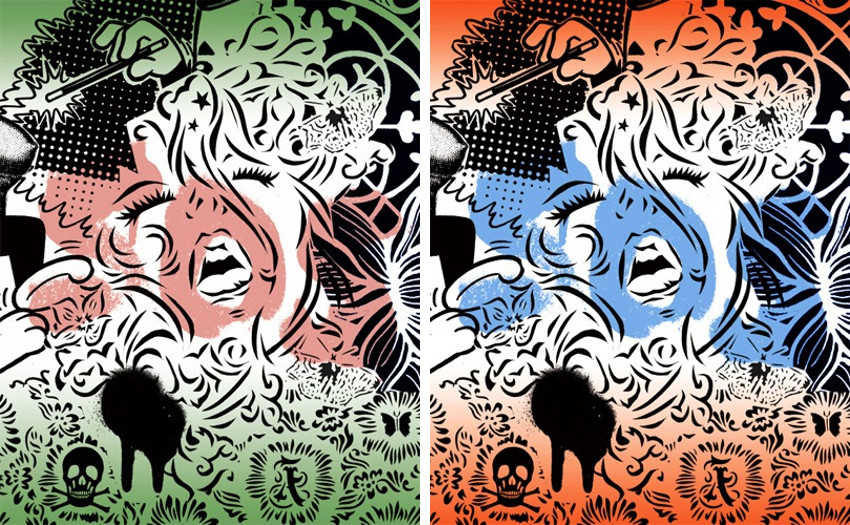 Love as Style
Aiko, which is one of the most common Japanese names, means love. And love's been in the center of her entire life, from childhood days onwards. As a little girl, just for fun, she would make art for everyone around her, her mother, classmates, family. She enjoyed (and still does) creating something that is beautiful, full of love and can be shared with anyone. Images related to romantic moments, kisses and lover are the dominant theme in her work, with subjects always being about everyday life's sexy girls, lovers, and romantic stories. One of her most famous pieces, titled Lovers, is the epitome of her entire practice. Being one the images that she cut out in 2007, it has become her signature artwork. Its deep emotional connection with the artist originates from two sources: firstly, the inspiration for it came from the old Japanese magazine from the 60's, where she discovered a small picture that made her think of her own romantic moments. The style of the images from the 60's, but also the 70's and 80's creates a nice sentiment for her, and the final look of the piece is actually a combination of the found images, stencils, and her street photography; secondly, when she started doing her own projects as Aiko in 2006, one of the first stencils she did was an (above shown) bunny holding a spray can. Having lost some of the motivation working in FAILE, she regained momentum and began enjoying making stencils on the street even more. Seeking a new image that would make her happy to work on the streets one again, she created the Bunny along with some images of sexy girls and some other romantic scenarios. The Lovers was created around that time and it soon became one of the first iconic Aiko stencils, being depicted throughout the world, from Istanbul, Rome, Berlin, Shanghai, and in various places in the United States.
Love is always at the center of her work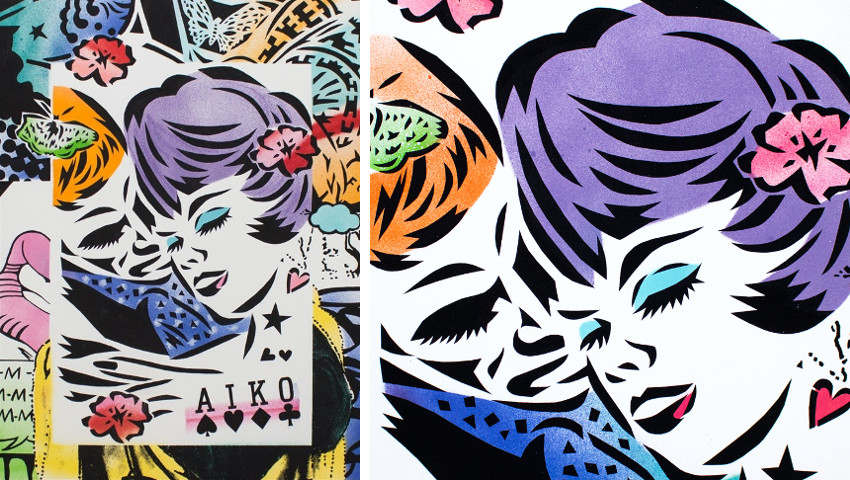 The Walls - Breaking the Stereotypes of Contemporary Street Art Culture
Lady Aiko painted the Wynwood Walls in 2009, and it was one of the first big walls that was painted by a woman. Curated by Jeffrey Deitch and Tony Goldman, the piece received good attention, as more and more people became acquainted with her work, realizing that female artists can paint big walls just as successfully as the male ones. Another recognition of her work came in 2012 when she got asked to do a Bowery Street mural. As she admits, since the establishment of the mural in 2008, she always knew she was going to paint it one day. After waiting patiently for four years, the call came, and Aiko joined the prestigious group of artist who had an honor of painting that particular wall in tribute to Keith Haring's noted 1982 Bowery mural. Os Gêmeos, Shepard Fairey, Barry McGee, Crash – are just some of the famous artists who had painted the wall.
In terms of street art, Lady Aiko is a great artist, one of the best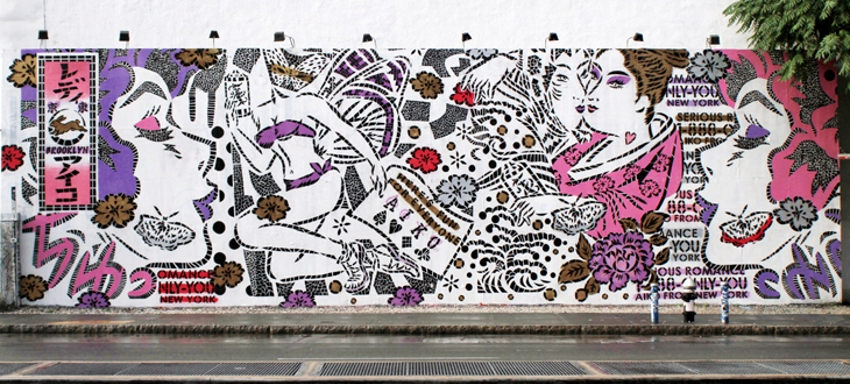 One of the Best Artists
After more than twenty years of living in the United States, Aiko's training in Japanese traditional aesthetics has been mixed with the essence of the American contemporary art movements such as Abstractionism , POP Art , Graffiti and Street Art, leading to the creation of a hybrid style, widely popular and acclaimed. Often placed among some other great names of the street art scene, such as Faith47 and MadC, Lady Aiko is not just one of the most famous female artists today, she is undoubtedly one of the most popular artists in the contemporary street art scene.
She is represented by Kumi Contemporary.
Lady Aiko lives and works in New York.
Fetured image: Lady Aiko – portrait, photo credits Sal Rodriguez/photo313
All other images courtesy of the artist